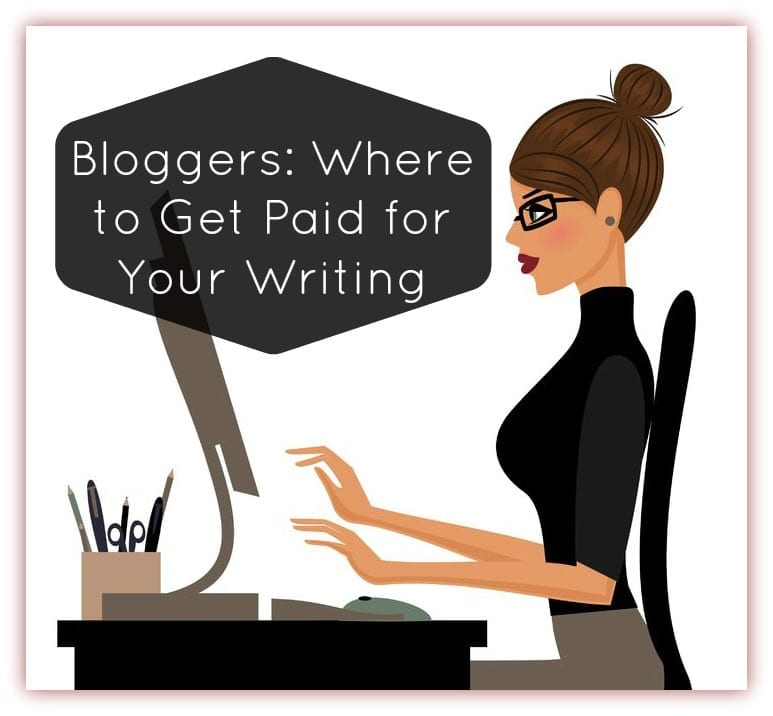 I recently learned a very valuable lesson. Too much content syndication is a BAD thing. Rather than writing original posts, I've been syndicating quite a few of my existing posts to larger websites. I thought the exposure to new audiences would help drive more traffic to my blog and improve my pagerank. I was sorely mistaken. My search engine rankings have taken a huge hit and my traffic to previously popular posts (and ones I've syndicated) have dropped. Who's enjoying the referral traffic now? The larger sites. Lesson learned.
This year I'm committed to writing and publishing more original content here on MommiFried and elsewhere. I'm also seeking out opportunities to actually get paid for the content I produce. If you're a blogger and looking to monetize your content and writing skills, here's where to get paid for your writing:
Magazines and Trade Publications
There are thousands of magazines and trade publications (both on and offline) that are in desperate need of filling their editorial calendars and keeping their online content pool fresh. Don't be afraid to pitch to the larger pubs like Parenting or Family Circle, among others. National magazines usually pay between $0.75 and $2.00 per word, so this can be a lucrative way to earn money. (Local publications are more in the $0.10 per word range.) Check out this article to learn more about who is paying what and how difficult it is to work with them or pick up a copy of The Best of the Magazine Markets for Writers.
Product Reviews
Okay. Before I go any further, don't scam the system. When I read a product review, I like to know that it is authentic and not staged. If you are going to pursue writing reviews and getting paid for them, please make sure you are familiar with the products or have tested them out and can write a meaningful review. This avenue is not as promising or rewarding as writing for magazines, but over time it can add up. Here are few sites worth exploring:
Epionions: When you write reviews on this site, you earn Eroyalties credits through the Income Share program, which is redeemable in US dollars. (US residents can redeem their check with a minimum balance of $10, while non-US residents must have a minimum balance of $100.)
Sponsored Reviews: Sponsored Reviews is a place where advertisers look for bloggers to write about their products. This is also a site for bloggers who want to sell sponsored posts on their blogs. What's nice is that bloggers can approach advertisers directly.
SocialSpark: "SocialSpark is IZEA's premium blog marketing platform. We connect advertisers with blog publishers to create sponsored blog posts." Advertisers offer you "Opportunities" and you have the option of accepting, declining, or negotiating with them.
Informational and How-To Sites
Informational and how-to sites offer insight and knowledge to those seeking answers to their questions…like how to bathe a cat or why does baking soda make your teeth white. If you have knowledge to share, then check out one of these sites:
Answers.com: There is no dedicated page for signing up to become a writer or expert at Answers.com. They have, however, a number of properties where original content is needed including Experts and Guides. (Disclosure: I previously worked for Answers.com as their Senior Community Manager, so I might be a little partial.)
Demand Media Studios: Demand Media, Inc. is an American content and social media company that operates online brands such as eHow and Cracked, and is known for creating online content through its Demand Media Studios division. Apply to those topics where you have substantial knowledge or expertise.
About.com: "About.com, a top U.S. web property, is looking for experienced online freelance writers who are credible authorities in their fields and capable of conveying information to users in a friendly, enthusiastic, and compelling way." You'll need to apply to the available topics.
Yahoo! Contributor Network: "The Yahoo Contributor Network allows writers, photographers, and videographers to share their knowledge and passion with hundreds of millions of people worldwide. Find your audience and earn money by publishing your unique perspectives on Voices and other Yahoo sites." Some of these "assignments" pay upfront.
Listverse: Get paid $100 to write lists – no joke. Definitely worth checking out!
"Other" Websites and Online Publications
This article lists a variety of tech-oriented websites that will pay you for your writing. I don't know how up-to-date this is, but there are some good ones on the list.
BlogHer and Markerly are several sites that pay bloggers to write content. BlogHer posts original content, of interest to their audiences, directly on their website. Markerly focuses solely on influencer marketing, connecting brands with bloggers.
Have you been paid to write for a publication or website? Please let me know in the comments!