"I participated in a campaign on behalf of Mom Central Consulting for Chicco. I received a product sample to facilitate my review and as a thank you for participating."
I recently gave birth to our fifth and final child, a beautiful baby boy named Luca. I'm breastfeeding like I've done with my other children.
Since I work from home, there is not an urgent need to pump and do fancy milk math, but it is nice to be able to take a shower or complete a task without having him attached to my breast. So I've been hand expressing enough milk for my husband to feed him in case the need arises.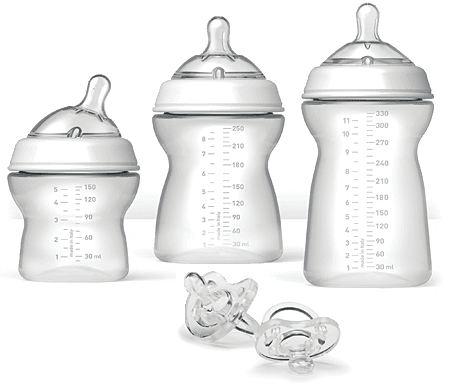 We've been testing Chicco NaturalFit bottles, which closely resemble a mother's breast.
The 5 ounce bottles are perfect for our needs, which are short, intermittent feedings. There was some resistance to taking the bottle at first, which I believe is a result of Luca's strong-willed personality and not a product flaw.
When he finally accepted the bottle, he was at ease and ate happily. The bottles are well-designed and extremely easy to hold.
What I love most is that the shape of the bottle encourages the correct neck position for infants.
The angle also reduces air intake by staying full of milk. If you're hand expressing or pumping breast milk, you know that every drop is like gold; the unique angled Chicco NaturalFit nipple helps make sure none is wasted. We haven't had as much luck with the pacifiers (or any pacifiers for that matter).
He refuses to take anything that doesn't have mama's milk flowing out.
Chicco NaturalFit bottles are made in Italy and designed to help baby transition from breast to bottle and back.
The bottles offer three distinct nipple shapes that are designed for baby's developing feeding pattern. Bottles are designed for 4 feeding milestones; 0+ months (m), 2+m, 4+m, and 6+m.
You can find the products in-store at buybuy BABY and they will be available online at the end of the month.
Developing babies deserve the best, and I really believe Chicco offers this to parents.
I highly recommend their feeding system! If you are already using Chicco NaturalFit bottles or plan on trying them soon, I encourage you to share your review with other parents via the Chicco website.
Just select the product you would like to review and then follow the instructions provided.
Full Disclosure: I was provided with a product sample to review and as a thank you for participating. This, however, did not influence the content of my review. The thoughts and opinions expressed are strictly my own.