Are you feeling a little stabby these days? Like, if one more person chews like a beaver at dinner you may turn around and stab them with a fork?
Or you're one "close contact email" from your kids' school away from becoming the next headliner in a true-crime podcast?
Or maybe you're dreaming of committing a crime just so you can be hauled off to a cozy little cell where someone else does the cooking and you can have 5 minutes to YOURSELF?
If you rage whispered, "OMG, yes!!" you're not alone.
The past two years have been H.A.R.D. hard. It's been a neverending rollercoaster of trying to navigate work, school, parenting, and life during a global pandemic and all of the insane amount of stress and worry that goes with it.
It comes as literally zero surprise that the state of the world has moms everywhere wanting to rage scream into the void, and for one group of moms from Boston, that's exactly what they did.
(And honestly? I'm kinda jealous).
Last Thursday, a group of moms gathered in a high school field to scream out their pent-up stress and frustration led by Sarah Harmon, a mental health therapist, yoga teacher, and founder of the wellness site, "School of Mom".
News of the event went viral on Twitter when Lucy Huber shared the following tweet:
If you're wondering what things are like for parents right now, someone in my online moms group invited everyone to a Facebook event that is just going to an empty field and screaming and a LOT of people RSVPed yes.

— Lucy Huber (@clhubes) January 13, 2022
And I have to say, it sounds pretty freaking fantastic, amirite?
This is the second session that Harmon has organized, the first one took place in March 2021.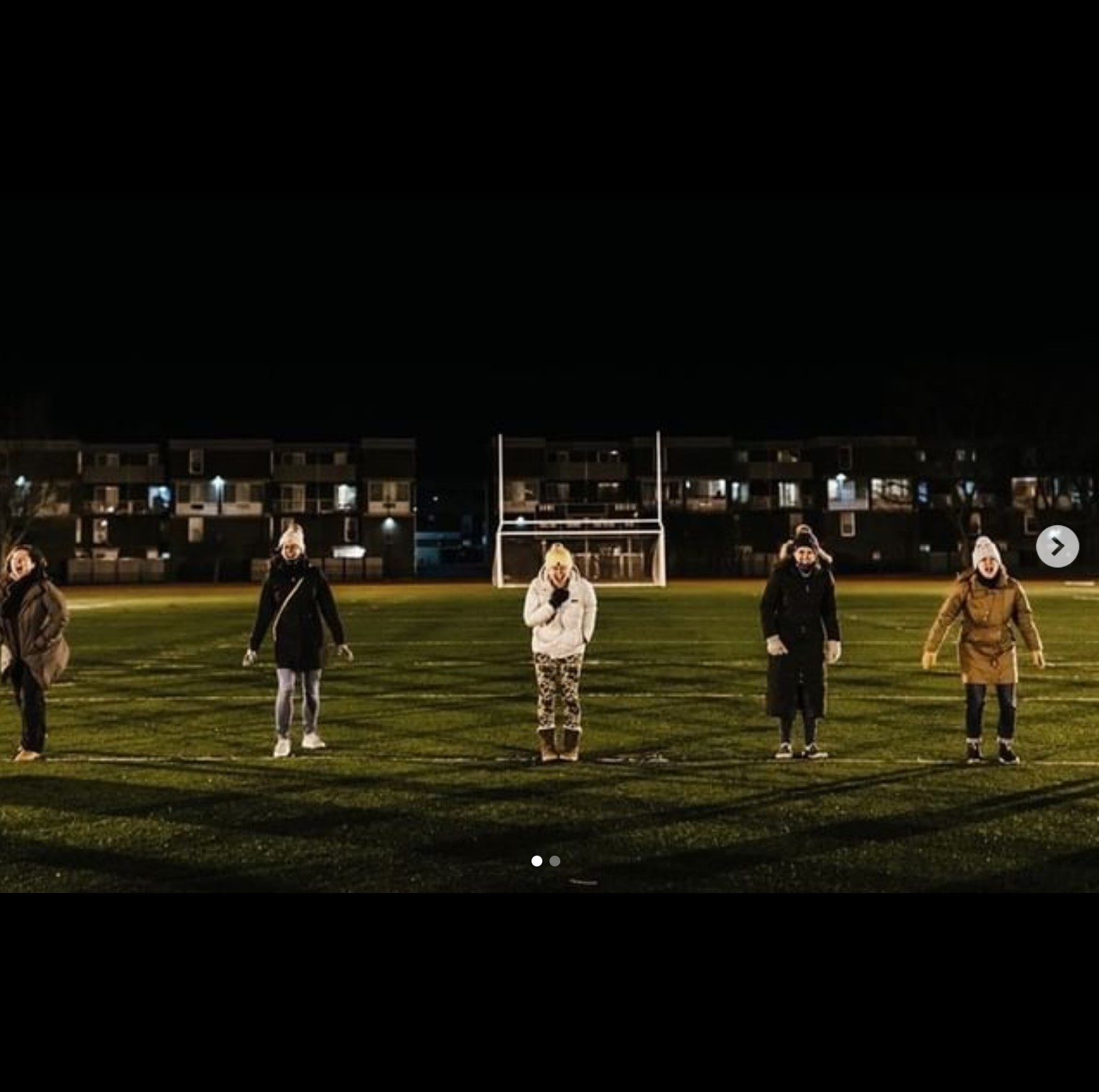 Harmon explains what prompted the idea in the first place, telling media:
"I'm hearing my moms and my clients talk about their struggles… it's culminating in just this intense rage, and they have nowhere to put it."
So she decided to give them a place to put it; squarely in the middle of a huge open field.
According to news outlet WBUR, approximately 20 women showed up to the "field of screams" for the primal therapy.
During the session, Harmon led the participants through five rounds of screaming. She started off with a "regular scream," using her daughter's light-up unicorn toy to cue the screaming.
This was followed by a round of "alllll the profanities."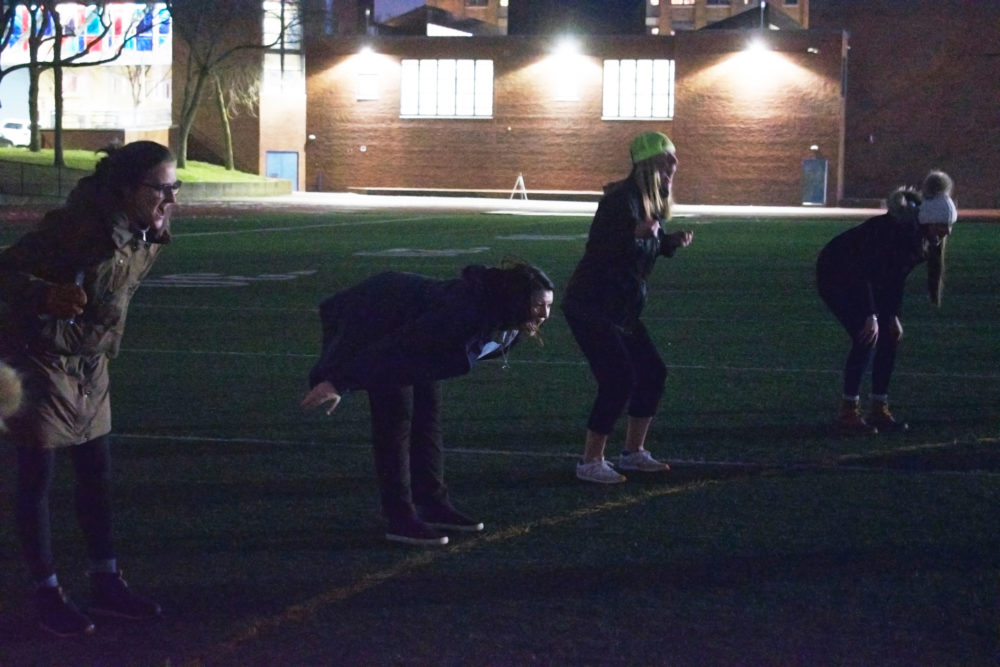 During the third round, attendees were given a "free for all" where participants could scream whatever they wanted.
The fourth was a tribute scream to honor all of the people who couldn't be there. And the final scream culminated in a competition of who could scream the longest.
And who doesn't want to run out to your nearest field right now? I mean, I know I do.
Also, can we make this a national thing? If so, SIGN ME UP.
Harmon shared a picture of the event on the School of Moms IG page, captioning it in part:
We screamed.
We yelled (A LOT) of profanities.
And then we laughed.

And that's the beauty of allowing yourself to feel and express an emotion.

You move through it to find a new one on the other side such as relief, peace and/or joy.
She goes on to write:
So many of us grieve and crave the spontaneity and freedom we had before kids.

Kids bring structure and schedule and covid has brought rigidity and intense restriction that only exacerbates that non existent spontaneity and letting go of control.

So last night we let go of the control together.

And wow it felt good.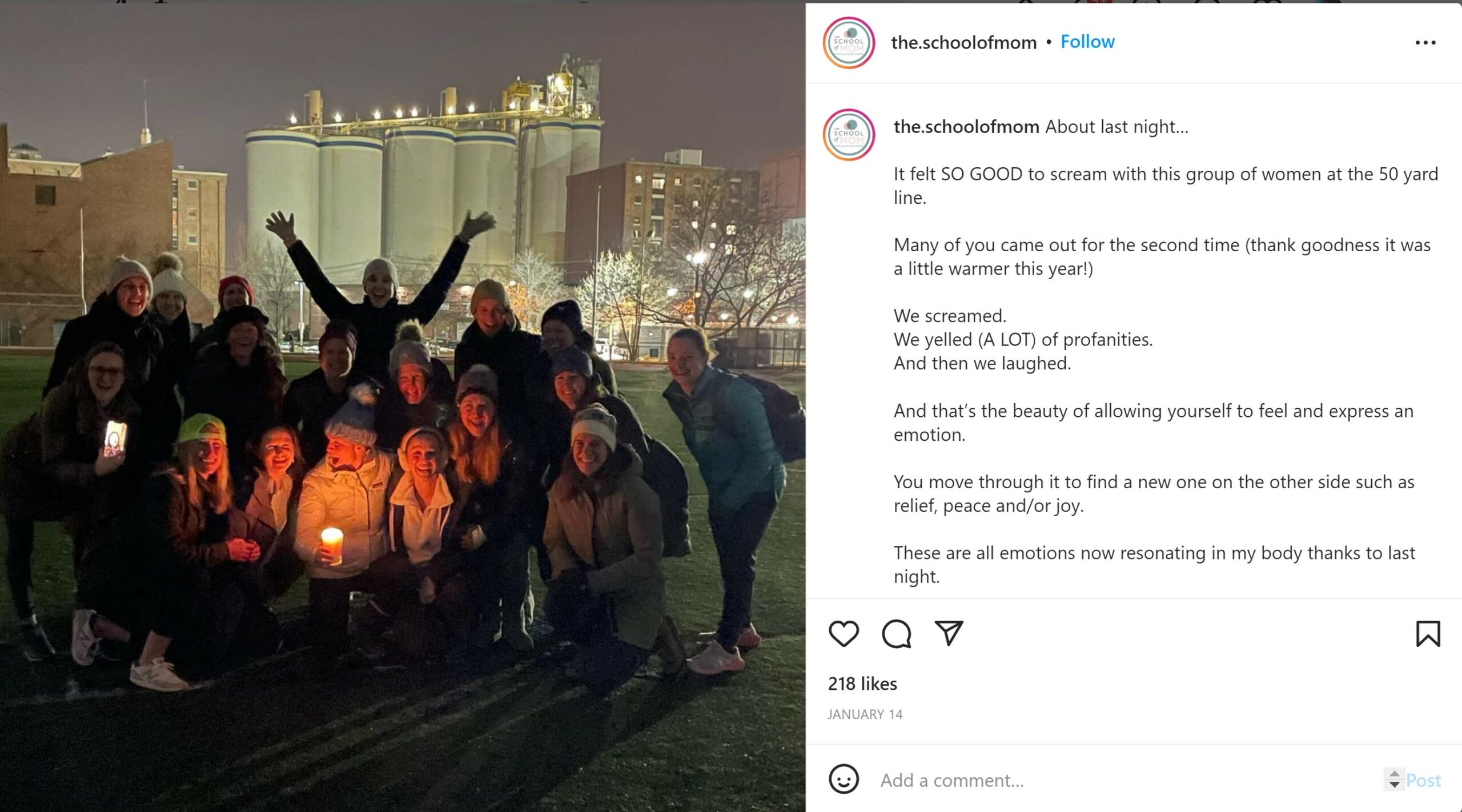 It feels like it's been 10,000 years since the pandemic started. And I don't know of one mother out there who isn't hanging by a thread right now, ready to snap at any moment.
The fact that these women braved the frigid air of a cold Boston night to stand in a circle together and scream into the darkness is a testament to where we're all at right now.
We are fundamentally exhausted. We are running on empty. And yet, still we run.
Screaming it out isn't just about releasing rage. What so many people don't realize is that oftentimes, rage is a mask worn by sadness, frustration, resentment, isolation, loneliness, anxiety, and depression.
There is so much more simmering below the surface.
While yelling at the top of your lungs may not solve your problems or change your circumstances, it can help you feel better, release endorphins, and give voice to your emotions.
Look, I'm going to be honest, recently I've taken to letting random F-bombs fly at full volume while driving in my car alone. It's cathartic. Releasing stress feels GOOD.
And sure, you could try meditation, deep breathing, or yoga to calm the beast within. You could go for a walk or a run, hike up a mountain, or lift weights.
OR, you could take a page out of The School Of Mom, grab your girlfriends, find a field, and uncage your rage (and your voice) and let.all.that.shit.go.
Sounds like a plan to me.
You can check out a video of the event here.
View this post on Instagram