As a parent, some of the cringiest phrases that come out of our kids' mouths are "I'm bored" or "There's nothing to do." The even better part? These typically happen right after the holidays or while they're staring at a giant pile of toys in their room. Use this list of things to do with kids for a boost of ideas to pick up everyone's mood.
With a little creativity and push for activity, there is always "something" to be done that you and the kids will enjoy.
This list of ideas will have them thinking you're the "cool mom" who likes to get out and do fun stuff.
Fun Things To Do With The Kids
Most of these items can be done all year long, but there are a few that are seasonal. Don't forget to check the local activities in your town as well for even more great ideas.
Winter Activities For Kids
Go sledding
Build a snowman
Have a snowball fight
Drink hot chocolate until your stomach hurts
Binge on Hallmark movies
Bake and decorate cookies
Have family game nights
Put up the Christmas treel
Drive around to see all the holiday lights
Plan a visit to see Santa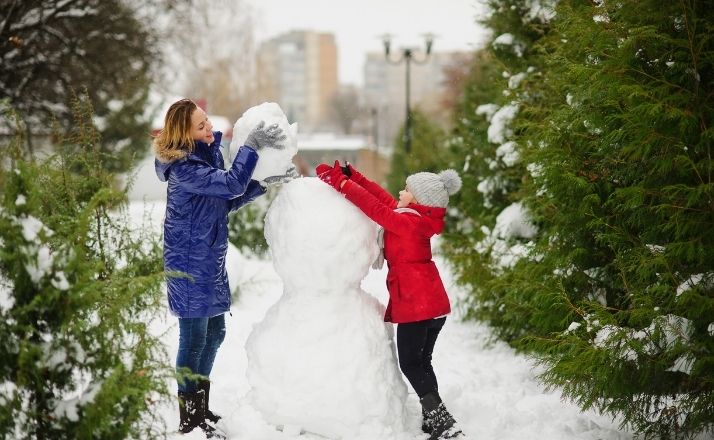 Spring Activities For Kids
Plant a garden
Create a flower bed
Decorate the driveway with sidewalk chalk
Train to run a 5K together
Take an art class
Go hiking
Pick and give flowers to neighbors
Have a family bike ride
Fly a kite
Go rollerblading
Teach your child how to mow the yard
Summer Activities For Kids
Go on a picnic
Explore the museums in town
Go swimming
Take a family vacation
Have a staycation at home
Go camping
Visit the local library
Paint and hide rocks around town
Get involved in a local theater
Plan a visit to family
Have a water balloon fight
Fall Activities For Kids
Visit a pumpkin patch
Pick apples at an apple orchard
Go on a hayride
Have a weenie roast
Decorate the house with fall decor
Rake leaves
Roast marshmallows
Make epic s'mores
Go on a corn maze adventure
Attend a football game
And those are just a few simple ideas. Having a good balance of indoor and outdoor activities for the kids is key.
Movie nights are great but plan one after spending the afternoon hiking in the woods.
Wanting a night of making s'mores and telling jokes around the fire? Sounds perfect but do so after spending some time outdoors working in the garden.
It's totally possible to have your kids help out around the house, move their bodies, AND find a great balance of having fun at the same time.
More Fun Ways To Bond With Your Kids
Even if you can't find the time to plan activities every weekend or throughout the week, there are other ideas that can work.
Create a fun game night or game day where you can just sit and play together. Your kids will love that you're interested in something they're interested in.
Also, don't forget that showing your child love and acceptance is key! Some days, just waking up and snuggling or eating donuts on the couch might be what they need. Be open and accepting and patient, too.