Christmas is coming, Christmas is coming! And in the minds of kids all over the world, that means Santa Claus is making his list and checking it twice from now until the day finally arrives.
But what happens when your child literally won't stop asking or talking about Santa? While it's all fun and games at first, sometimes there just needs to be closure. You have to find a way to talk to the guy in the red suit himself.
Thankfully, you can pull the "Best Parent in the World" card and let the kids know you have a direct phone number to talk to the big guy. Yes, the Santa phone number is real and brings all the holiday spirit to life!
Long gone are the days when you have to pay an arm and a leg to talk to someone at the North Pole. Now, it's as simple as hitting a few buttons and hearing his voice in a matter of seconds.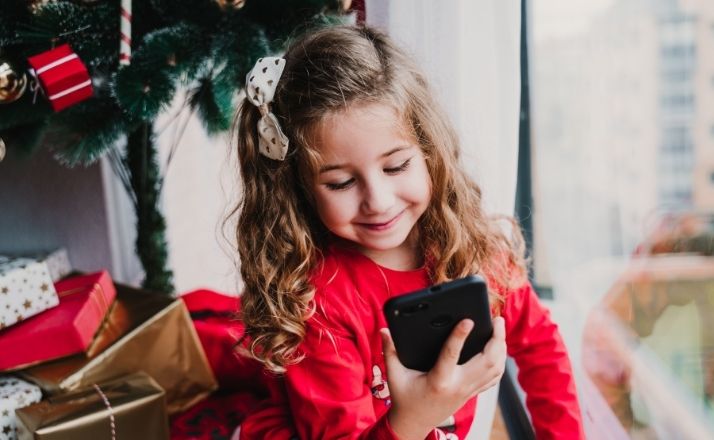 How to talk to Santa directly this holiday season
The biggest thing to keep in mind is there's a good chance Santa is going to be busy. (He IS making toys for millions of kids all around the world, after all!)
But once your little one dials the number, they'll be delighted to hear him greet them with a cheery, "ho, ho, ho"!
Call Santa's Direct Line
All you have to do is dial right to his direct line at (951) 262-3062. That's it. It's literally as simple as that.
There will be some chatting, or if Santa is busy, he may just have a quick message for the kids to bring them happy spirits.
Call Santa with your Amazon Alexa
And if you wanted to take away some of your parental magical powers, the kids can literally tell Alexa to call Santa. With a simple "Alexa, call Santa," the kids will hear the voice of Santa, elves, and more.
Just make sure to have your Amazon purchases on lockdown, or the kiddos just may take their Christmas presents into their own hands.
Call Santa's Hotline
If your little ones want to leave Santa a message of their own, try this hotline.
Dial +1-605-313-4000 for English
or +1-605-313-4001 for Spanish
There will be a recording that comes on where Santa greets them with a message. Then asks them to leave their own message at the beep.
And there you have it. The kids have multiple ways to call Saint Nick and talk to him and hear his voice. Just make they have their lists ready to go so they can be quick and efficient in their messages!
This is such a fun way to get the kids excited about Christmas — and to remind them you're literally the coolest. You have a number to reach Santa anytime you want!