I'm not going to pretend to have a clue about fashion, so I often take the latest fashion trends with a big grain of salt. After all, who am I to question style? But there are times when the fashion world departs from merely "edgy" and plunges right into highly offensive.
And Burberry's debut of one of its new hoodies at London Fashion Week this past Sunday falls firmly into the category of highly offensive.
It can otherwise be referred to as, "what the fuck were they thinking?!"
And why is this hoodie so offensive, you ask? The color is reasonable, the model wore it well, and oh- maybe it's the fact that the hoodie strings are tied as a NOOSE around the neck.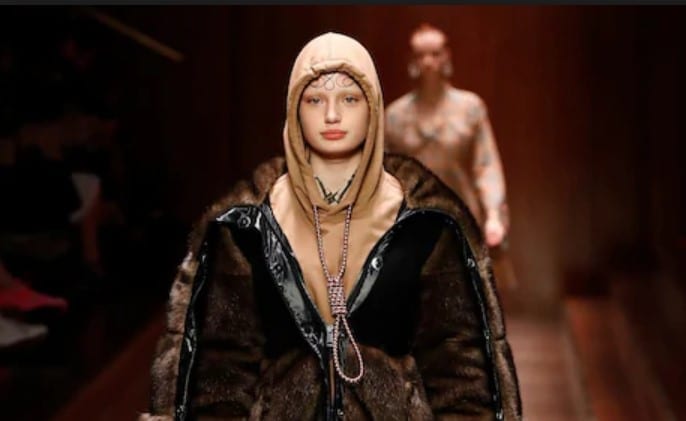 It's rather mind-blowing that a poor judgement call of this magnitude could slip through so many of the key decision-makers at Burberry, but it did- and people are both baffled and disgusted.
It goes without saying that a noose is not associated with anything redeeming or positive, and is symbolic of our country's horrifyingly racist episodes of lynching innocent human beings simply for the color of their skin. So choosing to display that symbol as a fashion trend? NOT ACCEPTABLE.
Let's also consider the obvious fact that suicide, particularly juvenile suicide, has become a scary epidemic in our country.
Child suicide rates are climbing regularly, and not a week goes by that we don't hear in the news about a young child -we're talking 9 years old! Nine!!- committing suicide.
An interesting point: Burberry designer Ricardo Tisci dedicated the show to "the youth of today". THAT'S the message he felt Burberry should be sending to today's youth, and it's disgusting.
Model Liz Kennedy took personal offense to the hoodie at London Fashion Week, and was so admittedly triggered by its appearance that she posted her opinion on it via her Instagram account, in a post which has now gone viral.
Her first line drives the point home:
Suicide is not fashion. It is not glamorous nor edgy and since this show is dedicated to the youth expressing their voice, here I go.
Kennedy points out that youth are of course impressionable, so why would a normally classy company like Burberry choose to send such a dangerous message directly to the youth its commercially aiming for through this show??
An innocent mistake on Burberry's part, perhaps? Not likely.
As Kennedy points out, the precise style of rope tie was deliberately chosen:
There are hundreds of ways to tie a rope and they chose to tie it like a noose completely ignoring the fact that it was hanging around a neck.
And in case you're still unconvinced that Burberry staff just happened to miss the strings' resemblance to a noose, let's clear that right up for you:
Also to add in they briefly hung one from the ceiling (trying to figure out the knot) and were laughing about it in the dressing room.
Kennedy also mentions that although she didn't wear the actual hoodie herself, just seeing it at the fitting was personally upsetting; she states that the visual flooded her with memories of the suicide of a family member.
Although no one at the show addressed Liz Kennedy's concerns (she was told to write a letter), Burberry was a lot quicker to address it once Kennedy's post went viral, with countless comments applauding her for standing against such an offensive fashion debut.
Burberry's CEO, Marco Gobbetti issued a public apology to HuffPost UK for the hoodie's knot choice, and explained it as such:
Though the design was inspired by the marine theme that ran throughout the collection, it was insensitive and we made a mistake.
Nautical? Not so much. Poor taste? Definitely.
Fashion has long been known for pushing the limits and even delving into the outrageous, but this hoodie design not so outrageous as it is generating outrage. If fellow fashion designer Kate Spade's tragic suicide wasn't a clue to Burberry to avoid such poor taste, then public outcry might not be enough, either.