Really, does the Elf on the Shelf have to visit every single year? If you have small children, the answer is, most likely, yes. If you've exhausted all the ways to hide that elf (or just want to throw it and see where it lands), it's time to find easier options that can make this year literally end stress-free.
Since you're locked in to moving him 24 nights during the month of December, it just makes sense to think of 24 places to put that ornery elf.
(But don't worry — some of these are super simple to do even if you're scrambling to play "catch up" in the morning!)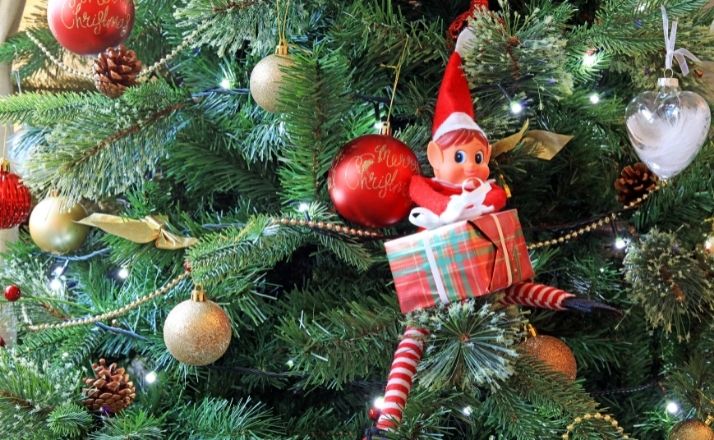 24 Easy Elf on the Shelf Ideas for Tired Moms
Who knew that bringing that cute little elf into your life would be a recipe for being committed for the next several years? It's become such a holiday tradition that most parents just know that hiding the elf is a "thing."
You can easily set these up in less than 5 minutes (and some in literal seconds)!
Have the holiday elf making snow angels in sprinkles.
Put a stack of marshmallows around him and have him ready for a snowball fight.
Put your elf in the roll of toilet paper to really give the kids a surprise!
Place the elf on the couch with a bowl of popcorn for a holiday movie marathon.
Have him just "hanging out" upside down like Spiderman.
Put your elf in the sink with some Barbies for a pool party scene.
Set up a tea party with the elf and some other stuffed animals.
Use your cell phone and act like the elf took a selfie.
Build a little Lego house and tell the kids the elf is moving in.
Stick him in your child's backpack and let him catch a ride to school.
Buckle him in the front seat of the car and say that he called "shotgun."

Use a dry erase marker and have the elf draw mustaches on everyone in the family photo. (You're halfway there!)

Tape some popsicle sticks to the bottom of the elf's feet and have him go skiing.
Hide him in the fridge and see who can find him first.
Have the elf write out it's very own shopping list full of sweets and treats.
Put a few chocolate chips on the counter and have the elf clean up "reindeer poop."
Wrap up the elf in Christmas lights and pretend that he "tore" them down.
Make your elf hold a "will work for cookies" sign.
Put a little VR headset on your elf to have him gaming the night away.
Create a scavenger hunt where the elf gives the clues.
Have the elf switch out the cereal bowl with the dog or cat food bowl.
Put little floured elf handprints and footprints all over the wall and ceiling.
Have the elf hide the remote and only give it back once all their chores are done.
Pretend the elf has a tummy ache and it tells the kids they can only eat ice cream and jello for the entire day!
You made it!
As you can see, the elf is a mixture of naughty and nice – and I think that is why he's so popular!
No matter how you want to hide your Elf on the Shelf this holiday season, use these easy ideas to get your creativity rolling. And glide right up to Christmas Day!
Have fun and happy hiding!