There are many advantages to breastfeeding a baby, but it can be stressful, time-consuming, painful, and downright exhausting. And when you add caring for a newborn on top of all that, you may not have the time, energy, or motivation to do much else — let alone focus on self-care.
However, self-care is essential to the health and well-being of you and your baby — and the following practices can help to give your mind, body, and soul the attention it needs as you breastfeed your newborn and adjust to motherhood.
Hydrate Your Body
As a breastfeeding mother, it's important to keep yourself hydrated by drinking plenty of water and consuming water-rich foods like cucumber, celery, lettuce, tomatoes, watermelon, strawberries, and a variety of other fruits and vegetables.
Dehydration while breastfeeding can result in low energy levels, concentration difficulties, mood disturbances, and a slew of other issues.
According to the Academy of Nutrition and Dietetics, Breastfeeding mothers need approximately 16 cups of water per day — and you can meet this requirement by drinking plenty of water, consuming other nutritious beverages like smoothies, and incorporating more water-rich foods into your diet.
Moreover, you should aim to drink a large glass of water whenever you breastfeed your baby — and you can even infuse the water with some berries, mint leaves, or lemon, orange, and cucumber slices.
Focus on Nutrition
Like water, good nutrition is essential to the physical, mental, and emotional health of breastfeeding mothers. The foods you consume while nursing will help your newborn to grow and develop, and give you the energy you need to feed your baby, care for him or her, and prevent nutritional deficiencies from developing.
As you focus on nutrition, MedlinePlus offers some tips on what to eat for the health of you and your baby.
Other nutritious options for breastfeeding mothers include the following: healthy fats such as avocados and olive oil; salmon and seaweed; nuts and seeds; and fiber-rich foods like quinoa, sweet potatoes, and lentils.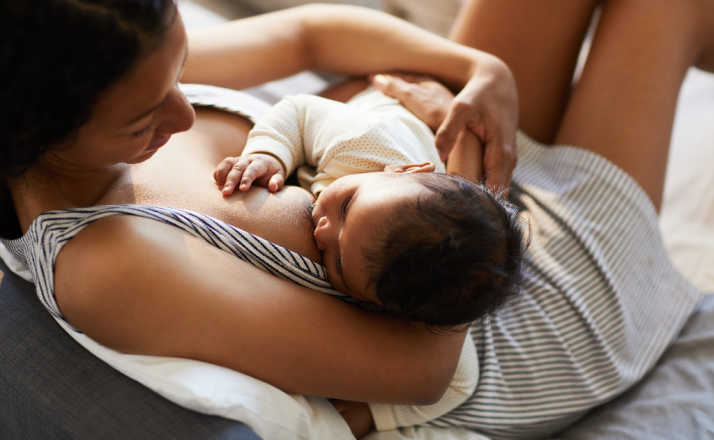 This post contains Amazon affiliate links. If you click on a link, Filter Free Parents may receive a commission. See our full disclosure policy here.
Invest in Comfort
In addition to hydration and nutrition, self-care means keeping yourself as comfortable as possible while breastfeeding and caring for your newborn. A few ways to do this include:
Wearing comfortable clothing while nursing.
A comfortable yet stylish nursing dress, for instance, can help you to feel great in your skin and make breastfeeding much more convenient.
Other clothing pieces for postpartum mothers include breastfeeding tanks and bras — and nursing pajamas and nightgowns.
Purchasing supportive supplies.
To support your neck and back while breastfeeding, look for a top-rated nursing pillow and comfortable nursing chair. A neck and back massager could also come in handy after many hours of breastfeeding, lifting, and holding your little bundle of joy.
Make Time for You
Making time for yourself may seem impossible as a new mother, but rest, support from loved ones, and some time away from home are essential to your emotional and mental well-being.
Even being alone with your own thoughts can help you to find focus, develop self-awareness, and boost your problem-solving abilities.
And while getting away from home is much more complicated in the age of COVID-19, simple activities like a walk in nature, quick nap, video chat with friends, bubble bath, or a socially distanced lunch with loved ones can help to recharge your mind and body — which will be beneficial to yourself, your partner, and your baby.
The Bottom Line
Physical, mental, and emotional self-care are imperative to the health and well-being of breastfeeding mothers, and these tips can help new moms to find the balance they need.
Self-care doesn't need to take up a lot of time or energy, and simple practices like drinking more water, investing in comfortable clothing for nursing, or spending some time alone with their thoughts can be just the things breastfeeding mothers need to relax and recharge the mind and body.