When it comes to optimal health, there are all sorts of immune-boosting supplements on the market these days. Social media influencers love to tout their own "secret" to health, weight loss, and/or overall health.
Remember when smoothies became a thing? Or how about the obsession with kale– why is kale now in everything? There are a bajjillion types of smoothie blends out there, and they all seem to involve kale's "miraculous" health benefits.
People are willing to try just about anything in order to try to achieve optimal health. And by "anything", I do mean, well… ANYTHING.
If you're grossed out by the idea of swigging a kale smoothie, your gag reflex will really kick into overdrive when you hear about this smoothie (and yes, pun intended. You'll see).
One media influencer mom has gone public to credit her daily sperm smoothies as the key to her fantastic immune system. No, seriously.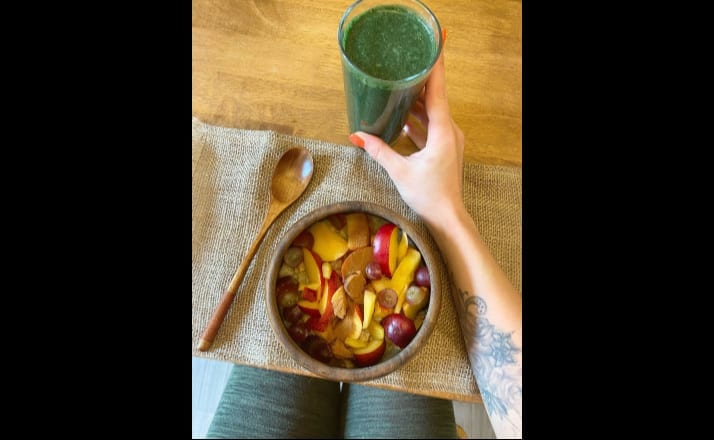 Tracey Kiss of Buckinghamshire, England, is a mom of two as well as a fitness model and social media influencer. Her Instagram account is dedicated to mindfulness, natural bodybuilding, and plant-based nutrition.
And our girl Tracey has got it going on; she looks ah-mazing!
Although Tracey relies heavily on a vegan diet, she raves about a daily supplement that's less plant-based, and more… MAN-made, shall we say?
We're talking about sperm, people. Baby batter. Jizz, spunk, pearl jam, etc.
(NOTE: I grabbed those slang terms off the top of my head, but know that a quick Google search indicates that there are over 100+ slang terms for semen. You're welcome.)
Tracey claims that her semen smoothies have been a tremendous health boost, providing her with physical energy and positive emotions (although thinking about that is boosting MY emotions, and not in a good way):
I have such high energy levels, feel positive and enthusiastic and have focus and clarity throughout my day whilst most parents feel tired, crave junk food and struggle with forgetfulness.
As far as the consumption method, Kiss likes to toss a batch of baby batter into her blender -along with fruits and veggies- and purees the peen paste into a healthy breakfast smoothie.
In order to make it more tasty (and probably less salty, just saying), Tracey shares the secret to the perfect sperm smoothie:
Typically I blend apples, fresh ginger, fresh mint, celery, cucumber, spinach leaves, carrot and berries.
A tasty afternoon delight, anyone?
You might be wondering just how Tracey maintains a decent supply to fill her daily sperm smoothie intake, because there's only so much nut nectar to go around, right?
Instead of sipping directly from the source, she prefers to "load" up (yep. Another pun deliberately intended) on a few day's supply from her apparently very supportive boyfriend.
Since her boyfriend lives 1 1/2 hours from Tracey, she's become quite resourceful. After assisting in the… extraction process, she uses:
A small plastic container, often used as sauce pots for takeaway food, and store it airtight in the fridge for 24 hours to save for the next day.
Dear GOD, can you imagine the horror of accidentally grabbing the wrong container from that fridge while making a snack?? There's no "coming" back from that culinary catastrophe.
But like any other protein source, semen has a shelf life (not that it should ever, EVER be on a shelf), but Tracey's got that covered:
I freeze the semen in an ice cube tray in individual portions and pop a cube out as and when I need it and let it melt into my smoothies.
Can you imagine the fear of living in the same house as Tracey and wanting ice in your glass of water?? Lukewarm EVERYTHING, forever.
The mental image might be unappealing… but let's make it fun. Here's the real thing: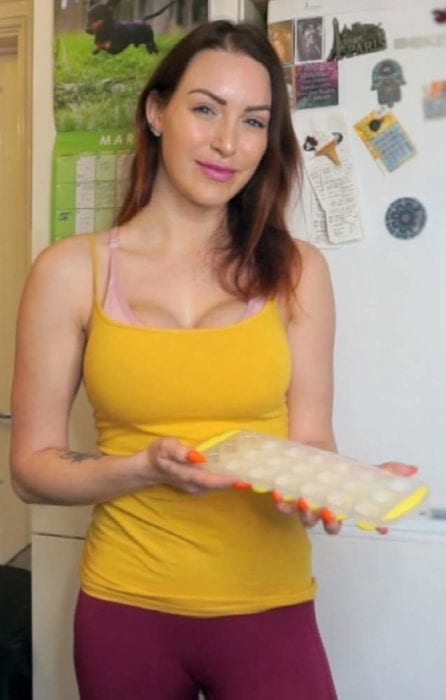 While sperm smoothies aren't officially FDA-approved in terms of guaranteeing amazing health benefits, there ARE plenty of alternative health remedies out there that are far more questionable in terms of harm than, well, sperm. At least it's all-natural, right?
(So is kale. And kale suddenly seems far less unappetizing…)
If Tracey's physique and energy are a result of her special soothies, then many people would be sold on the idea- and would receive VERY enthusiastic support from their male partners, no doubt!
Look at it this way; unlike the expensive pre-packaged shake meal plans on the market these days, Tracey's sperm smoothie concept is far cheaper. You're likely to have the main ingredient already at home… and the supply is always available. ALWAYS.