I bet you're reading this thinking,
"Oh, she must be thinking about us moms who get up and run around like crazy to make sure everyone is taken care of, fed breakfast, dressed, and out the door on time while we pull out of our driveways frantically trying to remember if we grabbed our coffee. And, wait, do my shoes match?"
Nope. I am not that mom.
I am the mom who gets up at the crack of dawn so that I can opt out of EXACTLY all of those scenarios.
I am the mom who will make sure your clothes are out and every bag is packed and sitting with the coat and shoes that it belongs to, by the door we will use when we leave the next day.
I am the mom who will make sure her coffee cup is sitting BY the coffee pot before she goes to bed (which is already set and ready to go), while also making sure her children's breakfast items are ready and waiting.
Even if its just a cereal bowl and spoon sitting on the counter.
And my husband? You got it.
His lunch is packed and ready to go with a clean coffee mug waiting to be filled on the counter next to everything he needs before he walks out the door.
Do you think I want to deal with a grown man asking me a million questions about where his own belongings are every morning while trying to throw together a PB&J sandwich and not knowing where we keep the bread – in the house he has lived in just as long as me? No thank you.
Guess what people? My whole life, all week long, revolves around taking care of you.
So when it comes to those two precious hours in the morning, I choose me.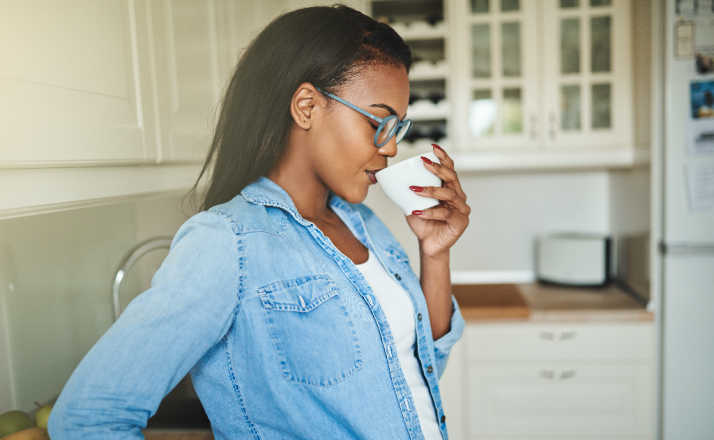 I choose coffee and quiet in my living room while no one is talking to me or needing anything from me. I choose to sit and worry about JUST myself and what I need.
It's something we have to plan and prepare for.
If we come home from work at night and choose to sit down on the couch and scroll through our phones, or watch TV – the whole house goes to hell. Even if we are married.
Because most amazing husbands in the world is still going to come ask their wives 20 questions before being able to complete any tasks he has offered to cover for you.
We love him for this, but it really doesn't do much for mom in the "downtime" department.
For years I have been living by the "crazy nights, peaceful mornings" standards.
I will give up having any sort of free time at night to make sure any and all of these tasks are completed before I go to bed.
I will give up having regular TV shows to watch after my kids are in bed. I will happily let people think I am crazy, or anal, or controlling for the things I do at night.
Because the things I choose to do at night are what keep me sane in the day to come.
We work hard enough as moms, whether we work from home, stay at home, or work outside of the home.
Our days are FULL.
I am not the mom who wants her day to start with chaos and questions and stress.
I want MY day to start out nice and sane, I want to say goodbye to my children without wanting to strangle them under my breath.
I want to know they won't spend the whole morning not being able to get their shit together and driving me crazy getting out the door.
I want to walk into work and not have someone say to me, "rough morning?" because it's written all over my face that my family just started my day off like a pack of wild monkeys who don't know how to peel their bananas!
So when I say, to the morning moms, I mean the selfish morning moms.
The ones just like me.
The moms who are over-doing it each night before bed so they can get up each morning and have no one to worry about but themselves.
To the moms who get up early for that coffee and quiet time in the house, I commend you.
I am with you. Lay everyones clothes out at night, pack the lunches, line up their crap by the door! Let people think you are nuts.
And then, just smile and drink the coffee. You deserve it!