With recent safety warnings on everything from chicken nuggets to juices, we parents definitely have our work cut out for us in trying to ensure that the products we buy for our kids' consumption are safe.
And yet another product marketed to kids is being called into question- this time it's various makeup products from tween retailers Claire's and Justice.
As a mom of four girls, we've had more than our fair share of both Claire's hand-me-down clothing and birthday gift cards for both Claire's & Justice. When we've shopped to redeem the cards, my girls have often spent their last few dollars on the cute little accessories they have (conveniently!) near the registers. Most often, they'd buy a lip gloss, or a glittery eye shadow set.
And while those little kits are adorable, their ingredients are far less adorable…
The Food And Drug Administration announced on Tuesday that three cosmetic products from Claire's & one from Justice were found to contain asbestos.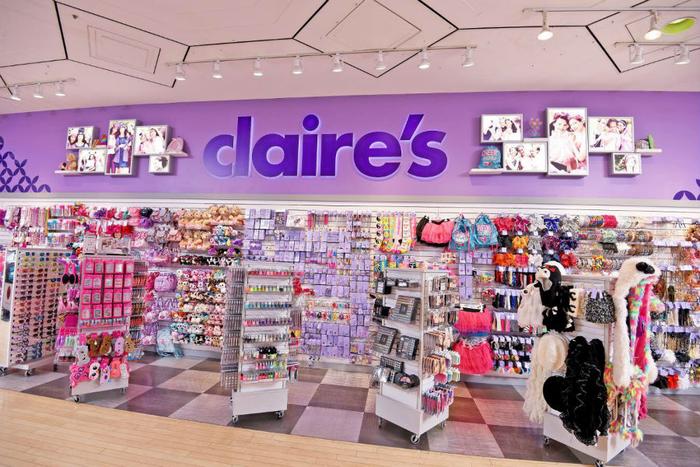 If you're not familiar with what asbestos is, it's a fibrous silicate material that is often used to insulate products or to make them more fire-resistant. In fact, many homes built in earlier years had asbestos insulation, which was later found to be -surprise!- a major health hazard.
As far as the effects of asbestos on the health of human beings, well, have you ever seen those daytime commercials that begin with, "If you or a loved one has suffered from mesothelioma…."? It's a type of cancer, and it's typically caused by breathing asbestos fibers into your lungs, which is a carcinogen.
Asbestos have been proven to cause cancer and/or tumor growth in human beings, & is often found in talc-based products. This is obviously a big no-no for anyone, much less small children simply wanting to wear pretty glitter eye shadow.
Although Justice immediately honored the FDA's request to recall their one product in question, Claire's never issued a formal recall; they merely removed the affected products from shelves.
A report confirming the presence of asbestos in some products from both Claire's & Justice was originally filed by the FDA in 2017. And although Justice immediately ordered a recall for their suspected products, Claire's did not. They simply stopped selling the products, never alerting consumers that may have already purchased the questionable items.
Claire's released a statement claiming that the FDA's testing process was erroneous, giving a "false positive" result of asbestos.
They state that the test report had significant errors, and that it mischaracterized certain fibers as asbestos, in direct contradiction to typical FDA standards.
Although they insisted that the three products were indeed safe, Claire's finally issued a recall, stating publicly:
Out of an abundance of caution, we have removed the three products identified by the FDA from our stores, and are also removing any remaining talc based cosmetic products. We will honor returns of any Claire's talc based cosmetics.
Now, did these products contain asbestos or did they not?
It depends on who you believe- the FDA or Claire's. While Claire's insists that the testing is erroneous, based on the FDA's standard of conventional testing, it appears that they did. But why take the chance??
But it's also important to note that Claire's filed Chapter 11 bankruptcy protection a year ago, which protects it from being sued by any consumers that would wish to legally contest the presence of asbestos if found in their products.
As far as the exact items in question that have only recently been recalled by Claire's, they are the following:
Claire's Eye Shadow Batch No. 08/17
Claire's Contour Palette batch No. 04/17
Claire's Compact Powder batch No. 07/15
Note: Although the report does not specifically name which single Justice product was again tested, the store recalled 8 separate products in their Just Shine series back in 2017 to ensure all concerning items were off the market.
While it's certainly good that the Food & Drug Administration has brought this recent concern to the public, it sheds light on the more troubling reality that the safety of the cosmetics industry is not well-regulated by our current FDA structure.
Cosmetic manufacturers are given an alarming amount of authority in monitoring their own products- for better or for worse.
And while it's important to protect your children (in this particular example) from exposure to possibly harmful products), it's also a valuable reminder to educate ourselves on our OWN cosmetic use as well.