Technology and the world wide web are amazing. Whatever you're looking for I can pretty much guarantee there's a website for that.
But it also has a dark side and trying to keep on top of all of the ways predators can access our kids online feels like a never-ending battle.
While there have been numerous warnings to parents about TikTok, Snapchat, and Instagram the latest threat comes from a virtual chatting website that can be accessed on any device with internet access.
Omegle is a live video chatting website for people to "Talk To Strangers!" via video or text or both.
It was "created to provide a platform where people could connect with other people of diverse backgrounds and experiences that may differ from their own."
Omegle pairs random users identified as 'You' and 'Stranger' to chat online one-on-one without any supervision.
According to its website:
"Omegle (oh·meg·ull) is a great way to meet new friends, even while practicing social distancing.

When you use Omegle, you are paired randomly with another person to talk one-on-one.

If you prefer, you can add your interests and you'll be randomly paired with someone who selected some of the same interests."
If you think kids aren't using it, you'd be wrong.
While it has been around since 2009 it's recently experienced a huge surge in popularity among teenagers.
And this is terrifying.
The spike in interest by teens (and younger) seems to be propelled by popular social media influencers using the website to make surprise cameo appearances.
In addition, videos with #omegle have more than 10.5B views on TikTok.
The site itself has over 65M monthly visits.
The main problem with Omegle is that it is easily accessible. To anyone.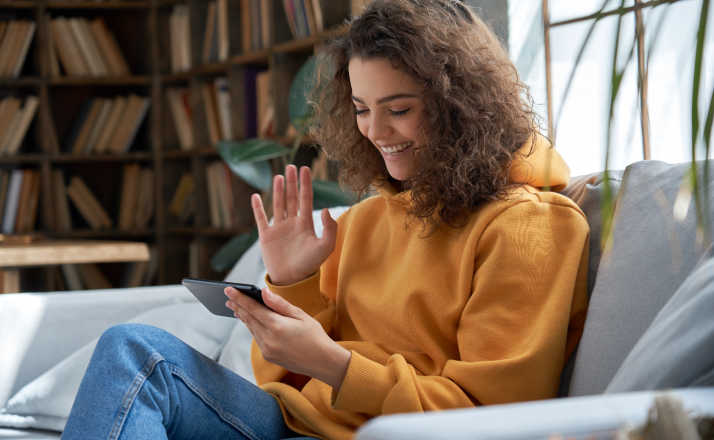 The terms of service state that "users must be 18+ or 13+ with parental permission and supervision to use Omegle."
However, and this is a big however, there are ZERO safeguards in place when it comes to who can access the site. There is no age verification mechanism or registration required.
Instead, the website relies on third-party parental control apps put in place by parents to monitor underage activity.
They also ask that users:
"Please leave Omegle and visit an adult site instead if that's what you're looking for, and you are 18 or older."
The site also states that video is monitored BUT according to its own terms and services, "no moderation is perfect."
Additionally, "Omegle has no obligation to monitor these communication channels." and "Users are solely responsible for their behavior while using Omegle."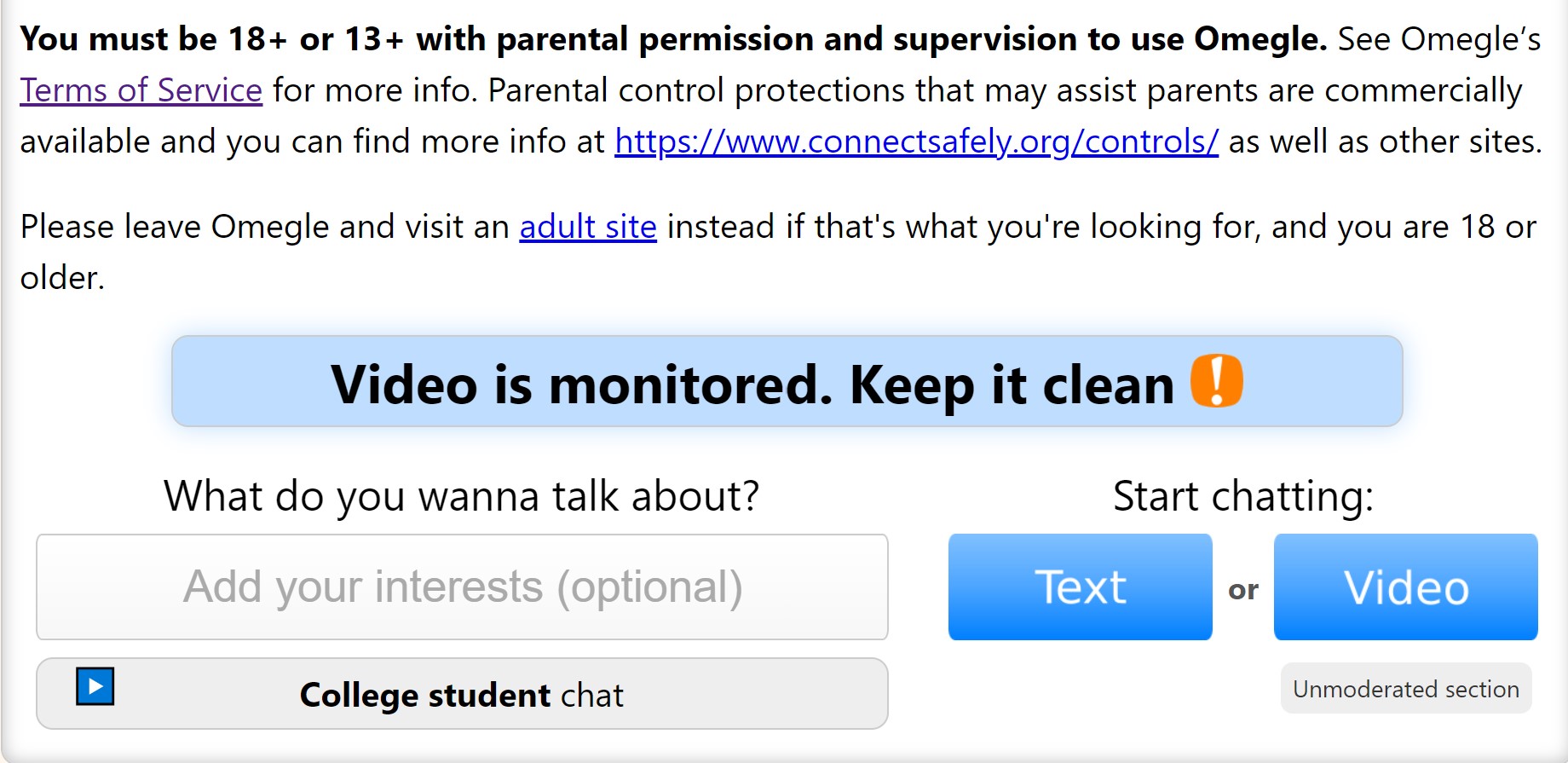 As for how easy is it? If you can click a button, you're in. That's it.
All it takes is selecting Text or Video and checking off boxes for terms and services and age requirements and voila! you're now connected to a random stranger.

You have no idea who you are talking to. You know absolutely nothing about the person on the other side of the screen. No vetting has taken place. Zero checks. No restrictions. As a parent, I find this so disturbing.
And parents should be disturbed.
Since its inception, Omegle has been embroiled in controversy.
According to Mobicip.com:
In 2014, a twenty-two-year-old man sexually assaulted two thirteen-year-old girls he made friends with on Omegle. The girls were lured into a private meeting and later assaulted.
In 2017, a virtual assailant manipulated two underage girls into engaging in explicit and inappropriate conversations that were later used to threaten the girls.
In 2020, a man from NY traveled to Charlotte for the purpose of engaging in inappropriate activity with a minor, whom he met on Omegle. He was arrested and charged.
In 2021 BBC launched an investigation into Omegle. They discovered sexually explicit videos and live streams featuring minors as young as 7 or 8.
During the approximately 10 hours that investigators monitored Omegle, they were paired with dozens of under-18s, with some appearing to be as young as seven or eight.
In just two hours, they were connected at random with 12 masturbating men, eight naked males, and seven porn adverts.
If this doesn't make you want to burn the entire internet down, I don't know what will.
Clearly, this website is NOT safe for children. And experts agree.
Police forces, schools, and government agencies have issued warnings about the site in the US, Canada, UK, Norway, France, and Australia.
In an interview with Today about Omegle, Corporal Kenneth Hibbert Jr. said:
"It opens way too many doors to illegal crime, sex offenders talking to juveniles, sex trafficking of juveniles…Parents need to be aware of this website and the dangers that can come from it."
So please, parents, be on the lookout.
As much as we think it won't happen to our kids, predators are out there. The threat is real. And they are just waiting for the opportunity to strike.
It's been a tough year. Kids are craving connection now, more than ever before. But be aware of where they are going for connection.
And for the sake of your kids, keep them off Omegle.