As parents, we want nothing more than for our kids to be healthy, happy, and safe. We send them out into the world, hoping against hope that they will only know kindness and love.
Unfortunately, this isn't always the reality. People can be cruel and bullying is rampant in our schools and online.
According to a 2020 SURVEY conducted by the Cyberbullying Research Center, 50% of children aged 9 – 12 are victims of school bullying.
That's 1 in 2. Let that sink in for a minute.
Bullying is not a joke. It is linked to a number of negative outcomes including impacts on mental health, substance use, and even suicide.
And for one Utah family, they have tragically experienced this firsthand.
10-year-old Isabella "Izzy" Faith Tichenor died by suicide earlier this week and her family believes that bullying is to blame.
They are speaking out in the hopes that no other family has to experience the same heartbreaking loss of a child under similar circumstances.
In an interview with 2News, Izzy's grandmother, Paula Harris, said:
"We are going to be Izzy's voice, we are going to ring this bell as loud as we can because we are going to stop this bullying.

That little girl had spark, that little girl had hopes and dreams."
The family also issued a press release written by her mother, Brittany Tichenor. She describes Izzy as a "bright, brilliant, and intelligent girl with the brightest smile" who "always loved to hug and give love."
Izzy attended Foxboro Elementary School in North Salt Lake, Utah, where, according to her family, she had been "frequently bullied and belittled" by her peers.
The press release goes on to read:
"Izzy was autistic and lived a life different than other kids. Other children recognizing her differences, frequently bullied and belittled Izzy.

She was an easy target especially after a teacher joined in mocking this young lady."
Not only was this little girl humiliated and tormented by her peers, but she was also allegedly mocked by one of the adults that should have been protecting her.
Tichenor told The Salt Lake Tribune that Izzy didn't think her teacher liked her.
She recounted that Izzy told her, "She doesn't say 'hi' to me. She says 'hi' to all the other kids."
Additionally, Tichenor spoke of an incident in which the teacher seemed to direct a comment about "students smelling bad" specifically at Izzy, prompting several kids to threaten Izzy on the playground.
It was after this incident that Izzy began to take a bottle of air freshener to school to wear as perfume.
And this is absolutely heartbreaking.
Meanwhile, Izzy's parents did not take the bullying lying down. They went through all of the proper channels.
They reported it to Izzy's teachers, the school administration, and the district administration on several different occasions.
So what was done about it?
According to Tichenor, nothing. She writes:
"Nothing. Nothing was done to protect Izzy. Children did not have their behavior corrected so the torment of this child continued day after day."
Until the day that Izzy couldn't take it anymore and, without warning, ended her life.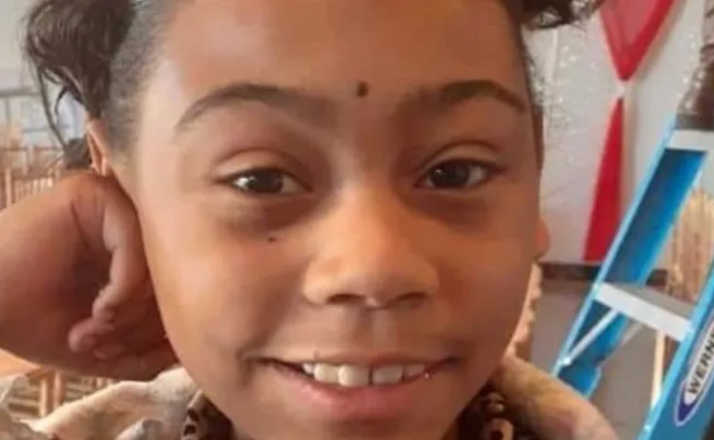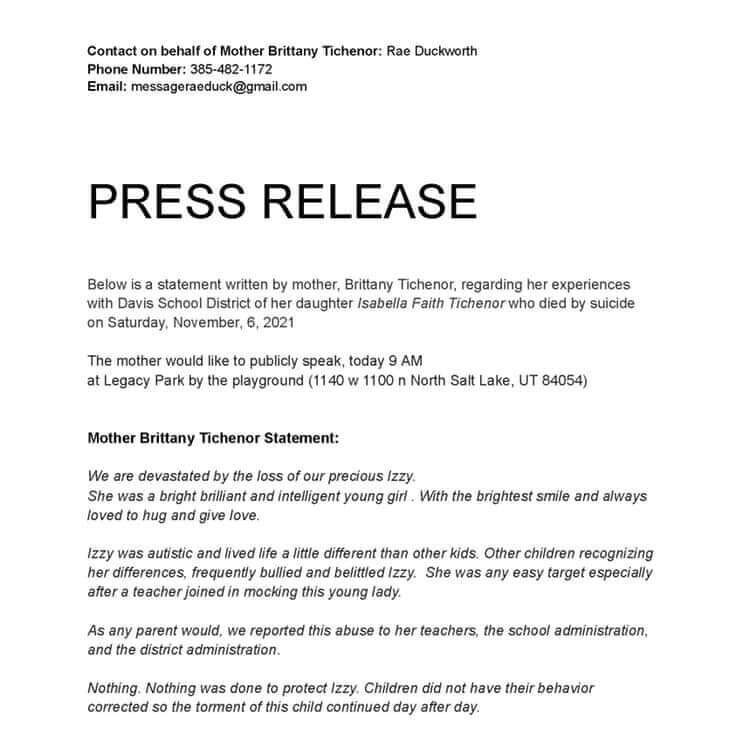 As for The Davis School District? It is currently investigating the incident.
It issued a statement saying:
"We, like everyone, are devastated by the death of this child. Our hearts go out to the family.

Foxboro Elementary has worked extensively with the family and will continue to provide help to them and others impacted by this tragedy.

We take all incidents and reports of bullying seriously.

At this point, the incident we are aware of involved another student.

The teacher and administration responded quickly and appropriately.

As with all allegations of bullying, our investigation will continue."
This is not the first time the school district has been involved in cases of harassment and bullying.
In fact, just two weeks prior to Izzy's death, the U.S. Department of Justice issued a scathing report after a two-year probe into the district, citing that the district was "deliberately indifferent" to reports of "serious and widespread racial harassment" in its school by students and also some staff.
During a press conference on Monday morning, Foxboro Elementary School PTA member, Breanna Larson, told 2News:
"We want things to change too, the culture in this county is not what we want for our children either.

Everyone has a role here in this failure, and everyone has a role in the solution.

It is on the parents, it's on the students, it's on the teachers, it's on the administration."
And from the sounds of it, they have a LONG way to go.
It is not enough to have bullying policies in place. They have to be strictly followed and enforced in order to have any real impact and bring about any lasting change.
As for Tichenor, she vows to stand for Izzy.
And she's on a mission to ensure that this never happens again.
"Even though my baby is gone, I'm going to make sure that I stand for Izzy and I'm going to make sure for voices that can't be heard like hers, that this will never happen again to any kid that is her age, teenager or adult.

I don't care who this is for. Nobody should have to go through that."
No parent should ever have to bury their child. No mother should ever have to bury her daughter.
Izzy was 10-years-old. She was in Grade 5. She loved to dance and jump around. Izzy loved going to the playground and playing in the water. She was the "best big sister and her mommy's best friend."
And her life was cut tragically and unnecessarily short.
We need to work together to put a stop to bullying in schools. We need to talk with our kids, work with our schools, our teachers, our administrators, and our districts and ensure that what happened to Izzy doesn't happen to another child.
We need to stand. For Izzy. And for all of the other kids who are victims of bullying.
If you or someone you know feel hopeless or in crisis, call the 24-hour national suicide prevention 24-hour lifeline at 1-800-273-8255.