The teenage years are ROUGH. It's not enough that our bodies are changing, hormones are raging, and our emotional and mental states are riding the crazy train express but we're still just trying to figure out who we are and where we fit in the world.
The struggle? Whew boy, is REAL.
And some kids, admittedly, struggle a lot more than others. Especially if they don't feel accepted by their peers and are victims of bullying.
For gay student Tyler Johnson, he knows this experience well.
It took him moving from West Virginia to upstate New York and switching schools to finally find the courage to come out with the love and support of his peers.
His story has a happy ending, and he wanted to shout it out to the world. Or at least, to his high school. And this is where this story takes a turn.
School administrators attempted to censor Tyler Johnson in the school newsletter, forbidding him from talking about being gay and overcoming bullying.
I wish I was kidding.
It all started when Tyler was chosen to be spotlighted in the Tully High School's district monthly letter, The Knight Insight. Each issue features a "Senior Spotlight" highlighting two students.
Students answer a number of questions about their lives, including, "What challenges have you faced and how have you overcome them?"
Tyler was excited to share his truth about coming out and staying strong in the face of bullying.
He says:
"So I answered truthfully with the biggest challenge I'd had to overcome: The biggest challenge I faced was growing up gay and coming out. I had to learn how to become comfortable in my own skin and how to stay strong through bullying and all the negative experiences I had while trying to navigate through life."
His answer landed him in hot water…and the principal's office.
In an interview with Syracuse News Tyler says:
"I was called into Mr. O'Brien's office and was asked or was told I'm not allowed to have that in, I have to either re-write it or take it out."
Tyler wasn't having it. He took to social media to express his outrage. His TikTok video quickly went viral with over 63K views, 18K likes, and 600 comments.
He captioned it with "so my school is homophobic."
In it, he explains that when given the choice to rewrite his answer or remove the question completely, he chose option 3 – "completely take me out of the senior spotlight. I just won't do it."
After his mom, Pamela Custer, called the school and got the same insultingly bogus response that her son could just rewrite it, Tyler had had it.
He called O'Brien and told him he wasn't interested in being featured.
"And he was like, but you're such a unique student, like, walks our halls and you're such a positive face in our community.

And I was like, yeah, but here's the thing: There are so many kids in our community and in our school that are going through the same things that I've gone through and that I'm still going through and then reading that from me and, like, seeing that in our school newspaper would give them the courage and you know, give them the strength to know that it's okay to be yourself.

But now they're not going to have that."
Mic drop.

In a follow-up TikTok, Tyler explains that he woke up the next morning with a text from the president of the Tully Board of Education, telling Tyler she was not okay with what was happening.
Further adding fuel to the already raging inferno, Tyler told The Los Angeles Blade that principal O'Brien had allegedly made up a district policy that "does not allow mention of sexuality, orientation, religion, or illegal drugs," in the Senior Spotlight.
And used this as the reason for not wanting to publish his answer.
This seriously just gets worse and worse.
The superintendent, Robert Hughes, finally addressed the situation. He released a letter to the community taking responsibility for censoring Tyler.
It's posted on the Tully Central School District website.
Hughes writes in part:
My original decision was to not include this specific response in this student's Senior Spotlight feature story.

I made this decision because I was worried this specific response would stir up additional controversy in our school community, and that this additional controversy would then continue to hinder the work we are doing related to the NYSED Diversity, Equity, and Inclusion (DEI) initiative.

In hindsight, this was not the right decision for me to make.
Gee, ya think?
He goes on to write:
It was not fair to this student, who has demonstrated great courage and honesty in revealing his struggles and in being true to who he is as a person.

I do admire him for that.

This was also a decision that also goes against values we are teaching our students, specifically tolerance, acceptance and resiliency.
Hughes also credited Tyler's TikTok videos for prompting his change of heart.
The community has rallied around Tyler. He was met with an outpouring of love and support at school by fellow students and teachers alike.
Posters were hung up in the hallways saying, "People are people end the hate" and "You don't have to be gay to believe in equal rights."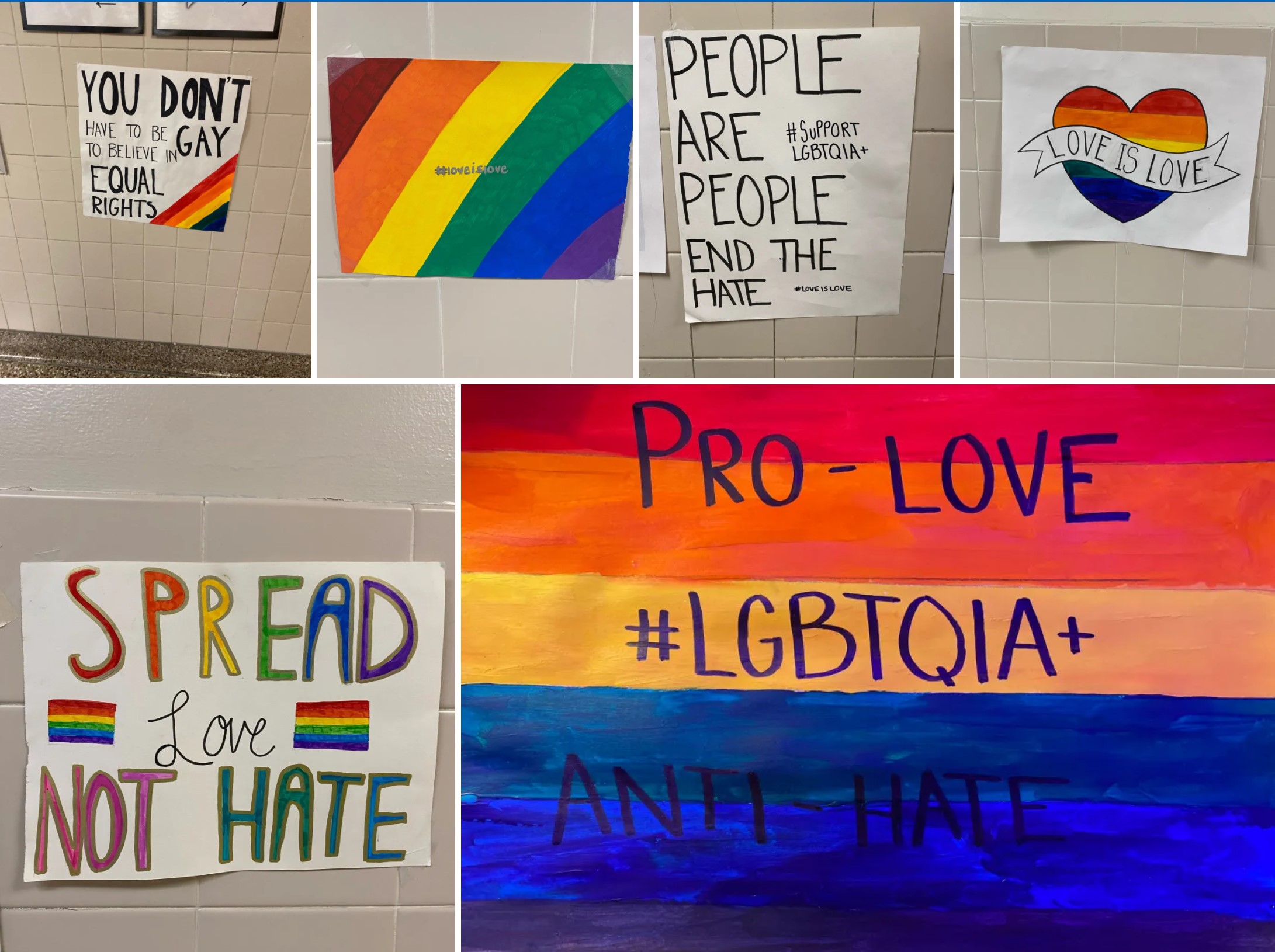 Additionally, Hughes called for an emergency board meeting.
No doubt.
According to another letter to the community, the board would be discussing "steps the District can take to address the concerns brought up by a specific student in recent social media posts."
In yet another letter, Hughes provided updates regarding Tully's new and improved Diversity, Equity, and Inclusion efforts.
It reveals that:
"Over the next few weeks, Board of Education members and District administrators will be meeting with those who have expressed concerns about how our LGBTQIA+ students have
been treated at Tully.

Our goal is to bring together students, parents, faculty and staff to engage in dialogue, to allow us to understand every person's concerns.

We will work together to develop solutions that ensure that our LGBTQIA+ students and faculty feel welcomed and supported at Tully Schools, allowing the entire school community to grow."
The letter also reconfirms Tully's commitment to "supporting all of our students, including our LGBTQIA+ students."
Only time will tell if any real change is made.
As for where it's all at now? Tyler's spotlight WILL be published in February's newsletter. As is.
What happened to Tyler is all shades of wrong. This never should have been an issue in the first place. It's saddening to learn that even after all the work that has been done, we, as a society, still have so much further to go.
Hopefully, Tyler's stand will not be in vain.
Hopefully, by telling his truth, other kids will not have their truths silenced.
Fingers crossed.