I've had four babies, so the number of times I've thought "How many weeks pregnant am I?" is basically astronomical — and I know I'm not alone in this. First-time moms, especially, Google their particular stage of pregnancy roughly 42 million times per week.
But this isn't unique to first time moms. More experienced moms worry and want to know too.
Plus, moms who are having their second or third child (or beyond) now have their mental focus stretched in way too many directions. Rather than reading What to Expect books nightly, they have to rely on the internet to tell them how many weeks pregnant they are.
That's where pregnancy week calculators become invaluable!
Maybe you feel like you've been pregnant forever and you want to know how much longer you have left.
Maybe that tactless lady at work asked (AGAIN!) if you're due any day now. You're pretty sure you're not, but you start wondering, "Wait, how far along am I?" At that point, a pregnancy week-by-week calculator is clutch.
Perhaps you just want to know what fruit size your baby corresponds to this month. Is it a blueberry? A kiwi? A peach? Because it sure feels like a watermelon. . .
Whatever your reasons, with these pregnancy week calculators, you'll never again have to wonder, "How many weeks pregnant am I?"
What to Expect lists their pregnancy week calculator as a due date calculator, but it provides a lot more than that.
Of course, it does provide the due date, but it also provides a detailed, week-by-week look at your pregnancy. The calculator also gives some fun little tidbits of information.
Want to know your baby's birthstone, zodiac sign, or famous individuals with the same birthday at your due date? This pregnancy snapshot provides it.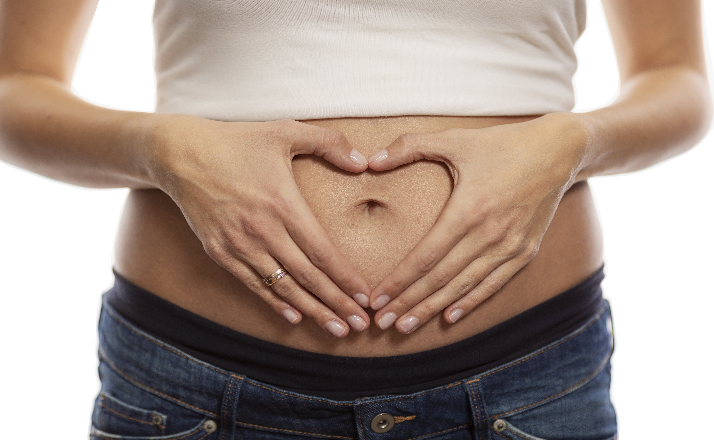 You can also sign up for email updates. If you're wondering how many weeks pregnant you are and what your baby is doing on a random Tuesday morning in April, all you'll need to do is open up your inbox.
Seriously, can we take moment to marvel at all the online conception and pregnancy calculators available to us? How did our mothers and grandmothers do it with just a book and some pamphlets?!
Baby Center offers a week-by-week pregnancy calculator that's almost exactly the same as What to Expect's.
It's another high quality calculator with good information, broken down by week. Like What to Expect, Baby Center also offers you the option to sign up for email updates, so you'll never again have to Google How far along am I?
As a quick note – both these pregnancy calculator sites also offer a community feature. You can join communities or message boards with other women who are due around the same time as you.
These can be a great source of solidarity and support, but they can also be a source of drama and stress — something you may not want additional doses of during your pregnancy.
You don't need to sign up for the emails or community forums to use the calculators. Decide what's best for you.
The American Pregnancy Association also offers a simple pregnancy calculator that will tell you how many weeks pregnant you are.
One of my favorite things about this pregnancy calculator is that, after you enter your information, it tells you not only how many weeks pregnant you are, but also what percentage of your pregnancy you've finished.
For example, if you're 6.5 weeks pregnant, it tells you that you're approximately 17% of the way through your pregnancy. Pregnancy feels amazing for some women. For others (like me) it's an incredible blessing that simultaneously feels like a little slice of hell on Earth.
I clung to the increasing percentage on these pregnancy calculators like a life raft! Sometimes I'd refresh it daily just to see the percentage tick up.
Most online pregnancy calculators are fairly generic, but they still tend to have an American-bend to the information.
The doctor's appointments, ultrasounds, and testing referenced tends to follow the schedule and procedures in the United States.
If you're in the UK and want a calculator that's more geared toward your health care system, you can use the National Health Service's Pregnancy Calculator. Like most calculators, you enter your date of conception or the date of your last period to find out how many weeks pregnant you are.
Then it gives you links to look up the information related to each week. You can also sign up for email updates directly from the NHS.
Regardless of where you are in your pregnancy, knowing exactly how many weeks pregnant you are is important.
With timely information and reminders, these pregnancy week calculators will help you stay on top of things for all 40(ish) weeks!