There's nothing like a bathing suit ad popping up in your Facebook feed just as your feeling your most post-holiday sluggish self, am I right?
Well, the newest ad from Beginning Boutique that features the latest swimsuit from @9.0Swim is one of the funniest posts that could pop up in your feed right now. And it's not the swimsuit that warrants the laughs -wait until you check THAT thing out- but the reaction comments from Facebook users that makes it true comedy gold.
But first- the suit. Dear readers, I bring you: the Heron Bikini Bottom, red & white. (Or as I personally refer to it: the crotch cruncher.)
LONG WEEKEND VIBIN' ? Red hot swim just dropped! Tap to shop the @9.0swim Haymen Bikini Tee Red & White $59.95 & Heron Bikini Bottoms Red & White $39.95!
Ok, wait. What the WHAT?
My eyes!! I don't want to look, but you can't not look.
Admit it. You studied this model's vajayjay, trying to figure out just what you're seeing, and how it's even possible that you're not seeing lady bits that would be overflowing on out of this bikini bottom like a burst can of Pillsbury dough if worn by the average female.
And if you did study this pic with a mixture of shock and awe, you're not alone. Since its appearance on January 4, the post has already earned almost 30K shares, and 130K comments.
People have a LOT to say about this bikini bottom, and the comments are so, so good:

The "V'strap keeps your crack intact." Perfect marketing slogan! Crack kills, so strap that thing up, baby!

Muffins can be magical, but not when chocked out by dental floss "swimwear". No muffin can look harnessed that tightly. Trust us.

This song will get stuck in your head later. And you'll laugh. You're welcome.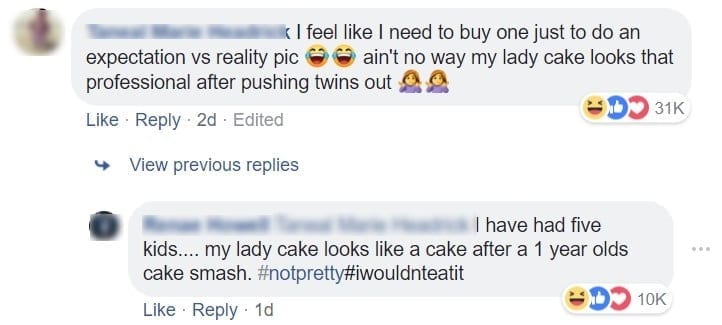 First of all, the idea of a "professional" lady cake had me cackling. But the cake smash comment that followed…. DYING.

I.can't.even. That bottom is on so tight, that there's not room for anything -and I do mean anything- to escape.
That's a pressure cooker right there, and it sounds downright dangerous. And 31K people apparently agreed with this commentor's observation that restricting natural gas in the name of fashion is.. well, hilarious, apparently!

Ya vaginamite fit in this suit, but likely not. If you're among the vast majority of women laughing about this pic, then you're vaginadon't.

Truth. It may be possible to tuck everything in while not moving in this bikini bottom, but once you hit the water, all hell will break loose- and so will your "lady wings". (PS- you'll also never look at a manta ray the same way again…)

It's never too early to get ready for summer with your flip flops and your- oh. Wow.

Oh, yes. Another little ditty to hilariously sum up the Facebook response.
And there are many, many more hilarious comments that followed the post; these are just a few of the gems.
That's why this post is actually quite significant in it's popularity; it's not just the humor. The comments prove that the picture is not representative of the average woman's body (or vulva, for that matter), and we're not going to pretend that it is.
The humorous comments encourage acceptance of our LADY PARTS as they actually are, rather than some near-imaginary notion of what they might or should look like.
There's more than great laughs in those comments. There's a camaraderie in knocking down the facade of advertising's "normal" when it comes to womens' bodies- ALL the parts of womens' bodies.
We know our bodies better than anyone, and if advertisements are going to pretend big ole' vulva, pubic hair, and stomach rolls don't actually exist, Facebook is going to kill it with the laughs- literally.
Oh, and if the above swimsuit bottom is too much for you (or not enough??), Beginning Boutique also offers another option: instead of the "Crotch Cruncher", try their Cabana matte nude bikini bottom, aka the "Crotch Cracker".
Because fashion is all about variety… and vulva. Apparently.
POOL SESH ? @olivia.mathers looks UNREAL in the @9.0swim Cabana Bikini Bottoms Matte Nude $49.95!