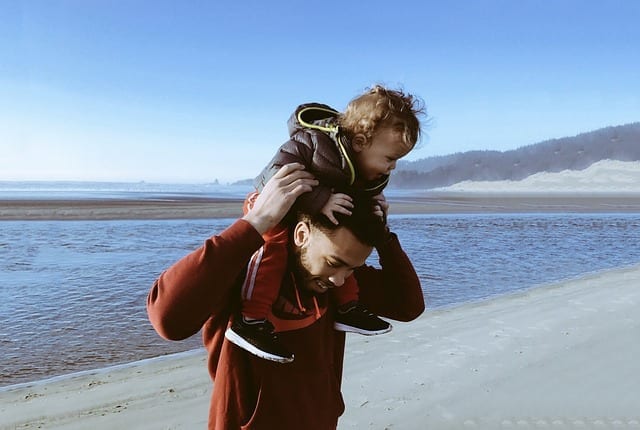 For those about to enter fatherhood or still trying to figure out the ropes of being a dad, you're not alone. You always have to be five steps ahead and anticipate the needs of your kids from the day they are born to the day you send them off to college and beyond. While every parent has different techniques for bringing up their children, there are some surefire ways to be a pro at dad duties. Here are some tips that'll set you up for parenting success and get you on your way to being the cool dad.
Get an Electric Shaver
When you first become a dad, you tend to get zero hours of sleep and barely have time for anything other than worrying about your baby and figuring out how to change a diaper. With such a busy new life, your grooming needs tend to fall on the wayside. But try to keep it together as best you can and look like you have everything in control by at least keeping a clean shave. You can save time with an electric shaver like the Panasonic Arc4 Multi-Flex men's electric razor. It's got four blades and gives you a quick, efficient and clean-cut shave—especially clutch when the last thing you have is time to spare.
Provide the Power
When your kid's iPad runs out of battery during a long car ride, that's your chance to come to the rescue. Stand by, ready with an external battery charging pack like one from Hyper Juice. They come in all shapes, colors and sizes—you could even get the kids involved in picking which one they want to power up all their fun gadgets.
Look Cool While You Stroll
Stroller time has become your new hobby and will stay your hobby for quite some time. Why not roll out with a souped-up stroller. The Origami Power Folding Stroller is the world's first power-folding stroller—meaning with the touch of a button, it folds itself. Not only is the stroller super practical in this sense it's also able to charge your phone, count mileage, and light up pathways. There's even a generator in the rear wheels that charge it as you walk. Talk about a cool way to stroll.
Pimp Out Your Ride
You never thought the day would come where you had to trade up your built-for-speed whip for a van. But, the day has come and now that you're a dad you need to accept it. Accept it, but don't settle for just any van. Look into a slicker van that offers top quality like the Chrysler Pacifica which has been dubbed the highest ranked minivan in initial quality by JD Power. You may not look as cool driving around in a van but at least you can drive the coolest van among the other dads carpooling their kids around.
Practice Teamwork with Mom
To make sure you don't go crazy trying to take on all the parenting responsibilities, be sure to practice teamwork with your significant other. Keep open communication with each other and share the duties it takes to raise your kids. When you work together with each other you can take the burden off one person, remain sane and most importantly, keep your cool.
Keep a Balance
It's tough to say no to your kids, but you do need to show them who's boss. They will gain respect for you when you can give them a firm "no"—just make sure you are stern with them when necessary but also compassionate to their needs. You can keep a balance between fun dad and strict dad by lightening up and having a sense of humor. That way, you don't come off as intimidating to your kids but still respectable.
Let Your Kids Make (Some) Decisions
Your kids will feel on top of the world if you let them make their own decisions from time to time. Try letting them decide what they want to eat for dinner or getting their input on where they want to go on the next family vacation. When you involve them in these choices, you empower them and gain gratitude from them.
You can become a cool dad by implementing a few of these tips in your life. Not only will you look cool with the right gadgets but you'll also come off as cool by practicing certain parenting routines.