Welcome back to our Ladies Only Blog Share Link Party! This week we are celebrating the little things – things that we are proud of or things that make us truly happy inside. Like a new recipe. Or being published in a book. Or redoing a piece of furniture. Or being published in a book. Or even KIDS! Did I mention having a book published? That is my little piece of happy this past week. As you may have heard, myself and twenty-nine fellow bloggers released a book called The Mother of All Meltdowns. It's been such an honor working with this group of women and a rush to finally see the words "Author" next to my name. Enter for your chance to win a copy below!
Now it's your turn. What has you on cloud nine? No matter how small, let's celebrate together!
Once again, here are my talented and dedicated co-hosts:




This week we are also welcoming a very special co-host, Brittnei from Homemaking With Style. Please make sure to bookmark or RSS feed their blogs and visit them on Facebook, Twitter and so on. They faithfully return the favor! In addition to the link share, three really cool bloggers are also being featured. This week they are (in no particular order):
Pushing Twigs – Julie of Pushing Twigs is another writer I would love to see publish a book. She has an amazing gift and her posts resonate in countless ways. Several of my favorites are I Miss Sleep, in which Julie brilliantly points out and I could not agree more, "Without question, the amount of sleep you get is directly related to the number and/or age of kids you have…", and The Harrowing Tale of My Last Mani/Pedi, a post that will have you rolling with laughter.
Joy in the Midst of – Stevie of Joy in the Midst of opens her About page with, " I have a voracious appetite for words.  They inspire me.  I consume them like food for my soul.  I collect them like shiny baubles, held precious and ready in my proverbial pen." This is one cool lady blogger and a blog that everyone should bookmark. Her recent post Ever So Subtly will draw you in and you'll never let go!
Dizzy Busy & Hungry – A breast cancer survivor, Kristin of Dizzy Busy & Hungry is an inspiration! Her blog is dedicated to making sure that families eat healthy. Ever been asked that nagging question, "What's for dinner, Mom?" Let Kristin provide the answers! A few really made my mouth water including Garlic Basil Parmesan Chicken Portions and Apple Butter Gingerbread Loaf with Apple Butter Cream Cheese.
Bling Out Your Sidebar! Grab Our Button!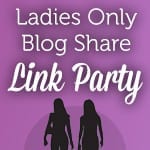 Let's get started! Have fun and visit the links below. We ask that you try to visit at least three. Remember to leave a thoughtful comment on the new blogs you've discovered and let them know you're visiting from the Ladies Only Blog Share Link Party! Feel free to pin your blog post to the Ladies Only Blog Share Pinterest board, too! In the URL field, place the link to your post. The name field should contain the title of your post. And if you'd like to co-host a future link party, give me a shout at mommifried @ gmail.com (no spaces).
Use the hashtag #LOBS when tweeting!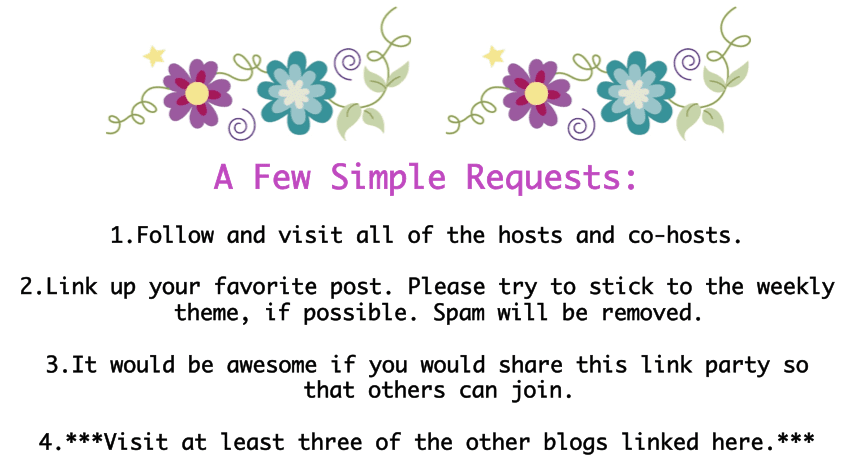 ENTER TO WIN A FREE COPY OF THE MOTHER OF ALL MELTDOWNS!
a Rafflecopter giveaway