Being a parent of a child with special needs can feel lonely at times; you're often dealing with unique situations that other parents simply can't relate to. As a result, the parents of children with special needs can feel tremendously isolated, almost as if they are on the fringes of the parenting community.
This is why connecting with a fellow parent that can relate to what your struggle is like is so invaluable. We all want to feel that sense of belonging- it's so encouraging to know that another parent knows where you're coming from, no matter what parenting challenge you're facing.
Empathy and encouragement are two of the greatest gifts that we can give a fellow parent. We all want to find our "tribe"– to be seen & known by moms that are right in the trenches with us.
A mother took to Facebook to recount the special connection she had on a recent flight with a fellow mother of a child with Down syndrome, and to thank her for creating such a special bond during their shared flight.
Mom Holly Graham and her five-year-old son were already secured in their seats on an AirCanada flight when she first noticed them. A couple boarded the plane with their 20-year-old son, a handsome young man who has Down syndrome.
The family of three took their seats in the row directly in front of Holly, and she knew it was meant to be.
The 20-year-old turned around in his seat to engage Holly's five-year-old son, who like the young man, also has Down syndrome. The boys began to hold hands & make faces at each other.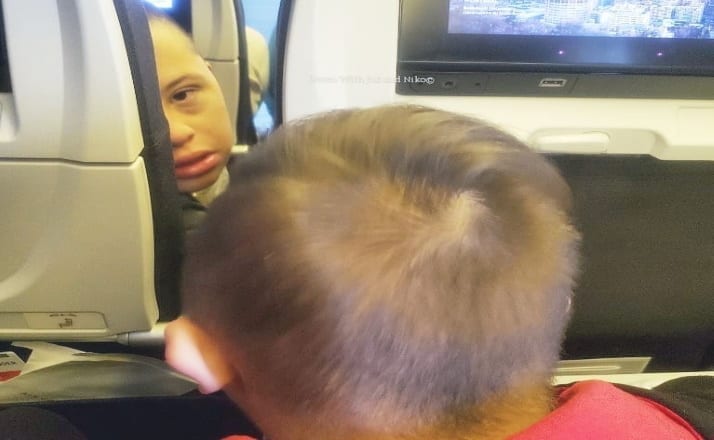 At this point, the 20-year-old's mother, aka "the Mama in Row 19", tried to distract her son from bothering Holly & her son.
But then the two mothers had a moment that felt mutually magical:
But then you turned around and saw my 5 year old who also has Down syndrome. Your face lit up!!
The woman realized that like her own son, Holly's son also has Down syndrome. And the woman was genuinely thrilled to see a sweet little boy seated behind her that reminded her so much of her own sweet son.
Let the bonding commence!
You started playing with him from between the seats. Asking basic questions about him in broken English.
The Mama in Row 19 spoke very limited English, but the language difference was anything but a barrier. Mothers have a way of reading each other's hearts- no words necessary.
Halfway through the flight, Holly's wife (who was seated elsewhere on the plane) arrived at Holly's seat to swap their children. While her wife took their 5-year-old son, Holly now held their two-year-old. Like his big brother, the little guy also has Down syndrome.
And this thrilled Mama in Row 19!!!
Once she laid eyes on Holly's toddler, she was beside herself with excitement:
When you saw my 'baby' who also has Down syndrome you couldn't contain yourself!

You played with him through the seats for a matter of minutes before you were standing up with open arms to take him from me.
If you've ever had a stranger offer to hold your baby, you usually have a good sense if it's someone you'd entrust your child to or not.
In this case, Holly could feel it. She knew in her heart that this fellow mom would not only safely hold Holly's son, but would be genuinely overjoyed to do so:
And with zero hesitation I handed him over.

Photo Credit: Holly Graham (Facebook)
For over a half hour, the Mama in Row 19 sang to Holly's son, snuggled him, played games with him, and loved on him.
And it wasn't just this sweet mama who soaked up every precious minute with the toddler; her 20-year-old son was clearly enamored with him, too:
I watched your son stroke my boys face and give him many kisses on on the cheek.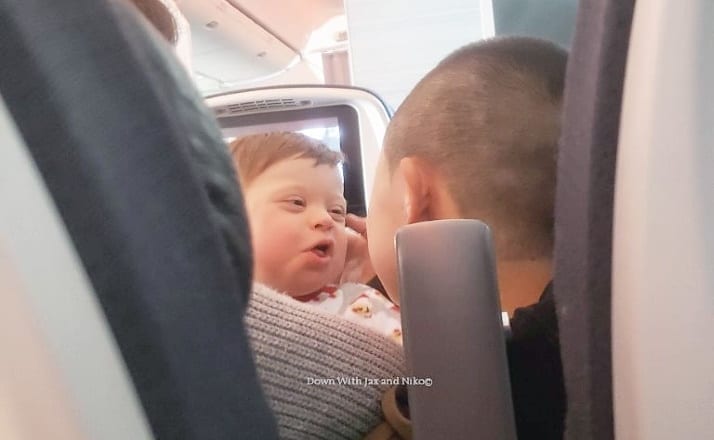 Despite the long tedium of the flight & her crushing exhaustion, Holly could not wipe the smile off her face as she watched this beautiful interaction.
Holly's joy wasn't merely from having her young sons occupied on a long flight. She knew that this was a unique & meaningful moment of genuine connection between two moms.
For Holly, the interaction between her family and the Mama in Row 19 meant SO much more to her than one could imagine:
As I watched your son my heart soared as I saw my future. And I know as you looked into the almond eyes of my boys you saw your past.
Holly knew that this wasn't a typical polite interaction between strangers on a flight. It wasn't about killing time on a long flight. It wasn't about making the best of being confined with your fellow travelers.
This was about two mothers of children with Down syndrome, feeling a synergy that was likely rare and precious for both of them.
In that moment, they "got" each other. They were an unspoken team, forging an instant bond over their mutual motherhood experiences.
I would never ever just hand one of my kids off to a complete stranger. But you weren't a stranger.
The Mama in Row 19 didn't speak much English, but there was no need for deep words:
You weren't a stranger. You are family, you are my tribe, you are me. The connection, the understanding and the bond we share because of our journeys.
All mothers need other moms- for support, for encouragement, & for the "me too!" moment of common ground that we desperately need when we're facing some painfully hard aspect of parenting.
For Holly, the Mama in Row 19 instantly became her tribe. They had a common bond, both raising sons with Down syndrome. The minutes on their flight might not have been long, but they were long enough for Holly and her fellow mom to become a family:
The giant family we automatically joined because of 47 perfect chromosomes.
Holly ended her post with a sincere "thank you" to the woman in Row 19, but based on her description, it sounds like the mom-bonding that happened on this flight warmed the hearts of BOTH of these special women.