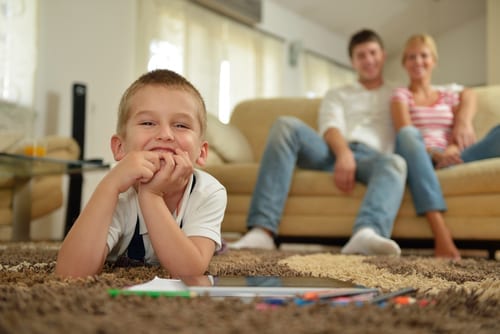 The living room has a hard job—it has to be all things to all people. It's where your kids watch TV and play video games. It's where you curl up by the fire or put your feet up at the end of a long day. It's where company congregates and where unexpected guests crash. You want it to be stylish, but because it's the center of your whirlwind life, it also needs to be practical. Here are some go-to essentials to make the room as warm and inviting as it is useful.
Practical Blinds
Blinds are multi-purpose. They grant privacy when you need it, sunlight when you want it, and black out the room when you're ready for family movie night. Blinds are more than just utilitarian though, they can also set the tone of a room. The Shade Store offers blinds in a variety of styles, from Roman and roller to pleated and vertical. Find the style right for you.
Area Rug
An area rug is a perfect frame for the room. Select a rug large enough for the space. Know the dimensions of the room before you start shopping. A rug should be two feet shorter (in length) than the shortest wall of the room. Frontgate, a retailer of fine rugs, offers traditional styles as well as contemporary designs. Be careful to examine color, pattern and texture before you purchase, and ensure these don't compete with furniture or wall art.
Luminous Lighting
The key to a warm and happy living area is good lighting. Decide what type of lighting will best fit your space. Do you have significant unused floor space? Add a floor lamp. Maybe you have room on a side table you'd like to fill? Look for a lamp that will provide the brightness your living room requires. If the room just doesn't have the square footage for a stand-alone lamp, consider a lighted ceiling fan or simple stand-alone, switchable light fixture.
Functional Furniture
If you have limited space for guests to stay, consider a hide-a-bed sofa or foldable futon, like those available at IKEA. This eliminates the need for a separate guest room and gives you an extra place to put up guests.
Purchase a coffee table with storage space below the tabletop. This can act as a place to store books and magazines. You can also keep a basket with pens, paper and glasses nearby. If the space is large enough, you might keep your family's collection of board games here. It will give you easy access, should you need to play a spontaneous game of Jenga, and it also keeps your closets clear for storage you want to keep hidden.
A media center with ample shelf space is essential. Separate various accessories into bins for safe keeping and easy finding. From controllers and headsets to batteries and remotes, all this can stay organized and accessible, and even better, hidden from the onlooker.
Focal Point
Whether it's the fireplace or a piece of art you really cherish, figure out what you want your living room to focus on and then, put it on center stage. Highlight the fireplace by placing a seasonal wreath above it, or a garland across the mantle. Emphasize an art print with a bright or bold frame. Tastefully draw the eye toward this point in the room.