When it comes to children, you can't be too careful about water safety, period. An accidental drowning can happen in the blink of an eye, so parents take careful measures to safeguard their kids against the potential for such a mishap.
Or we think we do. But a drowning can happen even when adults are in the pool with a child. And sometimes, people don't even realize it's happening because it doesn't look like a "typical" drowning like we see on TV.
One mother's horrifically frightening account of her son's near-fatal drowning has gone viral on Facebook, and it's every parent's worst nightmare.
And this mom courageously shared her story in the hopes of preventing other parents from winding up in the same tragic circumstances that she found herself in on July 20.
Maribeth Leeson, mom of five from Tipton, Indiana, was enjoying a pool outing with her kids when an unimaginable tragedy occurred. She had taken her 3-year-old daughter into the house for a moment to change her into a swimsuit, instructing 5-year-old Adam to wait for her. In minutes, she returned to find Adam below the water's surface.
The scene quickly evolved into chaos; Maribeth then saw one of the worst sights imaginable:
His limp, gray, lifeless body was pulled from the pool and it was every mother's worst nightmare. He was dead.
(Just reading that gives me chills. I can't even imagine it.)
Maribeth heard screaming, & it took her a moment to realize that SHE was the one screaming.
She described the flood of thoughts that ran through her mind as she took in the sight of her son's body: her 10-year-old son would never recover from seeing his brother die. How would she ever be able to tell her husband that their son had died??
An adult friend had begun to administer CPR, and as she reached her son's side, Maribeth described how surreal the moment was:
I thought this must be a dream, one of those dreams that you wake up sweating from, short of breath, because it was so real. Wake up! Wake up!

But no, I was already awake. Then the screaming was worse.

This is happening. My funny, silly, sweet, handsome, artistic, thoughtful little blondie was dead.
This is literally a parent's worst nightmare. I can't even fathom the sheer hysteria of viewing your child in this state, & feeling so helpless.
Thankfully the CPR helped to revive Adam; he began to show some signs of life. After vomiting up some water, a pulse was detected. It appeared that he was attempting to open his eyes, and -in what seemed like an eternity to devastated Maribeth- an ambulance arrived to rush him to a local hospital. But despite the miracle that he was even still alive, Maribeth feared that:
I was sure even if he was saved, it was too late. I was sure machines were going to be doing his living for him. I was sure it had taken too long.
Even though he had been miraculously saved from death, would Adam be left with permanent brain damage?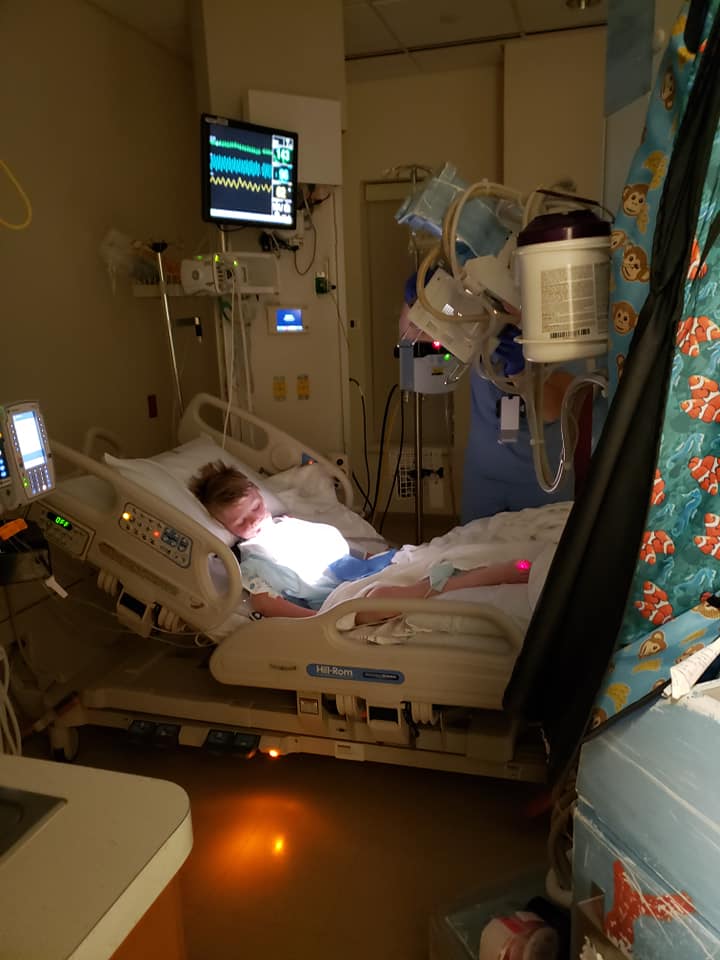 Amazingly enough, no. He was in the ICU of Peyton Manning Hospital for several days to monitor his brain & respiratory functions, but has since been discharged & is home.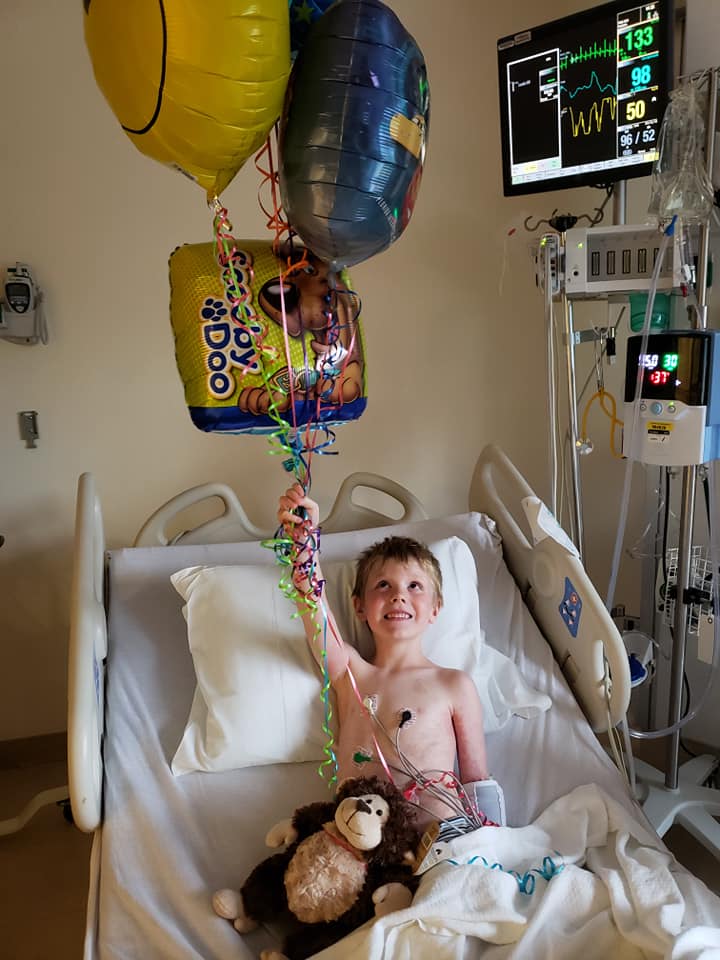 While Adam's story certainly has a miraculously happy ending, that's not the point of Maribeth's desire to share it publicly.
Leeson's motivation to share Adam's near-death experience is to emphasize to people that drowning doesn't necessarily happen the way that people "expect" it to, which is why we have to be even MORE vigilant in watching children in the water.
Adam didn't slip into an empty pool alone; he was surrounded by adults when he was drowning. His mother instructed him to wait at the smallest portion of the shallow edge until she came back in moment. She fully expected him to comply, but felt he was safe enough if adults were close by until she returned moments later:
I've never considered the possibility that my child could drown right in front of people who were watching him bob up and down from the bottom of the pool to just below the surface, but didn't think he was struggling because he looked like he was PLAYING.
Now to be clear, Maribeth does not blame the adults in the pool; as she explained, to most of them it appeared that he was merely playing and splashing.
I can 100% understand why the adults who were RIGHT THERE didn't recognize that he was drowning because when I saw him, I too thought he was just a kid who was playing.
Drowning can look a lot like kid's play- those struggling often throw their arms up in the air and splash. They may have trouble drawing enough air, which prevents them from screaming for help.
Maribeth admits in the post that she blames herself. Some critics will be quick to "mom-shame" her, pointing out that she hadn't been personally watching him.
She admits that her mistake was assuming that based on his maturity, her instructions to him AND the fact that there were plenty of adults in the pool, there didn't appear to be a major concern for such a brief moment:
I simply told him to stay in the shallow end while I got his sister's swimsuit on, then I would be over.

I thought it was fine for 5 minutes, as he could touch just fine in the shallow end, he wasn't alone because there were multiple adults IN the pool.
Maribeth wants parents to be absolutely certain that her cautionary tale enlightens parents on three crucial items:
Before going to any pool, first make sure your kids know not to get in until the adult who is responsible for them is ready to watch them.
It sounds like common sense, but it's a point that is occasionally overlooked in it's simplicity. Both adults and children often make the assumption that since there are other adults around, especially those that know the child, he/she will be safe for a brief moment. And as Maribeth mentioned in her post,
I was thinking because so many adults were present, he was fine, but those adults didn't know his swimming ability so they didn't question when he was under water.
KNOW THE SIGNS OF STRUGGLE!
As previously mentioned, drowning can look similar to play. But don't assume that people struggling will yell, or thrash wildly. They will often arch their necks up, trying to keep their mouths above the water. You may observe quick breaths/open mouth as they attempt to take in more air.
If you want to develop a keener eye for what drowning really looks like, check out the Lifeguard Rescue channel on YouTube; it offers videos that feature realistic drowning scenes to practice your detection of it. Or check out this post for water safety tips from a mom that investigates drownings.
Know CPR.
It's a practical skill to have if you have kids, simply because it could literally save your child's life one day. But knowing CPR has additional value; you could use it one day to save someone else's child's life. As Maribeth mentioned, she does know CPR, but would she have been able to be rational enough to step into action? She hopes so… but thankfully a friend of hers did, & saved Adam's life with it.
I like to think if I had been alone, my survival skills would have kicked in. Luckily, I don't know, because my amazing friend was busy saving him, but I do know that if I didn't know CPR, my helping him if we'd been alone wouldn't have even been a possibility.
The more people that know CPR, the better.
It was difficult for Maribeth Leeson to share this experience publicly, but I'm so thankful that she did. Those that will criticize her or blame her will have missed the point. There's a practical lesson here for all parents. She was willing to bluntly share the reality of Adam's situation in order to try & prevent any other child (and parent) from ever having to be in the same situation.
As she beautifully put it,
Adam Jeffrey Leeson, born 3/15/14
Adam Jeffrey Leeson, saved 7/20/19
Adam was lucky to survive, and we're all so glad his story has a happy ending. But Maribeth got a glimpse of what the alternate outcome could have been- she saw it with her own eyes. As a fellow mom, I'm so grateful for her willingness to be vulnerable for the sake of safeguarding other children.
Consider not only taking her advice, but sharing her post with parents you know as well.