It's hard to really describe what being a mother feels like. Sure, there are words -some of them more profane that others- that you can use to try & define what motherhood is like, but sometimes even words don't cut it.
How do we sum up all the valleys & peaks that encompass a day in the life of a mom? The chaos, the tears (ours and theirs), the joys, the frustrations, the constant requests for snacks… and that's just the first hour of the day!
As the famous saying goes, "A picture is worth a thousand words". In the case of one artist, her pictures about motherhood speak volumes.
Australian artist Paula Kuka nails what raising kids is really like in a series of sketches that are both humorous and honest.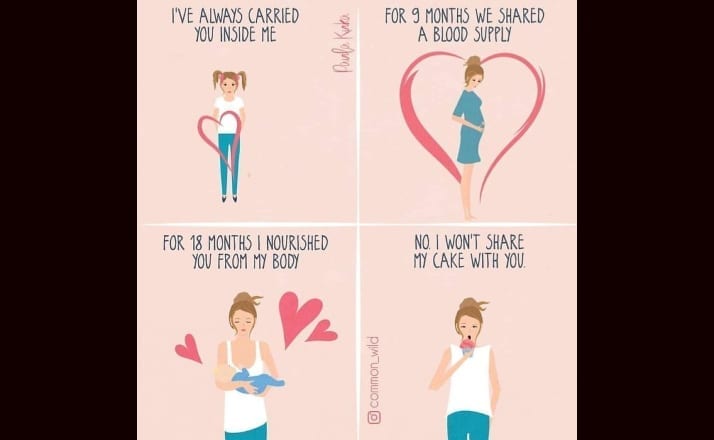 Australian artist Paula Kuka hadn't originally intended to become a professional artist; she spent several years working in the landscape architecture industry.
But then her first child was born, & while home on maternity leave, Paula began sketching in order to maintain her own creative outlet. Her sketches were not only creative, but funny.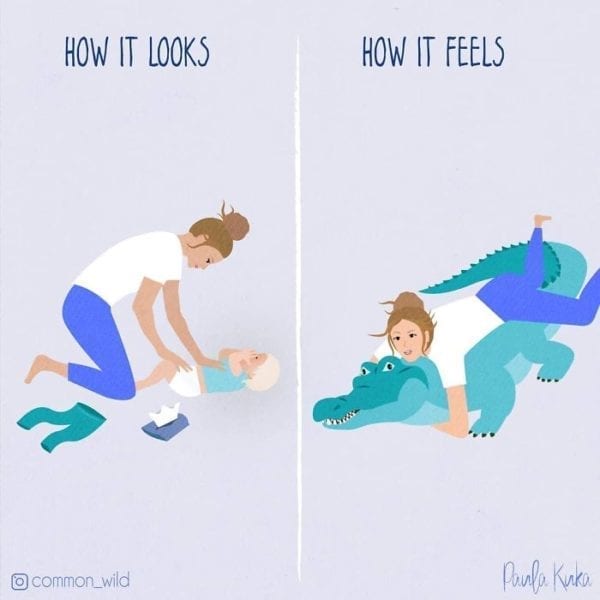 (Been there, Paula. And still have the poop-stained jeans to show for it…)
Once her second child was born, however, Kuka's sketches developed more of a specifically "parental" focus, which were warmly embraced by fellow parents on Instagram.
As Paula explained while being interviewed by Bored Panda,
I like to talk about some of the challenges of motherhood — the guilt, the frustration, the boredom, as well as the hilarious and heart-warming aspects.
Paula began to use to artistic talent to create posts that were not only technically skilled and amusing, but ACCURATE AF.
Her Instagram account, known as common_wild, is full of beautifully sketched posts that fantastically summarize all of the little moments that are part & parcel of raising kids.
Kuka's sketches are beautiful. They encourage, amuse, and unite parents that are often in desperate need of someone else, -anyone else- that can reach out & say, "You're not alone; I get it."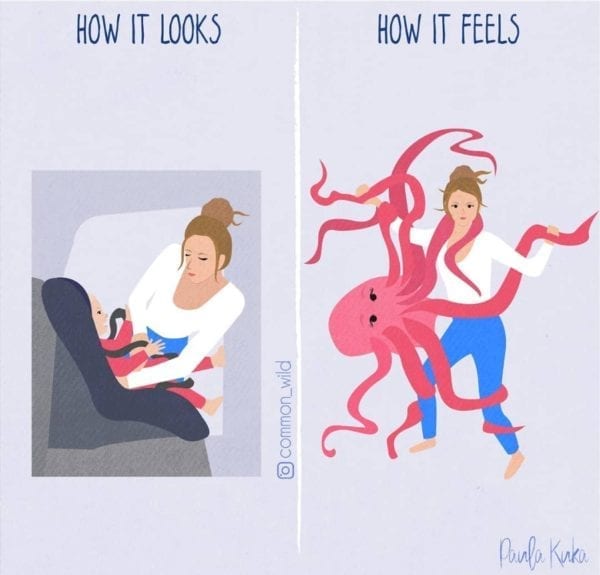 (It really does feel like that, doesn't it?? How does such a tiny body put up such a strong fight??)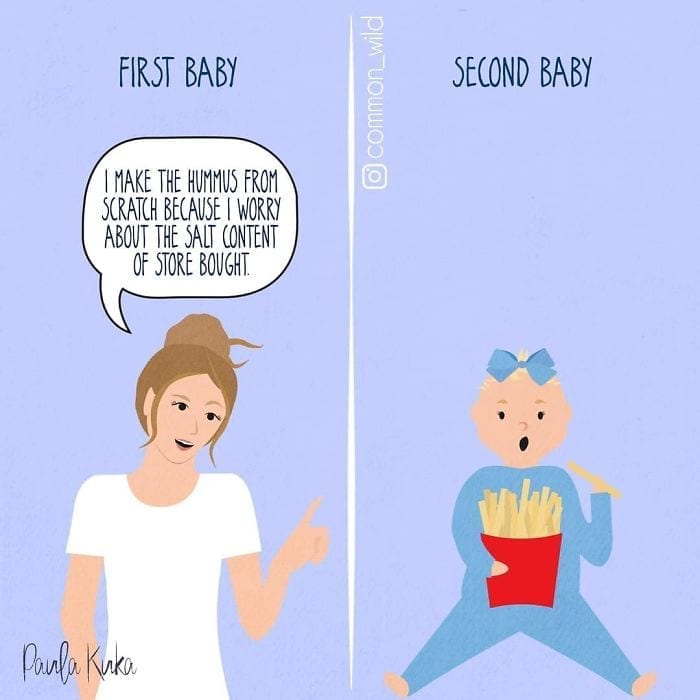 I'd be lying if this isn't exactly how things went down between my first and my second kids. By the time I hit my fourth, she knew how to call out the precise drive-thru order…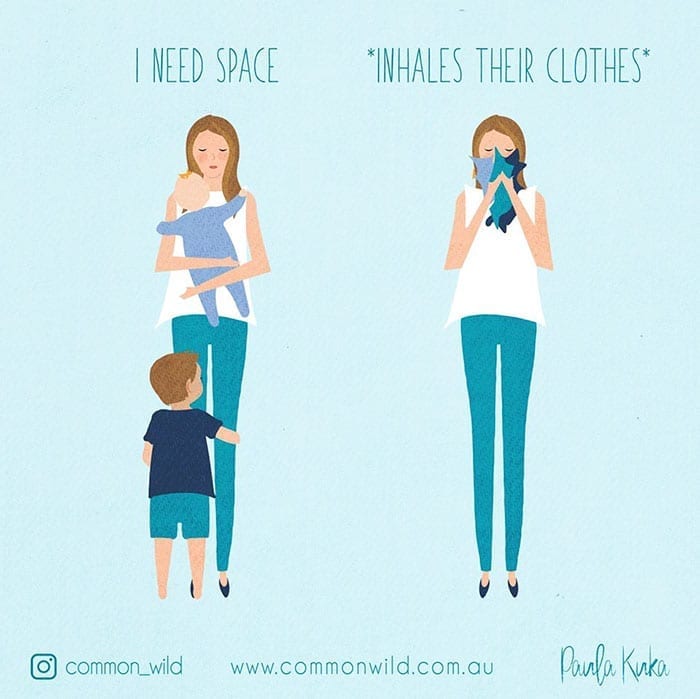 Oh THIS. Yes. The toddler stage is so very hard, and you're often just trying to survive. But you will miss certain aspects about it. Not the dumpster fire days, of course, but the smell of their soft baby hair & tiny clothes…
…but maybe we won't miss THIS. (Click the right arrow to truly appreciate this apparently sweet, huggy moment.
Does this look familiar? A "day in the life", so to speak?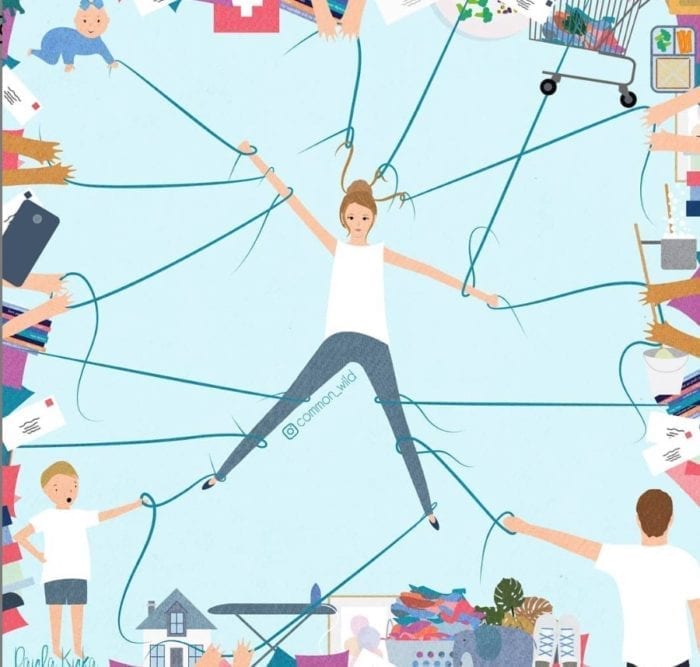 What mother can't relate to the feeling of being pulled in all directions, to do all.the.things??
If only it was this easy…. wait. Is it this easy?? Why do we all seem to do this to ourselves?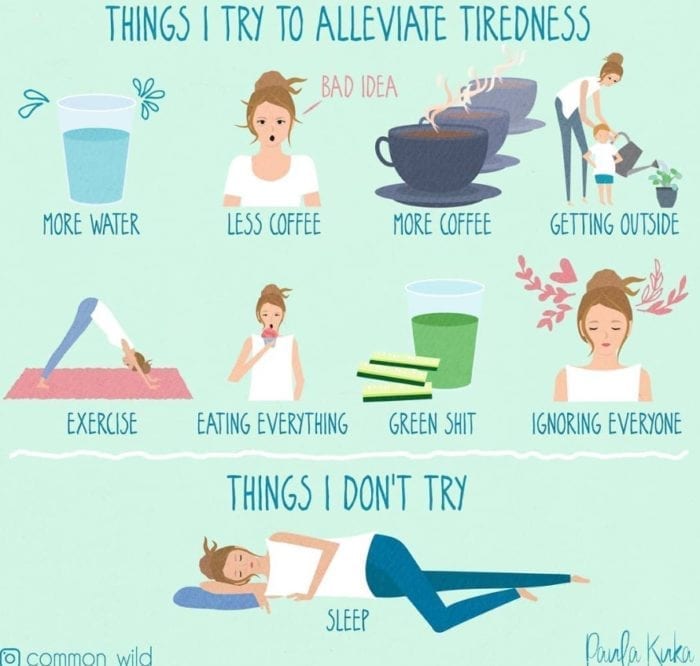 This one, however, is my personal favorite, because it hits the deepest vein: the lonely, quiet corners of the night when moms need encouragement the most.
This sketch is particularly meaningful; not only is it relatable, but Paula translated her words into several languages so that mothers across the world could feel they "are not alone".
Paula offers more than her relevant, realistic sketches to fellow parents. She offers the gift of encouragement, too.
She urges parents to never give up on their own talents & passions, even if they take a (temporary) backseat to the demands of home & family:
Opportunities can come in the most unlikely places. Be generous with your time and skills.
No matter how busy the demands of life get, remember who you are. Continue to nurture your passions, even if those rare, quiet moments.
There's a reason that Paula's Instagram account boasts over 130K followers. She unites mothers, through compassion & humor. The struggle is real, and we need embrace that common bond as we're muddling through the highs and the lows together.