People are always trying to figure out the "secret" to living a long life. We're told to eat more eggs. Eat less eggs. Don't ever eat eggs. Eat more kale. Drink more milk. Don't drink cow's milk. An apple a day keeps the doctor away, but for how long?
If eating a ton of kale is the secret to a long life span, then many of us aren't making the cut. And we're ok with that, because, well, kale? No thanks.
But, there's good news. Apparently one woman has figured out the secret to a living a long -we're talking loooong- life, and it's definitely not kale. It's the good stuff.
A British woman just celebrated her 108th birthday, and credits her daily glass of champagne (and chocolate!) as the key to her longevity.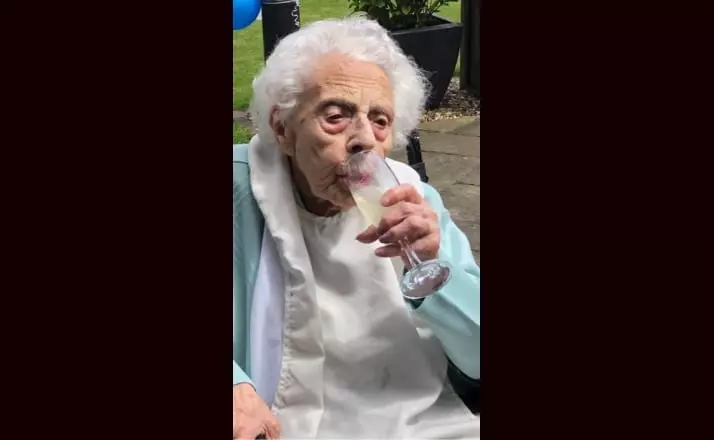 Dorothy Flowers, a resident of Bupa UK Southlands Care Home, turned 108 years young on October 22, officially making her the oldest resident of Harrogate.
Obviously reaching that age is quite an accomplishment, so the staff at Southlands decided to celebrate Dorothy's birthday in grand style. They created a Facebook post to see if the public would be willing to send 108 birthday cards -one for each year of Dorothy's life- to Southlands Care Home.
The public did Dorothy one better; she ended up receiving not just 108 birthday cards, but 670. Cool!
Numerous British media outlets readily covered such a landmark event, with multiple television and newspaper outlets covering such a feel-good story.
But although there was much fanfare about celebrating Dorothy's birthday, what really gained attention was Dorothy's "secret" to living longer.
Bupa UK Southlands resident manager Helene Ballinger handled Dorothy's media requests because there were so many (can you imagine being so sought after for interviews at 108??).
According to Helene, a bit of bubbly is the trick:
Her real secret for longevity though has to be champagne. It's the only thing we ever see her finish a glass of.
Yep- Ms. Dorothy is downing a glass of champagne each day, every day, for the last who-knows-how-many years. And it seems to be working!
In addition to her daily champagne, Dorothy also adores chocolate. She loves it so much, in fact, that as Helene revealed when interviewed by Yahoo Style UK:
She's such a regular that she's got her own drawer, which we keep full of chocolate buttons.
Dorothy's secret chocolate stash is stored right by the home's front reception desk, since she also loves to hang out & shoot the breeze with the staff at the front desk.
If they key to living a long life is downing a glass of champagne daily, chowing down on some chocolate, & then gossiping with the staff, well, then, SIGN ME UP!
Sounds far more appealing than the kale, no?
While Dorothy's upbeat, social attitude obviously helps, the champagne can't hurt. And since she just celebrated her 108th birthday with her daily glass of bubbly, she must be doing something right!