When I came home from the hospital after having my first baby I had no idea I would still look SO pregnant. I had just birthed a child the size of a watermelon for crying out loud. Surely, my body should reflect that. But clearly? My stomach did NOT get the memo. Or my boobs. Or my butt. Or my thighs.
The female body is truly amazing. Being able to grow a person is no small feat.
But the price of birthing a child (or multiples) can be high. The story of our road to motherhood can often be traced along the scars and stretch marks that are left behind. It can be found in the softness of our bellies, the looseness of our skin, and the sagging of our breasts.
Influencer and mother of 3, Hayley Garnett, is all about spreading body positivity after baby. If you follow her Instagram page, th3littlestavenger, you will find photos and messages celebrating her postpartum journey and encouraging other moms to do the same.
But in a post that has gone viral with over 42,000 likes, it's not Hayley spreading the love, it's her husband, Cody. And can someone please pass the tissues?
He begins his post by saying:
Hayley asked me to write something about her postpartum body.
I figured it'd be easy but then I started thinking—what is there to even write about?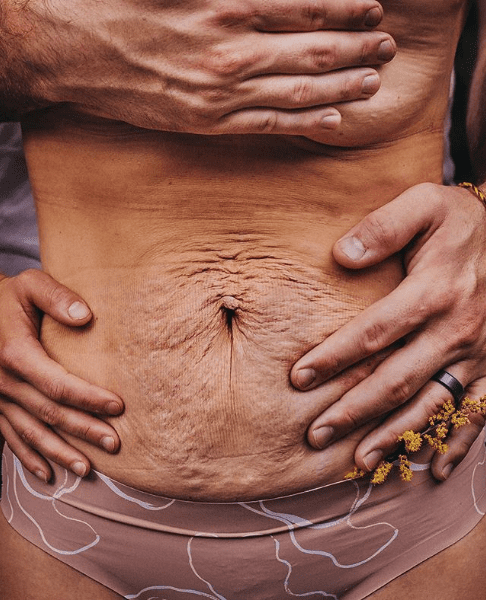 Um, as a woman who has birthed 3 children I can tell you what I would write about my postpartum body. And it wouldn't be pretty.
Sure, I get that I SHOULD celebrate my body. And sometimes, I do. But there are those moments, when I am standing in front of a mirror, that all I can see are the battle scars. The cottage cheese dimples where smooth skin once lived.
The little paunch that has set up permanent residence around my waist no matter how many crunches I do. And my boobs. Who decided, in all their worldly wisdom, to migrate south even though life in the north WAS JUST FINE.
It can be even more difficult to embrace a body marred by imperfections when we are bombarded by images of celebrities who have "bounced back." We forget that they have personal trainers and nannies and chefs who cook them crazy concoctions of seaweed and wheatgrass.
We lose sight of the fact that they have a cold-pressed juice delivery service on speed dial and Photoshop at the ready.
So yeah, would I love to look in the mirror and be able to say, "Hey, looking good!" All.The.Yeses. But so often, the reality is, I don't. And I am not alone.
And it is in those moments of doubt when self love turns into self loathing that it's important to have someone we love validate that we are, in fact, still beautiful.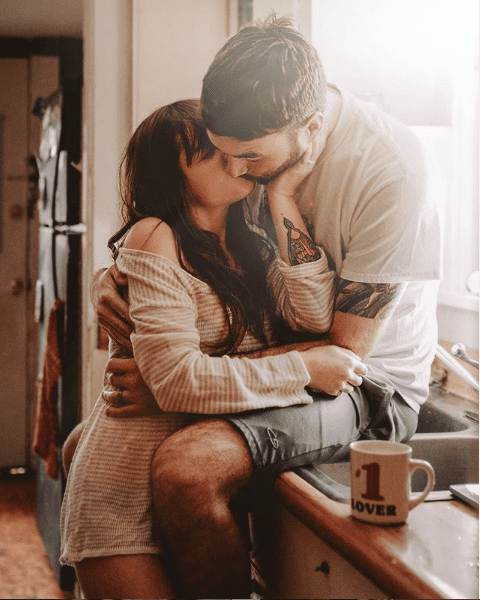 That is exactly what Cody does in his post to his wife. He writes about all of the reasons he fell in love with her, postpartum belly be damned. Things like her "beautiful smile," "determined mind," her "sense of humor," and yes, even her "banging body." After 3 kids.
He is able to look at her, even when she can't look at herself, and see that the woman he married is still there. Beneath the lumps and the bumps. The dimples and the scars. And she is loved FOR WHO SHE IS.
He goes on to say:
Her postpartum body does look and feel slightly different, but why should that be a factor in my life at all

The soft pillowy skin around her belly button held my three best friends for 18 months.
The marks show the strength it took to carry the weight of two beautiful girls that will be raised by this bad ass mom.
Nothing has changed or altered my love for my wife.
I'm not crying, YOU ARE.
While people praise him for being a "great husband," Cody is having none of it. He says he's simply loving his wife. Not in spite of the imperfections, but because of them.
If everything was Barbie doll perfect, wouldn't we all get bored?

How else would we show what life has put us through?
And in this case, life has given them three gorgeous children.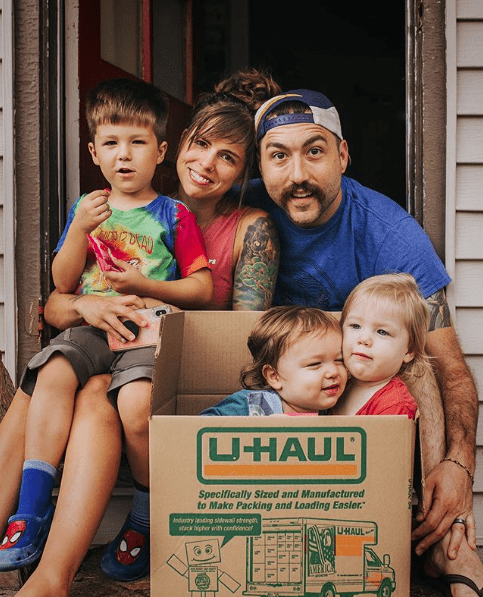 Cody also has a few words of advice for all the fellow husbands out there who may not be pulling their weight:
And to the husbands out there that don't do their fair share of diaper duty, cooking, cleaning, and telling your wife how beautiful she is—step up your game bro.
You're a team.
Step it up, bruh.
He rounds out the post with the following statement:
So yeah, I was supposed to write about a belly…. but honestly, it affects me so little I rambled about everything else.
And it begs the question, what if our partners love us just the way we are? What if the reflection WE see in the mirror is not the one seen by the person standing right beside us?
The reality is that motherhood changes us. Mentally and physically. We may not feel as sexy or desirable as we did before the scars reshaped us. We try to smooth out our bumps and suck in our bellies.
We stuff the twins into uplift bras and our booties into Spanx. We try to hide the flaws. But instead of hiding them, we should be embracing them. Because within those imperfections? Is where the true beauty lies.