Parenthood is truly miraculous, but there are certain, ahem, crappy aspects of being a parent that don't change… like dealing with actual crap.
Infants spend their days sleeping, eating, and pooping. Changing diapers is a task that a new parent quickly becomes all-too-familiar with, because just as you've managed to secure a clean diaper on an infant's bottom, they'll happily fill it again promptly.
Sometimes it's obvious that a baby needs a diaper change.
When you see a bright yellow stain of infant poop soaking the back of your baby's onesie- time for a change!
There's also the times when a toddler's diaper load waddling like a duck's tail between their legs as they walk… again, time for a diaper change! Even without vivid visual cues, parents can usually tell when a diaper needs changing, right?
Well, according to Pampers, apparently not.
Pampers is soon releasing a new "smart diaper" model that features a sensor that not only detects wetness, but communicates the information to parents via an app.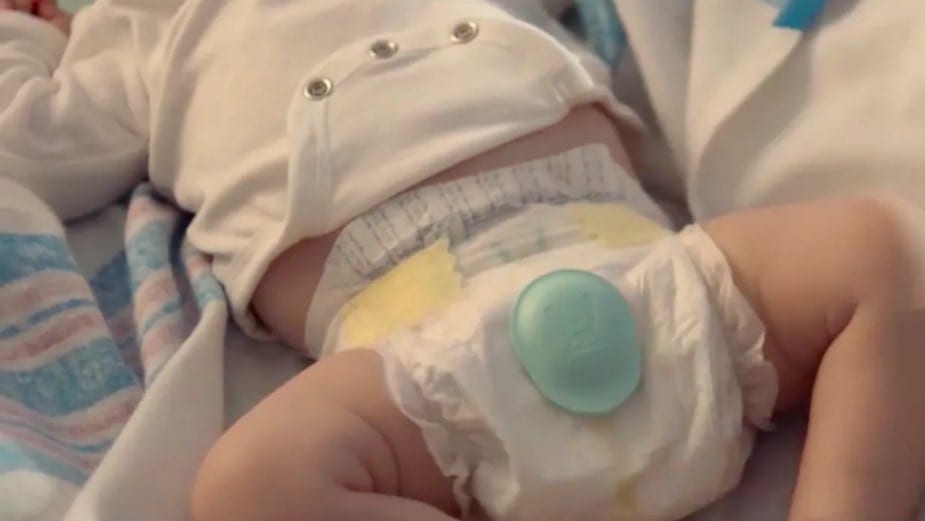 The diaper system, known as the "Lumi", comes with a variety of equipment in order to monitor your baby's urine output. This isn't your run-of-the-mill box of Pampers, people!
The system comprises of two sensor pieces, and a camera (made by Logitech) that operates as a WiFi monitor.
There is also an app that parents can download on their phone(s) to record the system's data.
Each diaper features a Velcro strip on its front. The plastic sensor piece is then placed onto the strip. The sensor detects any moisture (sorry, no poop detectors yet!) and transmits the information over WiFi.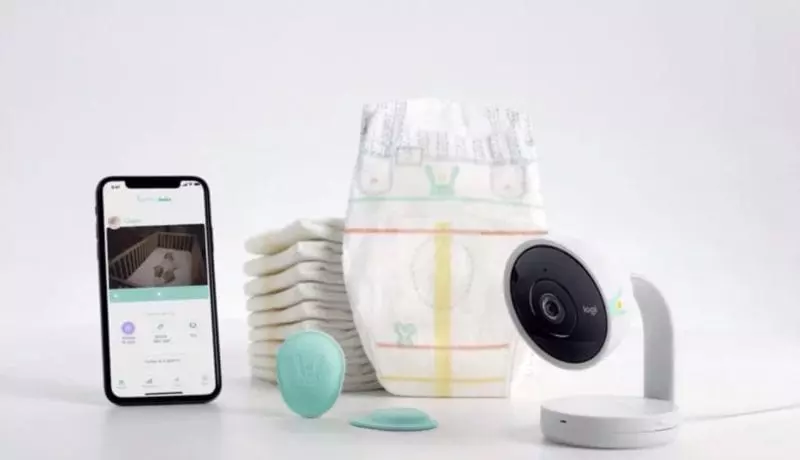 The camera monitors baby's sleep and includes night vision ability as well as two-way audio so that parents can speak to the child from another room. It can also track the room's temperature and humidity (and probably the baby's dreams, too… I'm kidding. Maybe.).
Once all of the sleep and diaper information is transmitted to the app, the app then allows parents to track baby's sleep times, diaper changes, and feedings, & to create a schedule based on the information.
Sounds pretty high-tech, doesn't it? Back in my day, we parents didn't have all this new-fangled technology to check if a baby was wet. We'd simply pick up the baby, squeeze the diaper, and – yup! It's wet!
Pampers came out with their Swaddler diapers when my youngest was a newborn, and they featured a yellow line running down the front of the diaper that would -get this!- turn BLUE if the baby had peed. Genius! I was impressed then, but Pamper's Lumi series makes that cool yellow line seem prehistoric in comparison.
Obviously the Lumi system provides a great deal more information about your baby's routine than merely a wet diaper detector.
But critics of the system say that's precisely their problem with it; it basically turns your child into a "smart baby" device.
As The Washington Post recently reported, some parents are concerned that monitoring systems like Lumi make people (in this case, babies) "too" trackable. Pediatric health author Julie Lythcott-Haines pointed out to the Post that perhaps diaper monitoring systems like this are the worst type of helicopter-parenting:
When does tracking every move become inappropriate surveillance? If we can track their diapers, we can track their Pull-Ups, then we can put trackers on their clothing.

Pretty soon, we don't have to worry because we'll know everything from before birth to the end of their lives.
Her observation does bring up a valid point; how much monitoring is "too much"?
Pampers claims that their new system will utilize extremely proficient encryption systems to safeguard the private information from potential hackers.
Pampers spokeswoman Mandy Treeby stated that the encryption is as secure as those used by the financial services industry. But keep in mind that in the recent past, several brands of baby video monitors that promised similar safety were indeed hacked by strangers that were then able to remotely view children in their own bedrooms via the hacked baby monitor.
The bottom line: the Lumi diaper system is a huge technological advance in terms of tracking your baby's daily routine. The question each parent should ask him or herself before purchasing it is, "Is the information worth the (potential) sacrifice of privacy?"
If you can't make up your mind yet, no worries- the Lumi diaper system isn't available on the market until the fall of 2019 here in the US & a few months later in the UK. In the meantime, you can always do it the old-fashioned way, using your own "smart device"- your senses.