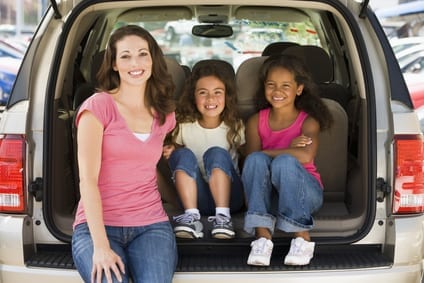 Whether you're a mompreneur or a busy working mom, getting things done efficiently is the name of the game. Running errands is no exception. Time spent in the car — with or without kids — needs to be as efficient as everything else you do.
Here are some tips to help make this aspect of busy moms' lives a little easier to handle:
Map Out Your Route
Take into consideration traffic and other obstacles when planning which route will be the most efficient for you on your daily errands. Things like traffic can take up valuable time that you don't have to spare.
Work Around Business Hours
Some businesses have unusual hours, and even close in the middle of the day for lunch. Take a few minutes before you leave to make sure all of your stops are open during the time you plan to visit them.
Plan Around Meal Times
If you have to take the kids with you remember they won't be as willing to wait for lunch as you might be. Grabbing food on the go is always an option, but grabbing something from home they can eat will not only save you time and money, it will keep them busy while you hit the bank, the dry cleaners and anywhere else on your list! Check out these snacks to stash in your purse.
Make an Appointment Whenever Possible
Whether you're visiting a doctor, your local bank or getting new business cards printed, you might be surprised at the number of places that will take an appointment. Having an appointment can save you time standing in line and waiting your turn and will also assure that the person you need to speak to is available and prepared to take care of your business.
Make Sure Your Car Maintenance is Current
Things like tire wear, oil changes and other basic car maintenance might seem time consuming but not doing them in a timely manner can lead to even more down time and expense later. Consider shopping online for tires or other car accessories. Tirebuyer carries many name brand tires like Michelin, BF Goodrich and Nitto, plus it offers free shipping to local tire shops nationwide, where you can have them installed, worry-free.
Make a List
There's nothing more frustrating than getting home after a long day of errand running only to realize you forgot an important stop. Keep a running list, and remember to bring it with you when you head out.
Keep your Cell Phone Charged
Sometimes downtime doesn't have to be wasted time. With a smartphone in hand you can take care of a surprising amount of business while you're on the go. Return phone calls, emails and texts (if you're driving, have a hands-free device). Do a quick search to find the address of the business you need to visit next. And don't ever underestimate the ability of a smartphone to keep a toddler entertained during a long wait time!
If You Take the Kids, Plan a Fun Stop
Sometimes dragging the kids along is a chore for mom and a bore for them! Something as simple as a kid's cone at Foster Freeze or a stop at a local park during lunch time can help buy their patience when you need it.
Errands are a part of our lives, and for working moms, sometimes the list we have to finish each day can seem insurmountable! Keeping organized, planning ahead and always expecting the unexpected are the best ways to get ahead of the game!