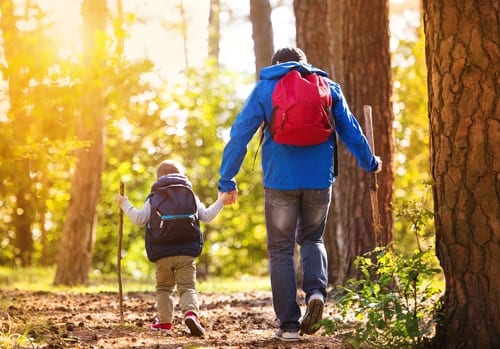 Is your child suffering from nature-deficit disorder? With the advent of the digital age, many of us — adults and children alike — are losing our connection with nature and the wonderful experiences that go with it. If your family could be described as a crew of "indoors enthusiasts," it's time to reconnect with Mother Nature and go on an outdoor family adventure.
Into the Woods
A family weekend camping trip will teach the kids about the wonders of the earth plus how to work together, follow directions and learn lessons of survival. Expel the everyday distractions of TV, mobile phones and social media and infuse nature into their souls.
Begin by planning the camping trip together. Decide where to go, what activities to do, games to play, food to eat and what equipment to bring. Pack fun snacks such as trail mix with M&Ms and beef jerky — you could even make your own jerky at home with a food dehydrator. Include the kids in the menu planning and have them help you cook at the campsite.
Plan a hike, and have a picnic along the way. Create camp games that aren't typical of home — mountain golf, paddleball and marshmallow launch ball. Have a scavenger hunt where mom and dad team up each with a kid and some walkie talkies to find items on a list that include pine cones, bird feathers, worms and wildflowers. At night, teach them about the constellations and tell camp stories while cuddled up around a campfire.
Float On
Go fishing. Taking your kids fishing is a great way to get them to appreciate the great outdoors. Again, having them help plan the day is important, because it offers a sense of involvement in the entire process. Take them shopping and let them choose their own fishing rod and lures. Allow them to select the lake and what foods and gear to pack. If something is missed, explain why it's important to bring that particular item. Remember to get fishing licenses for each member of the family casting a line in the water.
Take a kayak out. If your children are old enough to handle their own kayak, allow them to paddle on their own. It will offer self confidence and pride. Navigating a kayak or canoe isn't hard, so they are most likely very capable, depending on the circumstances. Kids are ever-seeking a parent's trust. Allowing them to paddle their own kayak will make them feel on top of the world.
Thrill-Seeking Adventure
If your children are more the thrill-seeking types, a watersport adventure will remind them how cool the outdoors are. Watersports develop confidence, self-esteem, balance and other skills kids don't know they are getting because they are having so much fun. Whether you take them windsurfing, tubing, water skiing, scuba diving, surfing, paddle boarding or tow them behind a boat, your kids are sure to have a blast on the water and look forward to every outdoor adventure to come.