"There's no such thing as a free lunch"… well, in some school districts that statement is thankfully false, as many districts generously provide free or reduced lunches to students in need. Students don't need to earn their lunch; it is provided simply because the student needs it; there are no strings attached.
Unless you're from Arkansas, that is, because Senator Alan Clark of Garland Country, AR, has recently proposed a bill that dangles the "incentive" of a reduced lunch like a worm on a fish hook before hungry students.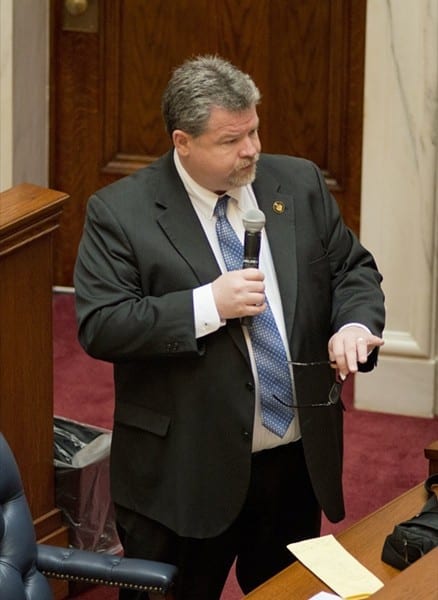 Clark's proposition is to reduce a district's National School Lunch Funding if the school's literacy (reading) rates are lackluster.
In it's simplest terms, the bill implies: No reading, no EATING. If those reading scores start slipping- better eat a hearty breakfast, kids, because lunch is on hiatus.
If you're as confused as I am about the nonsensical connection between the two concepts, here's what Senator Clark had to say regarding his intention behind the bill. In an interview with Arkansas news station KTHV, Clark emphasized that their current 40% literacy rate isn't cutting it.
Almost 60% of our kids are graduating and can't do the most basic thing we send them to school for well: Read.
It goes without saying that literacy is an essential element of a successful education.
We want schools to equip their students with a solid literacy foundation, and schools that have steadily declining scores obviously need to make drastic changes to raise the bar, so to speak.
We'd clamor to support a lawmaker that wants to see children succeed academically, so Senator Clark's main goal is logical. It's his plan of attack, however, that confuses the ever-loving-daylights out of me, and local parents as well. The main goal behind the new proposal is:
My bill would require that a school district improve their reading proficiency by .0001 every 2 years.
Ok, great. Sounds like a reasonable ambition. Until we learn just how he plans to implement this strategic shift. His proposed bill -known as SB 349, which can be read in full here– reduces lunch funds for schools that fail to produce at least 70% of their students meeting or exceeding the state's reading proficiency tests.
If the school failed to hit that standard for three consecutive years, ALL funding from the program would be pulled from the school.
Pretty harsh, no? Clark defended his cutthroat approach by explaining to KTHV that:
You don't get anything important done without confrontation and taking a few knocks. Seeing that Arkansas children can read is worth a few bruises.
So… he's openly acknowledging that the kids in these school districts are going to "take a few knocks", but hey, literacy is worth "a few bruises".
What the WHAT??
Taking kids' lunch assistance away if the school doesn't achieve this standard isn't an incentive- it's a punishment. And an alarmingly unfair one, too.
Think about it for a moment. This proposed bill would automatically target lower-income students, since they typically the recipients of free & reduced lunch programs. If a lower-income school district is having difficulty maintaining a proper level of proficiency, the students that are struggling academically are again penalized by struggling economically- being deprived of a meal they might otherwise not be able to afford.
Kids need adequate nutrition to encourage their optimal performance at school, and for some kids, that free lunch isn't a luxury, but a necessity.
How does that even make sense??
If you're scratching your head in confusion, too, you're in good company.
The proposed bill has already met the ire of local parents, who are appalled at it's menacing attempt to bully students and teachers into performing… or else.
Laquita Chalmers, a West Memphis mother of four, says that she can't comprehend the potential new policy. And it certainly hits home; one of her four children struggles greatly with reading, yet she doesn't get the reasoning behind depriving struggling students of their lunch. As she told WREG:
I don't understand, and hopefully that bill won't get passed in Arkansas.
I'm confident that we all agree with Ms. Chalmers. Senator Clark's intention to assist flagging reading proficiency results is a noble one, but his methodology is anything but. While improving literacy scores is vital, using a child's reduced or free lunch as the bait is not only unfair, but cruel.