Content warning: the language in this video may be difficult to hear for some audiences.
In a disturbing video that shot across TikTok like hot lava, a North Carolina teacher spews obscenities and insults at a classroom of high school students.
The highly offensive, and difficult-to-stomach, video was uploaded by Cimayiah Josey, a sophomore student at Southwest High School student who is seen in the video, quietly reacting to the verbal tirade in the background.
"Does anybody else want to try my authority because I'm f*cking done playing with you idiots," the teacher's tantrum begins.

"I am here because I want to be here. I somewhat enjoy this job. You need something from me. I need nothing from you."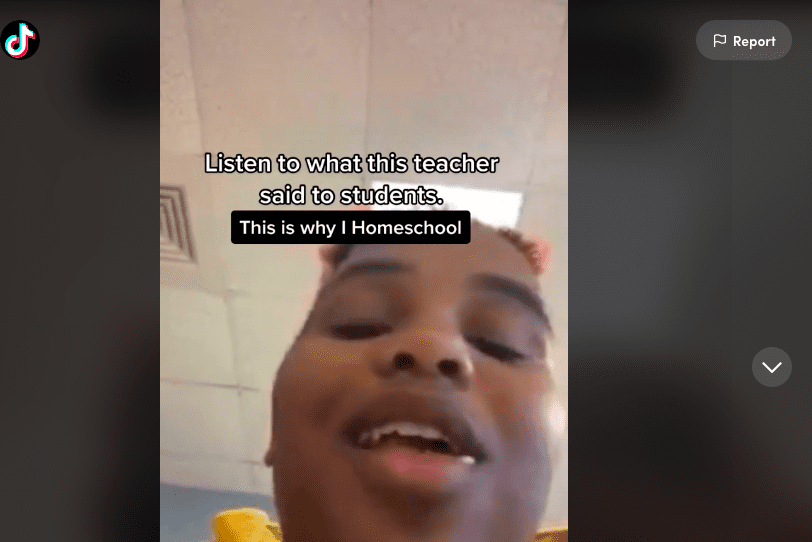 At first, it sounds like this teacher has exploded and might be back-peddling a bit by saying that he "somewhat enjoys" his job, but NOPE. It gets much worse.
"You can go through life and live on the f*cking system, draw your paycheck on the first and the fifteenth from my taxes, and live just an absolute horrible life, I don't care.

You can be another statistic, I don't care. That's on you."
At this point in the video, Josey is seen awkwardly smiling and covering her face.
The teacher responds to her directly based on her reaction and what transpires next.
"And if you think it's funny, I can take you down to the county office and we can pull the f*cking numbers," the teacher yells as Josey appears to be increasingly uncomfortable.
"And if you don't like my language, I don't give a shit."
The teacher continues speaking, although it is hard to decipher what he says before he yells at Josey, "get your shit and get out," and Josey tries to respond to the teacher but is quickly interrupted by a loud smacking sound.
According to WCTI Channel 12, that loud smacking sound was the teacher repeatedly slamming a golf club into the floor next to Josey's desk. He then threw a textbook to the floor and then threw a desk.
"I don't want to go back to school," Josey told WCTI Channel 12. "All I do is hear the cracking of the golf club. I'm having nightmares about it."
In a statement to WCTI Channel 12, the Onslow County Schools said that the teacher had resigned.
"In the Onslow County School system, we expect only the highest standards of behavior from our students and staff, and that we treat every member of our school family with dignity and respect.

The type of behavior exhibited in this situation will not be tolerated and is certainly not representative of the employees of Southwest High School, or any other employees who work in our district," the statement read.
Josey says that the comments were not only hurtful but possibly racially motivated, a concern that was echoed by commenters on TikTok.
"I felt like what he was saying was wrong. I felt like it was racially motivated. It was disrespectful," Josey told WCTI Channel 12.
"Your job is to encourage me and to push me to be the best I can be, even though it wasn't said directly to me, dang, that's how you really think about us."
In response to the viral video, which has been copied and uploaded multiple times (we could not find Josey's original) there appears to be two camps of responses.
There are those who think the kids in this video are disrespectful brats and had this coming, and those who think the teacher is a racist who is abusing kids.
TikTok user Von Brandt wrote, "Two things can be true, he went for the lazy racist stereotypes & shouldn't be in a school & kids can be absolute monsters in the classroom."

Aarono686 doesn't see it the way Von Brandt does. They wrote, "I've seen kids make teachers cry they have no respect for authority they deserve to be told off and told the truth!"

Still, others piled on, agreeing that the teacher wasn't in the wrong to scream, threaten, and cuss at kids.
Jenise Cooper wrote, "I just wanna know what drove him to this because these kids now days are ruthless/disrespectful and will drive you to bout putting them hands on them."
Not everyone thinks the teacher can use kids' misbehaviors as an excuse to act like a trash adult and hurl expletives and threats, though.
TikTok user Zingingcutie32 wrote, "Whoaaaa, that is so out of line and I hope he was immediately fired and is never allowed to teach or be around children again. Shameful."

The bottom line is there can't possibly be a reason for any teacher to ever respond in such a violent way to kids.
Even if the students in Josey's class were acting out, the teacher's job is to be a role model and set the tone. They are trained to handle misbehavior and schools have disciplinary guidelines to deal with such situations.
Verbal (or physical) abuse is never the answer when you are the adult meant to model good behavior to children. Period.