At the far end of my closet, a familiar sweater sways from a bamboo hanger. It's no longer the lush white it once was, and the scent of Chantilly perfume faded away years ago. But it's hers, and it's mine, and with it, we will always be together through our "sweater hugs."
At least, that's what my grieving mind still tells me.
Its rows of intricate stitches are cool from weeks of being tucked away in the dark. I give it a gentle shake and hold it up near the bedroom window, warming both my hands and the fabric in the evanescent rays of sun.
Light drifts through its many diamond-shaped holes –- the open chasms between loops of knotted yarn. I drape the soft remembrance around my shoulders, as I have many times before, and crisscross the sides just above the bridge of my nose. It's a secret ritual, and one I perform alone.
Outside, a red squirrel spins an acorn across our leaf-ridden lawn. "Thieves!" she'd yell, whenever she'd catch one dangling from a bird feeder. Back then, there were nearly a dozen spread across our farm.
I loved playing in those fields, but my favorite place was sitting beside her, snuggled in a narrow recliner. I'd wedge myself between her leg and the armrest, until we were both trapped and the sides threatened to burst.
While she crocheted, I'd rest my cheek against her sweater and breathe in that comforting smell.
We'd laugh and struggle, hip to hip, when it was time to get up.
I'm suddenly overwhelmed by a flood of memories, and, for a moment, she's right there by my side. Her beautiful face. Her silver hair. The exotic scent of her presence drifting in the air. Every small detail, a vivid apparition.
I tug the sweater a little tighter. I don't want to let go. I'm five again, and wrapped in her loving arms.
These sweater hugs bring it all back.
"Did you get new clothes, Mama?"
My daughter's sudden appearance catches me off guard. I'm embarrassed that she finds me hugging the sweater, even though she has no idea. As my cheeks swell with humiliation, her eyes widen in expectation.
"No, honey," I reply. "This was my grandmother's."
I don't realize that with each step she takes toward me, I'm taking a defensive step back in response. In almost 30 years, I'm the only one who has held the sweater.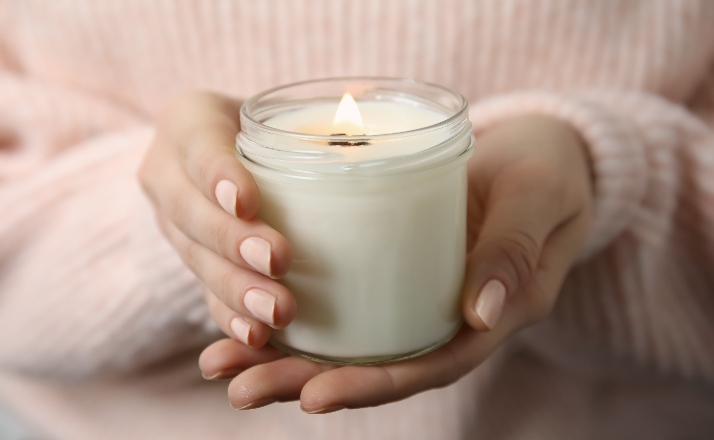 I've fawned over this single garment, protecting it in the same way a guard might stand watch over expensive jewels. It's the Queen among a closet full of ordinary items; a cherished keepsake that almost ended up on a rack at Goodwill.
After she died, I found the sweater orphaned in a pile, as precious antiques and irreplaceable pictures were divided. One for my sister, one for my brother, my poor mother attempting to control the flow.
They walked away with boxes of belongings. I, the youngest and often overlooked, left with a single sweater.
"What was her name?"
The wall is right behind me now, and my daughter seizes the opportunity. Before I can flinch or object, her arms are around my waist -– pulling the sweater off my shoulders. She snatches it from the floor and brings it close to her face.
What if her hands are dirty? What if she has Oreo cookies in the corners of her mouth? What if she stretches it out?
I'm panicking inside, thinking of all the things that could go wrong. And then I look down. I see a hint of my grandmother in the shape of her eyes.
"Margaret." I respond, watching her brush the sweater against her own cheek and wishing it still had that signature fragrance.
"Oh. Like our Netflix password. You must have loved her a lot."
She's right. I did, and, yes, like our Netflix password.
"Can I try it on?" I help her slip her tiny arms into the sleeves. It droops, drifting near her ankles. As quick as she put it on, though, she takes it off and gives it back to me.
"What's wrong?" I ask.
"Can I wear your sweater instead?"
Why would she want my sweater when she could have this one? Confused, I hand over my white cardigan.
This time, her eyes light up.
"That's better. This one smells like you, and, when I put it on, I feel like you're giving me a hug."
In that moment, when the past and present unexpectedly collide, I understand the magic. I could have left that solemn afternoon in the spring of 1989 with a box of priceless glassware and family pictures. I had been so upset that I didn't.
But, as I watch my daughter embrace my paint-stained sweater frayed around the edges, I realize, as silly as it may sound, a vase can never hug you back.
Sweater hugs are a little bit of magic.
When I put on my grandmother's sweater, I can almost feel her arms around me once again. I smell the Chantilly and hear her laugh.
My daughter feels the connection too, swaddled in my sweater, even while I'm standing right next to her. And, as she twirls in front of the window, her golden hair glistening in the sun, I can't help but hope she continues the tradition long after I'm gone.
There's something infinitely soothing about these sweater hugs from beyond.