When you have more than one child, you hope that they will be close as they grow up. Despite (sometimes frequent) bouts of sibling rivalry, there are those moments when you see your kids having fun together, & it warms your heart like nothing else.
It's particularly beautiful when their connection involves humor- there's a special kind of joy in seeing your kids make each other laugh. Some of my best memories with my siblings are the times we pulled elaborate pranks on each other; the hilarity that ensued are some of our fondest memories together.
One teenager has made a hilarious daily effort to make the school year memorable for his younger brother by greeting his bus each afternoon dressed in a different costume.
Noah Tingle, a 17-year-old high school senior from Central, Louisiana, knew that this was his last year home with his younger brother before leaving for college. He wanted to be sure to make some special memories with Max.
So he came up with a plan. And boy, is it special!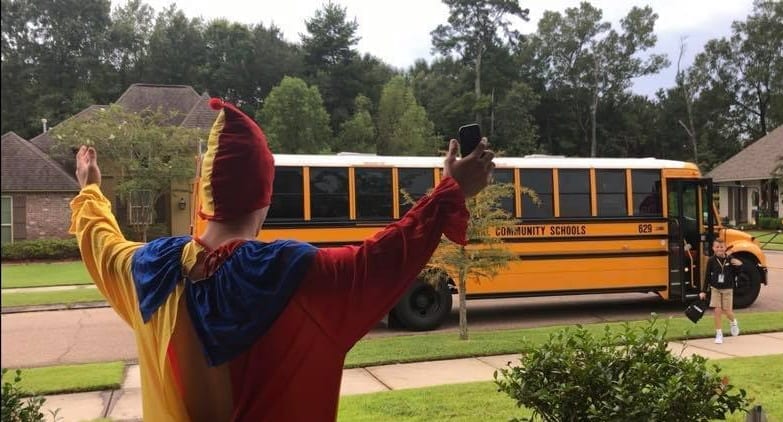 On the first day of school, Noah decided on a whim to surprise Max by greeting his returning school bus wearing a silly outfit. After all, as he explained to Louisiana news station WBFRZ:
It's my last year of high school, and I saw he was coming off the bus when I was at home, so I wanted to embarrass him.
Noah's efforts succeeded. And he found it so fun that he decided to do it again the next day- only better.
This time, he decided to greet the bus in a more elaborate costume. He wore a Santa onesie, & rushed out to greet Max as he stepped off the bus.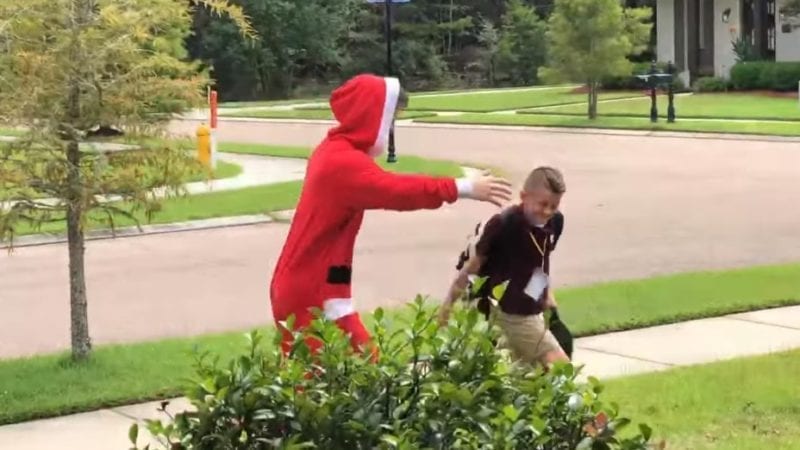 (Max was amused, but passed on the big old Santa hug that Noah offered.)
Two days of mischief soon led to Noah donning a unique costume to greet Max with as the bus pulled up, every.single.day.
And after the boys' mom began posting videos of Noah's antics on her Facebook page, people began to pitch in as well, donating costumes for Noah to wear.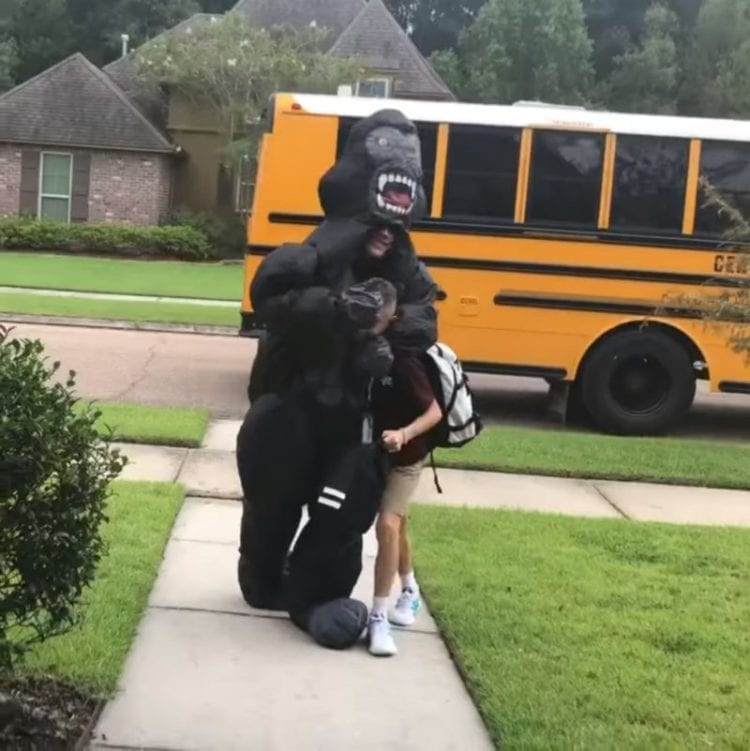 People are clearly "going ape" over Noah's costumes.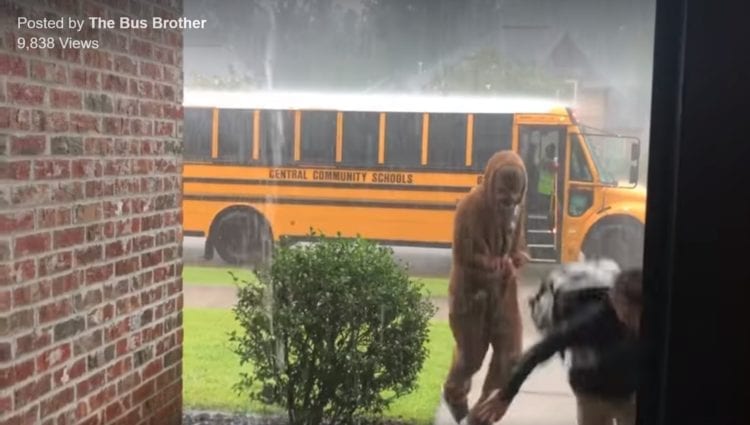 Dressed as Chewbacca, in the pouring rain. Now THAT'S love.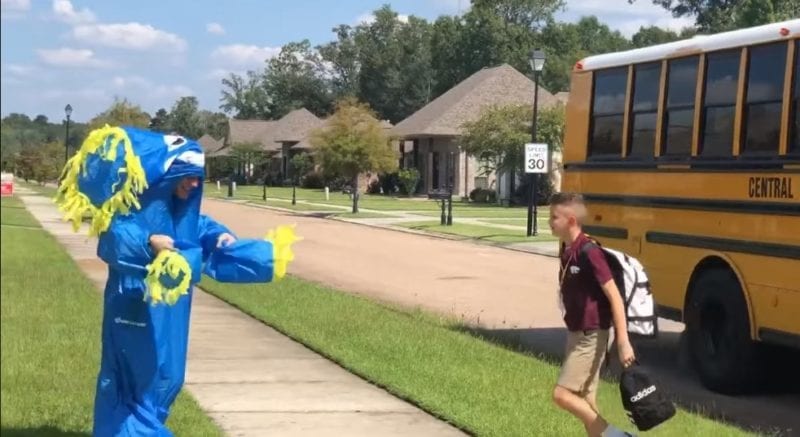 Go big or go home, Noah! (He goes big, every time.)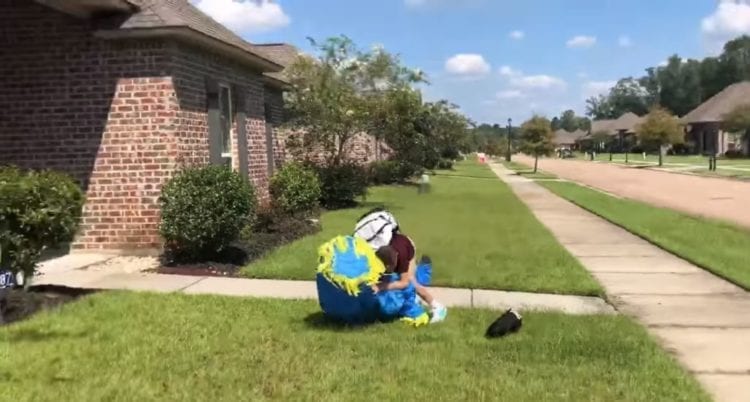 And don't be fooled; Max LOVES IT.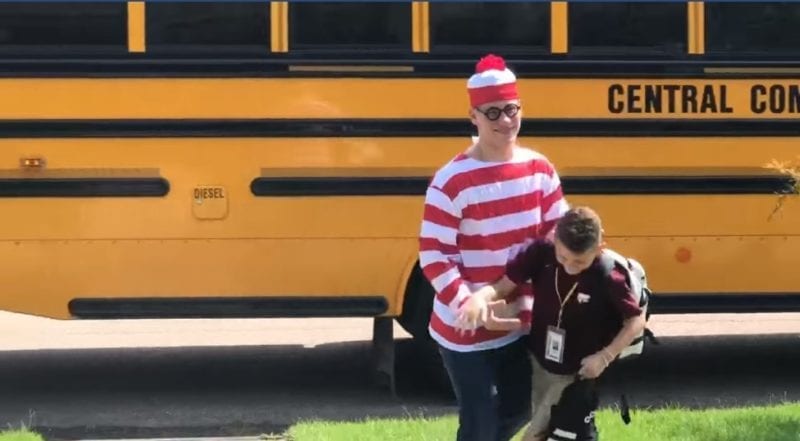 "Where's Max?" He's right here, squirming out of his big bro's Waldo hug.
Noah's videos soon gained traction on social media, leading to numerous news interviews. He then created his own Facebook page, The Bus Brother, to share each day's videos.
Although the page has only been up for a few days, it already boasts over 12K followers, with each video clip earning thousands of views.
As Noah told Good Morning America, he had no idea just how huge his comedic exploits would become once people caught wind of them:
I was expecting it to kind of be something that me, my friends, my family and a few other people we know to kind of catch on, but for the amount of people that saw it and loved it, it was just crazy.
Noah is out there every single afternoon so far, rain or shine. While the costumes definitely are funny, he deserves major props for being so dedicated to the effort.
If you do the infamous "Elf On The Shelf" with your kids during the holiday season, you know how draining it can be to have to come up with a new idea for it each day. And we're talking only a month of creative elf efforts.
Since the school year is 180 days, that means Noah's got a LOT more bus greetings ahead of him. But the recent attention has been a great help with that, & the boys filmed a brief video to express their appreciation for the support.
Despite the media attention, Noah had committed himself to donning a costume every day for Max all along. The publicity merely enables him to have more creative daily options, & plenty of people cheering on his expression of brotherly love along the way.
It looks like Max is going to have a memorable school year ahead, and a preciously fun memory of his big brother that will last a lifetime.