Got some Capri Sun pouches in your house? Before you hand one to your child, read this first.
We are in the dog days of summer, right around the return of school and the end of our ropes.
So, you know, we're basically throwing juice packs and snacks at our kids (no judgment from us!)
But, if you happen to be a fan of Capri Sun, definitely check your pouch date and manufacture codes before your hand a drink to your child.
Because apparently, there was a bit of a screw-up at the Kraft Heinz factory that could make your child very ill.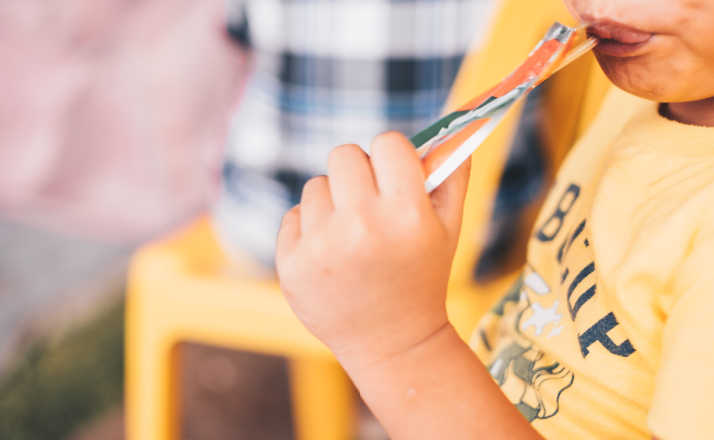 Kraft Heinz is recalling 5,760 cases of Wild Cherry flavored Capri Sun pouches after it was discovered that "diluted cleaning solution, which is used on food processing equipment, was inadvertently introduced into a production line at one of our factories," the company wrote in a press release.
The company says they found out through customer complaints, which means some kids may have already ingested the chemicals.
"The issue was discovered after we received several consumer complaints about the taste of the affected product," Kraft Heinz wrote in a press release.

"The Company is actively working with retail partners and distributors to remove the potentially impacted product from circulation."
If you have any Wild Cherry flavored Capri Sun pouches with an expiration date of June 25, 2023, you are advised not to consume the product.
The company said in a statement that consumers who purchased these pouches can return to stores for a full refund. If you don't know if your Capri Sun product is affected, you can call Kraft Heinz from 9 a.m. to 6 p.m. Eastern Standard Time, Monday through Friday, at 1-800-280-8252, and a representative can assist you.
Here are the product details:
Capri Sun Wild Cherry Flavored Juice Drink Blend, 6.6 ounces, in individual foil pouches packed in paperboard cartons. The affected manufacture code on a pouch would be between 0733-0900. The manufacture code on the carton of pouches would be 0733-1000.
If you think you have some affected Capri Sun pouches, make sure to either swing by the store where you picked them up or give the company a call, and they will help you out.
If you think your child has consumed the affected drink, call Poison Control at (800) 222-1222 and give them the information listed above on the Capri Sun drinks.
You can also visit Poison Control online here.
You can also use their webPOISONCONTROL triage tool.
The tool allows you to describe the situation with more accuracy, and the experts at Poison Control have the chance to give you faster, better information.
Simply follow the prompts in their online triage tool kit here.
According to the Mayo Clinic website, the following are some classic signs of poisoning and should be immediately treated by a medical professional:
Burns or redness around the mouth and lips
Breath that smells like chemicals, such as gasoline or paint thinner
Vomiting
Difficulty breathing
Drowsiness
Confusion or other altered mental status
If you believe your child has ingested poison, do NOT induce vomiting or give them any other liquids, including water, unless you are directed to do so by a medical professional.
Stay safe, friends.