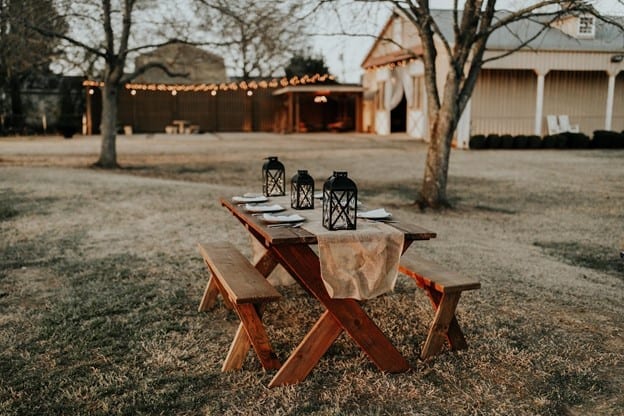 With the COVID-19 pandemic still being a factor for most of our family and friends, the holidays may look and feel a little different this year. Thankfully, nothing has been outright canceled yet, and with a little adjustment and smart precautions, there is still plenty to celebrate. The safest options, if you're planning to host Thanksgiving this year, is an outdoor feast or a completely virtual one. The following tips will help ensure you can still host a successful pandemic friendly Thanksgiving get-together.
Set some ground rules in advance
Even with family, it's perfectly okay to set some expectations in advance to keep everyone safe, healthy, and comfortable. Even beyond greeting etiquette, let people know in advance your expectations on masks and the level of precautions you are asking people to take, if any, in the weeks leading up to the day. Will guests be expected to self-quarantine or limit nonessential contact with strangers? Keeping an open and inclusive dialogue will help gauge everyone's comfort levels.
Prep Your Outdoor Space
Invest in a propane water heater, outdoor space heaters, and a canopy so your big day can go on, rain or shine. Offer guests cozy blankets for them to snuggle up in if the weather gets chilly or if they plan to stay into the evening after the meal ends. Once the comfort essentials are taken care of, dress up your outdoor space however you see fit. Don't be afraid to bring some sense of homeyness outside. Instead of sticking to only disposables and plastics, if it can be washed, use it. Have fun with your decor. There are still seasonal pumpkins for color and string lights to cheer up the patio. The most important aspect of the outdoor setup is having enough space to properly social distance if you are choosing to. Instead of the traditional long table, break parties up by households.
Reevaluate the Menu
You can definitely still pop a ham or turkey in the oven and make sure to include all the traditional trimmings. Alternatively, you can get extra creative and deep-fry the bird outside or switch up the menu entirely and fire up the grill. A nontraditional family meal will be just as special and might be easier to manage in an outdoor setting this year. There are so many different types of salads for appetizers that can be made ahead of time or outdoors. This can free up some space indoors for the hot dishes that need the oven or stove while you entertain guests outdoors. There is a whole host of sides that can easily be prepared on the grill or beforehand, such as corn, grilled veggie skewers, stuffed mushrooms, and even garlic bread. Offer some hot beverages, both adult and family-friendly, to keep everyone warm before and after the meal. Bring out a couple of slow cookers or large thermoses to hold cocoa, hot cider, tea, or mulled wine.
Outsource Dinner or Dessert
You can apply this tip one of two ways. Either encourage a potluck style meal or use this as an opportunity to support your favorite local restaurants. Sometimes family recipes are the biggest draw but even just buying dessert in advance is an easy way to take some pressure off meal prepping.
Plan some outdoor family-friendly entertainment
Crowding on the couch with the game on is not going to be the most social distancing-friendly option to pass the time this year. If people of all ages are expected, set up a crafting table or scavenger hunt to keep the kids occupied. If there are diehard sports fans expected, a video projector might be a worthy investment. Afterward, you can throw on a movie or even connect to a computer to video call those who weren't able to make it.
Overall this will be a personal decision between the members of your household and your friends and family. It is going to be up to you to make the risk-benefit calculations when it comes to group gatherings this holiday season. Although it may take a bit of extra preparation and organization, it's the best time to focus on family and be grateful for what you have. Remember that things can change quickly and be respectful of people's perhaps sudden need to cancel, be it bad weather or a spike in local COVID-19 cases. There will always be other Thanksgivings!