To the parents of a stillborn child.
Hi, I am your nurse labor and delivery nurse. I helped you say hello and goodbye to your child, all at the same time. You probably don't remember my name, you might not even remember my face, but I hope you remember the care I gave to you.
Before this, you thought of the labor and delivery ward as the happiest place on earth. I did too.
But in that moment, it was the saddest place we have ever been.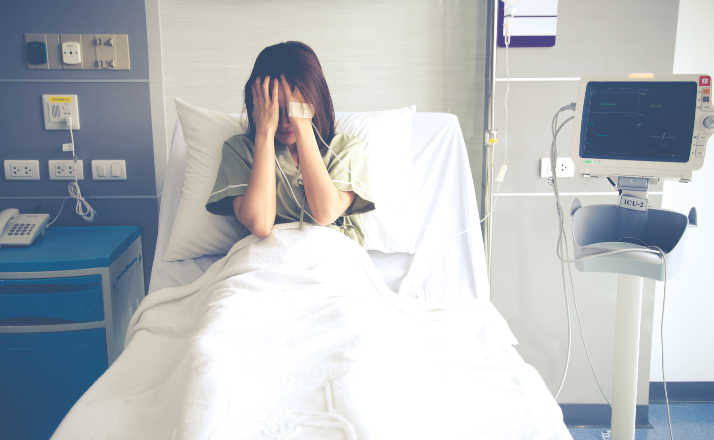 I remember your call, wondering if you needed to come in because you haven't felt your baby move in a while.
You told yourself that you just haven't been paying attention today. You told me how much water you drank and what activities you did today.
You could not let yourself think of what could happen, but my heart sank. I took notes on a napkin I had in my pocket with your information as I silently said a prayer for your child.
I told you to come in, just so everyone can have peace of mind. I told you to drink more water, and you told me that you'd be here in 30 minutes. We hung up the phone.
I remember calling the doctor to give her time to review your chart.
I remember telling my fellow nurses to keep an eye out for you when you showed up. We all came up with a plan to cover my other patients so you could feel more comfortable knowing I was your nurse to see you through this.
I prepared your room, rolling in the ultrasound machine that would show us a still heart. You cried, and you didn't see me but I cried too.
I stepped out of the room, and hung a picture of a fallen leaf on your door. It was our way of communicating what was happening, and letting our staff know what kind of delivery room they were walking into. I texted my husband to tell him to light a candle, which let him know what kind of wife would be returning home to him.
I helped you decide your birth plan, and I did absolutely everything I could to follow it exactly.
I made sure you had the same doctor, the same anesthesiologist, and the same nurse. You needed to feel comfortable.
I told the housekeeping staff to talk to me before entering your room. You needed your rest. I administered pain medication and antibiotics. Your body needed to heal. I ordered you food and made sure you ate.
You needed your energy. I held your hand so your husband could take a break. He needed a minute to take care of himself.
I asked you what your child's name is, and I encouraged you to hold him.
I sat and cried with you as we examined every feature on his body. He had his dad's nose. I remember you helping me take his footprints. I didn't stop until I got the perfect copy, because I wanted you to always have them.
You were scared when his nose started to bleed, but I calmed you down and explained how you could help him by adjusting his position. I helped his dad give him his first bath while you picked out his outfit. He was so handsome. I left the room to let you be a family alone for a moment, and I could hear you cry as I shut the door.
I called a local photographer, and asked them to donate their time and work for you to have pictures of your child.
You said you didn't want to at first, and I had to remind you that you might want to remember what he looked like. The photographer came back a few weeks later to show me. We cried together, as we hoped our work helped you.
On my lunch break I filled out mountains of paperwork. I made sure everything was correct, because it would be easier for you.
I made a bracelet with his name on it out of cheap beads for your daughter. She was 3, and couldn't understand what was happening.
I talked on the phone with our chaplain, who said he would clear his schedule to see you right away. Before the chalain walked in your room, he sat and prayed with me. He understood that I was grieving your child too.
We sat and discussed what would happen next.
Just as you were starting to get to know your child, you had to say goodbye.
We discussed funeral homes. I called around and found a director who would do a small service and cremation free of charge. We discussed your discharge, and how your body was going to change.
You cried when I explained that your milk would still come in. We gave you information on people to talk to, and recommended books to read. I reminded you that the last thing your child heard was your heartbeat inside of you, and I think that gave you comfort in his death.
You left the hospital with empty hands. It was unfair.
I couldn't begin to imagine what your journey would look like from here. So I prayed for your family. Before you left I gave you a box, with his outfit, hospital bracelet, and footprints in it. We cried one last time together going through that box, and I left you to lean on your husband as you walked out the door.
My 12 hour shift turned into 15 hours that day. I stayed late to make sure your son was taken care of after you left. You trusted me with that, and I want you to know I took it seriously.
I took an extra moment to say goodbye to him. I reminded him that his mom and dad loved him.
You see, no amount of training could have prepared me to take care of your family. I hope I did it justice. Thank you for allowing me to get to know your child. It is unfair that he was born sleeping.
Thank you for trusting me to take care of you. Love always, your labor and delivery nurse.