Every weekday morning thousands of kids across the country stumble out of bed, move slower than sloths, and finally, with a little prodding (okay fiiiine, a lot of yelling) to "hurry up!", board a big yellow school bus with less than a millisecond to spare.
pt_view id="63530c9ehw"]
They scramble to the back of the bus, hoping to snag one of the coveted seats where they will defy gravity over every pothole and bump before coming crashing down on a ripped strip of leather covering more springs than padding.
Good times.
And while your child may not get the highly sought-after backseat, you assume that they are at least getting a seat. Any seat.
But it's possible you assume wrong.
According to Action News Jax, one St. Johns County, FL father is sounding the alarm after his son took a photo of a fellow bus rider being forced to sit ON THE FLOOR of the bus due to a lack of available seats.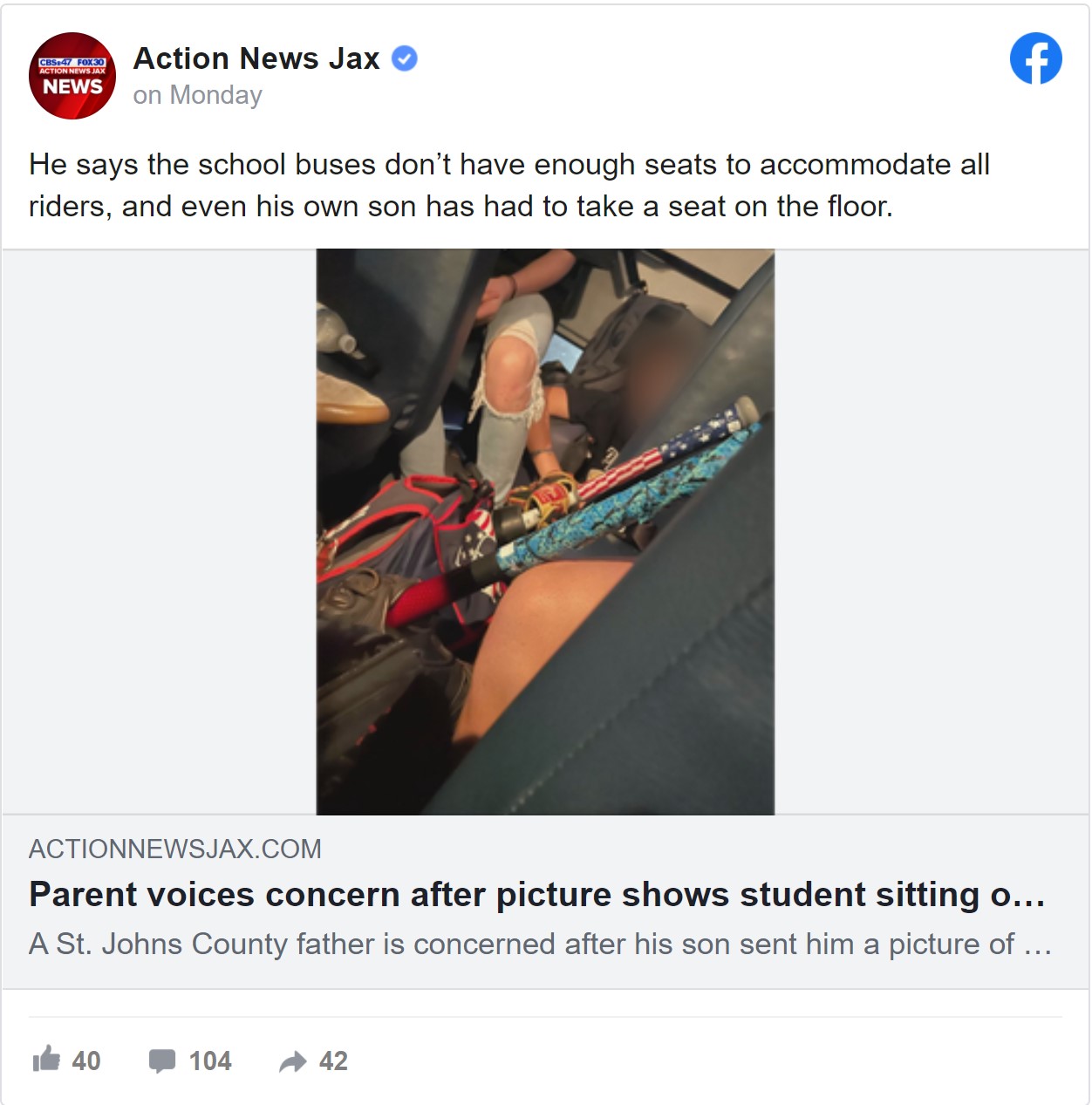 The boy attends Pacetti Bay Middle School.
His father, who wishes to remain anonymous for fear that his son will be suspended for taking the photo, tells Action News Jax:
"It's showing a problem that's been going on since the beginning of the school year on the buses in St. Johns County, which is a child sitting on the floor of the school bus because there's not enough available seats."
He goes on to explain that his own son has also had to resort to sitting on the floor. He says that there just aren't enough seats for all of the passengers.
Al Pantano, the St. Johns County School District Director of Transportation, says the incident is under investigation.
In an email statement he writes:
"Reference the photo: I have referred this matter to our Fleet Operations Coordinator to investigate the matter and refer the operator to our Safe Operator Committee to remediate and adjudicate the matter as appropriate.

The operation of a school bus with a student seated on the floor of the bus is strictly forbidden in our district. Our operators know the standards."
While it may be forbidden, Pantano admits that they are struggling to keep up with population growth.
In addition, the district currently has 21 openings for bus operators.
And they aren't the only ones. School districts across the country are facing the same dilemma.
The ripple effect of Covid-19 has created a tsunami wave of shortages in goods and services.
It's not just toilet paper and hand sanitizer.
There are labor shortages everywhere and one of the hardest-hit areas is school bus transportation. And the wheels on the bus? Aren't going round and round.
In September, WFTV9 reported that students attending University High School in Orange County, FL, are also sitting on the floor of buses.
Monica Cielo, a mother to one of the affected students said she reached out to the school district to voice her concerns over safety. The OCPS district responded to her by email blaming it on a shortage of bus drivers.
They have held numerous job fairs and offered a signing bonus of $3500 in an attempt to attract drivers.
In Montana, the Helena Public School district is so desperate it is offering a $4000 signing bonus.
In Massachusetts, 250 national guard troops were enlisted to drive students to school.
And in Delaware, one district has offered to pay parents $700 to take care of their own transportation.
Which is more easily said than done. For families with both parents working, trying to navigate the logistics of school drop-off and pick-up can be a nightmare. And in some cases, downright impossible.
This shortage is affecting thousands of parents, students, and schools in almost every state. Including Pennsylvania, where over 800 parents in the Pittsburgh Public Schools district have been told that their children now have to walk to and from school.
And in Chicago? There is a shortage of over 500 bus drivers; leaving thousands of students with special needs with no bus route at all, according to the Washington Post.
In a nationwide survey, over half of student transportation coordinators described their school bus driver shortages as either "severe" or "desperate."
And 81% of districts reported not being able to find enough school bus drivers to fill their needs.
The National Association for Pupil Transport estimates that there are tens of thousands of drivers needed nationwide.
Even if these positions can all be filled, which is doubtful, it can take 6-8 weeks of training to get the bus drivers on the road.
And it's not just about the drivers. Part of the issue is also a shortage of buses.
School districts continue to struggle to keep up with masking and social distancing mandates. This, in turn, results in fewer students being allowed on the bus at one time.
And it goes round and round and round.
In an already extremely difficult year, this is just adding more stress on parents. Stress that may just bring them to the breaking point.