A tragic and graphic video clip showing a man committing suicide is currently making its rounds on TikTok and parents, you'll want to sit up and pay attention to this one.
The social media giant is scrambling to remove all traces of the video from its platform after it first surfaced on Sunday night. The video originally appeared as a live-stream on Facebook last week, where it has since been removed from that platform.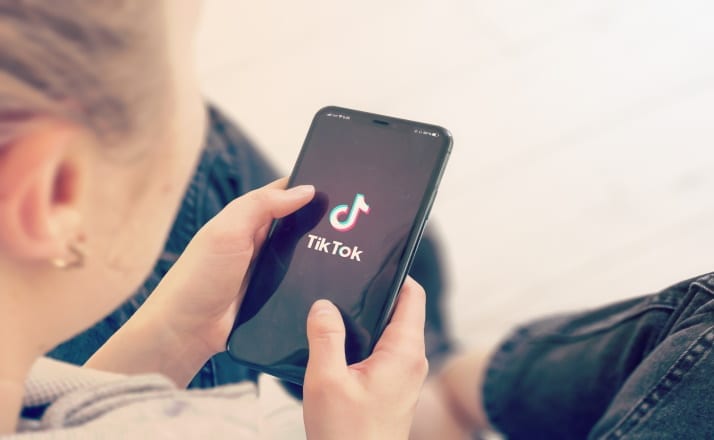 Facebook told BBC News:
"We removed the original video from Facebook last month, on the day it was streamed, and have used automation technology to remove copies and uploads since that time. Our thoughts remain with Ronnie's family and friends during this difficult time."
TikTok is also employing similar automation technology to remove the clip, but with limited results. The video has already been uploaded and re-shared thousands of times.
TikTok spokesperson Hilary McQuaide issued the following statement:
"Our systems, together with our moderation teams, have been detecting and blocking these clips for violating our policies against content that displays, praises, glorifies, or promotes suicide."
In addition, TikTok is actively banning any accounts that are attempting to repeatedly try to upload the clip.
But it isn't nearly enough.
The video is still showing up in the curated "For You" section of multiple TikTok users, making it almost impossible for users to avoid seeing the graphic footage.
The "For You" page (FYP) is an endless stream of trending videos that play automatically as you scroll the list. There are no previews or warnings regarding content. There is no filter to shelter our children from seeing graphic content, including a man's tragic suicide.
A number of young users have already inadvertently witnessed the devastating death of Ronnie McNutt.
To make matters worse, some hackers have embedded the video into the middle of other more seemingly innocent videos as a gruesome surprise.
What is even more sickening? The videos being used as teasers are ones targeted specifically to our children.
Those cute puppy and kitten videos that are crack to our kids? Are now being used as bait to reel in our kids and expose them to a horror that no one, especially our children, should ever have to see.
The social media platform TikTok is home to over 800 million active monthly users worldwide, with an estimated 96 million in the United States alone. TikTok has an estimated 18 million daily viewers who are 14 years or younger.
It is quite possible that your child may think he or she is watching a normal, appropriate TikTok video… only to be shocked with these horrendously graphic images inserted into the middle of the clip.
Parents, if you think your kids aren't at risk of seeing this, please, think again.
A man has tragically taken his own life. And now, our children are bearing witness to it. THIS IS NOT OKAY.
The TikTok community has taken matters into their own hands and has been posting warnings -such as the following- to their fellow users in an attempt to slow down the viral video's spread.
Many are also posting a screenshot of the video's beginning to make people aware of what clip(s) to avoid.
As it continues to struggle to contain the video, TikTok has issued a statement on Twitter, thanking community members for reporting and identifying offenders who are sharing the disturbing clips.
We're removing content & banning accounts that repeatedly try to upload clips, and we appreciate our community members who've reported content & warned others against watching, engaging, or sharing such videos on any platform out of respect for the individual & their loved ones.

— TikTokSupport (@TikTokSupport) September 7, 2020
Many users, however, are complaining that when they try to report the video, TikTok has responded with a note saying that it isn't against community guidelines.
TW: Suicide
Early this month a man killed himself on FB live. The vid is making rounds on TikTok. People are hiding it after seconds of cute cat vids and stuff. TikTok has denied it as a violation after reports made.

Stay off tiktok or stick to your follow page for now.

— Laura Stahl (@laura_stahl) September 7, 2020
This is not the first time that TikTok has been mired in controversy. Their security has been in question since Musical.ly was bought out in 2018 by the Chinese company, ByteDance, and re-branded as TikTok.
Early in 2019, the FTC found Musical.ly guilty of violating the U.S. Children's Online Privacy Protection Act after uncovering "disturbing practices, including collecting and exposing the location" of young children.
TikTok was ordered to remove all videos created by children under the age of 13.
In recent months the app has also been investigated by the Committee on Foreign Investment in the United States for breaches in national security.
In August, President Trump issued an executive order giving Chinese parent company ByteDance 90 days to divest TikTok's operations in the United States. And as of September 20, ByteDance is banned from doing business with U.S. companies.
This is, however, not just an issue with TikTok. This particular video is also making the rounds on other forms of social media. Instagram users have also begun sounding the alarm, as are those on Twitter.
Parents are also taking to social media to speak up about their own children and teenagers bearing witness to the video and the devastation that it is wreaking.
Yes it is gruesome and absolutely traumatizing. My poor child witnessed it yesterday!! She is distraught!!

— Erica Calluna (@CallunaErica) September 7, 2020
This is not a joke. The video is extremely graphic. Please sit down with your children & find out what they are viewing. Check in with them. Get in the way of their mindless scrolling. If they are on TikTok or other social media platforms, be diligent, and monitor their usage.
If you or your children have seen the video, please, report it. If needed, reach out to a friend or loved one, seek out a professional, or contact a helpline to help you process what you have unintentionally witnessed.
And if you or someone you know is thinking about suicide, please call the National Suicide Prevention Lifeline at 800-273-TALK (8255) or text the Crisis Text Line at 741-741.