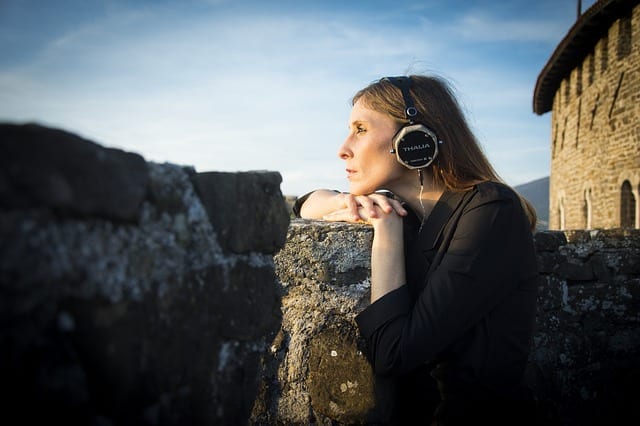 Relaxation. Euphoria. Tingling. These are the words used to describe the result of an Autonomous Sensory Meridian Response, or ASMR, trigger. In a piece I recently wrote for Sanity & Self, I describe the concept as "the physical response to auditory, visual, or tactile triggers, usually a tingly sensation similar to feeling chills. Think of the goosebumps you might get when someone whispers into your ear. That's ASMR. Most experts attribute ASMR's relaxing sensations to the release of endorphins, a chemical in the brain that leads to feelings of happiness and euphoria, and a surge of oxytocin. You experience a surge of oxytocin during orgasm, which most likely parallels the chemical release of ASMR and why devotees refer to this phenomenon as brain or head orgasms."
Common ASMR triggers include whispering, personal attention or touch, humming, tapping, role playing, crinkling materials, and hair brushing. Learning what triggers ASMR for you involves trial and error. Begin by exposing yourself to a variety of sounds and content. "A major source would be ASMR video channels which contain a large selection of quality content," says Dr. Craig Richard, an ASMR researcher, biopharmaceutical sciences professor, and ASMR University founder.
The ASMR community has exploded since it first appeared on whisper vlogs and chat rooms around 2009. Search ASMR on YouTube, and there are over twelve million results. Here's a look at the top of the tingles:
Maria of Gentle Whispering ASMR is arguably the queen of ASMRtists, with more than 1.2 million subscribers and over 450 million views since 2011. A pioneer in the field, Maria, who emigrated to the United States from Russia and quit her nine-to-five to become a full-time creator, is known for her soft-spoken personal attention with gentle whispers and slow speech patterns. Her relaxing role plays provide an immersive experience. From simulated trips to the hair salon to visits to various doctors, Maria taps into the human psyche that craves contact and connection. In various interviews, Maria says she unintentionally experienced ASMR throughout her life, when people whispered or tickled her. This eventually led her to create her own channel.
Like Maria, Taylor Darling has amassed a devoted following, now over 1.5 million strong. She launched her channel in 2014 while in high school. Her videos, which include a variety of massage techniques, sedative sounds, and role playing, have generated 270 million views. Clear your mind as she whispers, scratches objects, crinkles paper, taps on different surfaces, and pours water. For relaxation and entertainment, she role-plays characters from popular movies and TV shows, such as Game of Thrones' Daenerys Targaryen, Stranger Things' Eleven, and Star Wars' Rey.
Over a half million subscribers hail to the sensory phenomenon known as Heather Feather, whose videos have tallied nearly 150 million views in her six years on YouTube. If you're feeling down, Heather can help boost your mood with humor-infused, role-play videos featuring her in costume and character as the Candy Queen and the Sleep Police. Trigger-wise, people love her "sound slices," short snippets of her most calming sounds including tapping, metal clanging, hushing, whispering, and crinkling. "Sleep is war. I'm your soldier," she says in her bio. If sleep has become your enemy, her guided meditation ASMR videos might help conquer your restlessness. Heather joined the ASMR world in 2012.
Close to a half million people have subscribed to Ally's ASMRrequests channel since 2012, where she shares a variety of unique ASMR videos that have racked up 113 million views. Trigger-wise, people love her binaural role play, spa treatments, and bedtime stories. Unique to the ASMR world, you'll also find a variety of sci-fi and time travel tingle triggers. Ally admits in her YouTube bio that she wasn't "born" with ASMR, but "learned about it later in life and cultivated the ability to experience it over time." This is a great reminder to those who might not initially get the tingles or find themselves able to relax while watching an ASMR video. Try, try again! And, as the channel name implies, Ally takes requests.
Dmitri, who lives on the Gold Coast in Queensland, Australia and is an information technologist by trade, is one of YouTube's most sought after male ASMRtists. He joined the community in December of 2012, and although he specializes in massage, he's equally as effective at inducing the tingles while unboxing items and speed tapping. Dmitri does quite a bit of work with binaural ASMR too. The 3D sounds Dmitri creates transport you immediately into the same space as him.
Although Rachel produces a plethora of holistic and wellness content, her ASMR channel, launched in 2013, is tops with listeners, boasting nearly 400,000 ASMR enthusiasts. With tingle-producing clips that have drawn more than 129 million views, she and her team of "psychetruth regulars" devote much of their time to common triggers like whisper, tapping, massage, ear cupping, ear massage, scalp massage, hair brushing, ear cleaning, mouth sounds, and eating sounds. The channel's most popular video, generating a staggering seven million views, features Rachel whispering while massaging the scalp and brushing the hair of a blonde woman who appears hypnotized.
And… wait for it…
No ASMR A-list would be complete without a mention of the original master of chill, Bob Ross. The Joy of Painting originally aired on PBS in January of 1983. In each episode, Ross taught different painting techniques with his trademark gentleness and hushed tone. He set the bar high, but from the millions of views and subscribers, it looks like today's ASMRtists have risen to the challenge.