Some days I'm on the ball and getting every task done, while other days, I'm hardly getting by and find my cell-phone in the freezer.
Some days I'm confident and don't care what you think about me, while other days, I'm insecure and question every little exchange we have.
Some days my anxiety is off the charts, and I'm worried about everything from the coronavirus to my daughter's separation at school next year, while other days, I don't overthink in endless circles and am relatively stress-free.
Some days I'm early and bathe the kids before school drop-off, while other days, I'm running late, and my oldest is wearing her shoes on the wrong feet when we arrive.
Some days I'm struggling to feel good about myself, while other days, I feel good about who I am and what I'm doing.
Some days I crave a group of female friends because I feel so lonely, while other days, I'm perfectly content with the few friends I have.
Some days I'm at my wits end with the kids and their antics, while other days I'm on the floor playing with them, and have an endless amount of patience and energy for them.
Some days we have a movie marathon playing in our house all day long, while other days we don't even watch a show.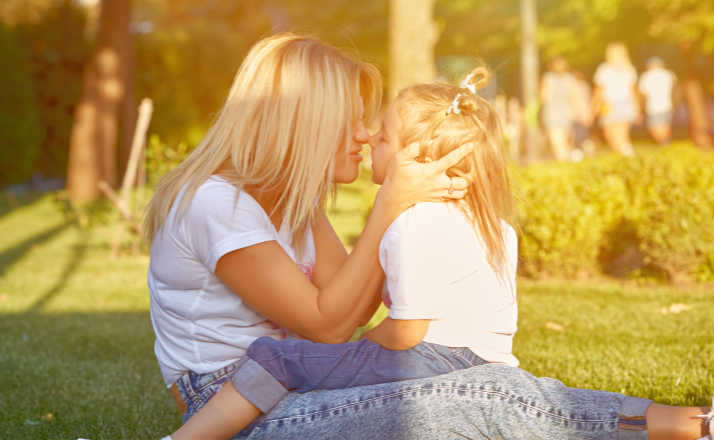 And not one day makes me a better or worse mom than the other.
As mothers, we're expected to be robots—
to do everything perfectly following a list of invisible rules (ranging from organic food to no screen time) and with a huge smile plastered on our faces.
And nothing is supposed to phase us while we do ALL THE THINGS.
But we're human, and so are our kids.
And every day is different for them and us.
Life is a rollercoaster and some days we choose to hold on tight in terror,
while other days we embrace the chaos, put our hands up in the air, and enjoy the ride.
So, some days will be organic and home-cooked, while others will be store-bought.
But one thing will always be consistent—
on all days, we're the best moms for our children—
because no one loves them more.