Once you become a parent, you're constantly learning about developmental milestones. If your child has any special needs, you're also frequently catapulted into a world of medical and educational specialists, which may include occupational therapy.
What is occupational therapy?
According to KidsHealth,
"Occupational therapy (OT) is a branch of health care that helps people of all ages who have physical, sensory, or cognitive problems. […] Occupational therapists help with barriers that affect a person's emotional, social, and physical needs. To do this, they use everyday activities, exercises, and other therapies."
Occupational therapists are educated, certified professionals. To become an occupational therapist, a person must graduate with a Master's degree in occupational therapy. They will also perform extensive fieldwork and be licensed by the National Board for Certification in Occupational Therapy.
Who do occupational therapists work with?
While occupational therapists (OTs) can work with any segment of the population, many OTs specialize in helping children.
Occupational therapists frequently work with children who have experienced birth injuries or other traumatic injuries, have sensory processing disorders, autism, or other developmental delays or challenges. However, a child may need occupational therapy at any time for any number of reasons.
How does occupational therapy help kids?
Occupational therapists can create a therapy plan to help kids in a variety of ways. The care and strategies they use depend on the particular challenges of the child.
If a child struggles with a particular skill like getting dressed (balance, zippers, etc.), the OT will focus on that. They'll teach the child how to dress in small, manageable steps. They'll work on both the physical motions and the mental planning dressing requires.
If a child suffers from sensory processing disorder, an OT may spend their sessions helping a child tolerate and integrate different sensory experiences. The OT will work to discover whether the child is reacting to under-stimulation, overstimulation, or both.
A child who experienced a traumatic injury may need help learning or relearning the whole gamut of basic day-to-day skills, like feeding and toileting. The OT will work to teach or reteach those skills in a way that's manageable for the child's current condition.
Essentially, occupational therapists meet children where they are. They help craft a tailored, professional approach to improving the child's life skills.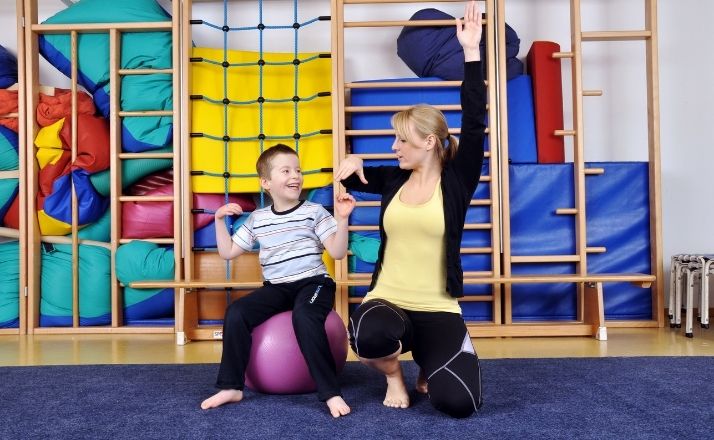 What strategies do occupational therapists use?
Some of the strategies and treatments OTs use are similar across old and young. However, OTs working with children will frequently employ more play-based strategies. They're also more likely to focus on social challenges and sensory issues than OTs who work with adults.
The specific strategies and tools used by OTs are as varied as children themselves and may include both everyday objects and unique, specialized tools.
An occupational therapist is rarely the only professional working with a child; a team approach is most common.
A classroom teacher and/or special educator will work on the academic side of things (including some life skills). A pediatrician or other medical specialist will help manage overall health and any necessary medications. A child psychologist might help with any mental health challenges.
Most importantly, occupational therapists will typically help train parents to implement strategies and therapies at home. OTs typically only meet with a child periodically. The rest of the time, parents oversee the regimen and strategies selected by the OT at home.
Occupational therapy is an important discipline that can make a huge difference in a child's life.
If you think your child might benefit from working with an OT, you should reach out to both your pediatrician and your child's school to explore your options.