I had a child, went through a divorce, got remarried, and had another baby. My daughters have different last names from different fathers and are each under their respective insurance policies. I was prepared for a lot of little challenges along the journey as a blended family. But dealing with headaches every single time I check into the pediatrician's office was not one of them.
Yet every single time I bring one or both of them to the office, there is an issue with the paperwork. Either they are listed under the wrong father, the wrong insurance, or other logistical issues.
I can easily look past a mistake in the beginning while they hash out the intricacies of divorced parents and blended family paperwork but, come on.
It's not 1950 anymore where white picket fences and Stepford wives reigned supreme. Families look different. The cookie cutter is officially broken.
Single, same sex, divorced, widowed. I mean, according to one family law website, there is a divorce in America every 13 seconds. So, it's not one of those things that's taboo anymore. It happens. A lot. And I happen to live in a city that probably has enough divorced couples to fill every Starbucks on every corner within a 5-mile radius.
I guess the point that I'm trying to make is that divorce is common and shouldn't be this shocking dynamic that people don't know how to deal with.
Yet, it seems many of the billing processes and medical technologies used by practitioners are still living where the Stepford wives serve their husbands a chilled martini in an apron with full hair and makeup the second they come home and slam down their briefcase and World's Best Dad coffee mug.
I was curious if others experienced these inconveniences, so I posted a poll in my stories on Instagram. And guess what. It's a problem for MANY of us.
Here's a very small sampling of what people told me:
"Insurance sent my ex-husband my son's medical info even though he is not the father. This is two years post-divorce by the way."
"They call me my stepson's mom's name even when I'm there with my own bio kid."
"Ex took the kids to the doctor and told the office to bill me. They are under his insurance."
"Not even divorced but we have different last names, and it is a judgmental nightmare."
"I overpaid at the eye doctor, and they sent the $100 refund check to my ex-husband of 5 years . . . he cashed it."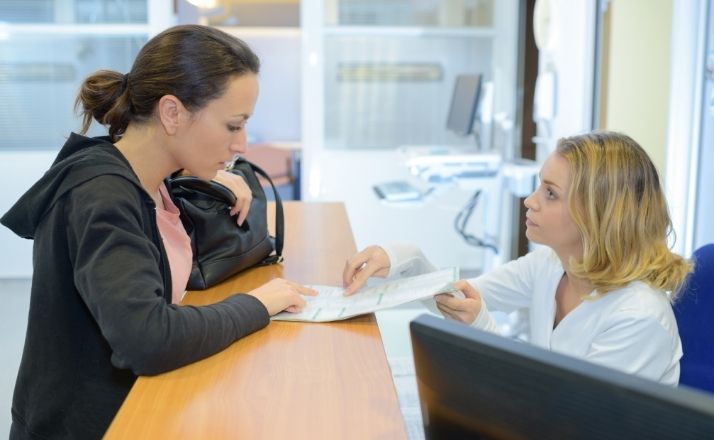 Listen, I am not unreasonable.
I get that it can be complicated and it's certainly not the job of every single person in a medical office to know and remember the marital status of every patient.
There is certainly room for error. But not repeatedly with zero effort to make necessary changes. Not for years and years. It cannot be that hard to fix.
And maybe the office staff could use some support with better medical record technology. We have technology where robots can literally perform surgery, there are rovers on the damn moon, and you're telling me there's no company out there that can make the check-in/billing process more inclusive of all types of families?
Plus, I'm sure there are some HIPAA concerns when medical records are sent/shared with someone who is NOT the parent or guardian.
In a world where things seem to get more complicated by the day, this seems like low-hanging fruit. And while not a pressing, worldly matter, I'm sure those of us who experience these types of issues regularly would so appreciate walking into a medical office without having to constantly spend extra time changing incorrect information.
I know I would.
Signed,
A divorced mama with kids who have two different last names and insurance policies