It may sound strange, but getting divorced opened up my family to joy.
I know the exact moment when I realized I had made the right decision by getting divorced.
I was sitting alone on the couch, my mom's dog (who I was dog-sitting) was curled up at my feet as I sipped wine, eyed the soon-to-be decorated Christmas tree, and worked on perfecting my "Chamomile Christmas" playlist.
My two very young children slept peacefully in their rooms after several requests for more sips of water and big cuddles and one more story, all of which I obliged.
We had just bought a home a few months earlier, just before it all fell apart. This would have been our first Christmas in the house, in any house we owned. But now it was mine. And it would be forever mine. I told him to move out.
But getting divorced is not an easy choice.
As a mother of a toddler and an infant, that was, of course, a fraught decision I questioned every second of every day. Until that is, I stared straight at that blank Christmas tree, so full of potential. A blank slate just waiting for all the joy we could hurl at it.
My ex (soon-to-be-ex?) was not a man of holidays. He would show up and do the family duties, and make sure that his mom was happy. But he never reveled in the family stories, lore, and traditions.
He was not a creature of ritual or tradition, and for many reasons, I loved that about him. He wasn't conventional. But he also was not a man of joy, and so it was all the more fitting that our marriage fell apart right during the season of uppercase, in your face, JOY.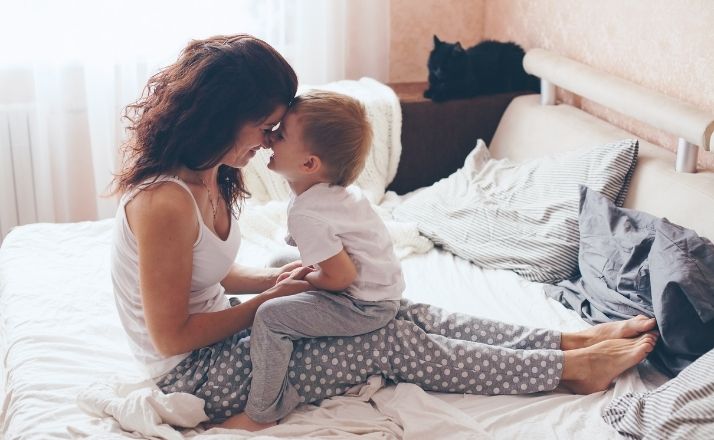 I love joy. I now realize that I derive all my worldly power from joy. From harnessing those tiny moments of everyday life that are so beautiful you wish you could just lay down and weep or laugh or both.
And I was exhausted in our relationship both being the only person bringing joy to the table or even caring that it was being served to us as a couple and, more importantly, to our kids.
Joy, in my mind, should always be on the menu.
Our marriage didn't break down because of Christmas lights or stocking stuffers. We are, I hope, better people than that.
But rising out of the fog of our relationship just in time for my baby's first Christmas made me realize how much I had just snuffed joy and love out of my life for this man.
So much of my life was dedicated to making the trains run on time that there left no space for me, let alone quiet moments to enjoy the journey. Joy is delicate.
In many ways, it is more precious than happiness if only for its fragility. It doesn't only exert its own pressure; you have to make space for it. I am so grateful for me, for my kids, that I realized it just in time.
And as a wise man in a Christmas movie once said, "I'm shakin' the dust of this crummy little town off my feet and I'm gonna see the world."
I'm going to see the world for the beautiful, complicated, and intricate world that it is. I will see it in each lace snowflake I hang on the tree. I'll see it in each weird Christmas madrigal my kids will roll their eyes at.
I'm going to draw on old traditions to build new ones I can be proud of. I'm going to dance with my kids and play Christmas carols at breakfast while they growl like bears over their oatmeal. I now can make space for joy for all of us. Well, maybe not him.