In an ideal world, we'd all spend 2 hours each day investing in our well-being. In the real world, our schedules are maxed, our finances are tight, and if you're a parent, uncomplicated free time is a myth we all dream about. Because if we ever get a significant chunk of time to ourselves, we're usually caring for basic household needs or paying bills or making doctor's appointments.
We don't need more complications, more bills, and more commitments. We need a way to care for ourselves that's realistic, simple and cheap. And, perhaps most importantly — fast.
The Solution: Micro Self-Care
What if we take some self-care techniques and break them down into small parts. Instead of two hours, do you have 5 minutes? This is called micro self-care.
"It means to engage in small habits in our daily lives that have a big impact on our well-being," wrote Ashley Davis Bush, a psychotherapist with over twenty years experience, for GoodTherapy. "Small repetitive practices matter, both in creating new neural networks in our brains and in creating sustainable self-care."
Basically, pick your favorite self-care activity and shorten it. Do you love diving into a good book but don't have an hour? Set a timer and read for 5 minutes.
Is yoga your thing but you don't have time for a 30-minute class? Pick 3 poses and do them during a break between calls or clients or paperwork.
There are other moments during the day where you can sneak in micro self-care activities; during your lunch break, as you're getting ready in the morning, during your commute to/from work, right after the kids go to bed, etc.
If you feel strapped for time and money but still want to invest in yourself, try one of these easy, free, and micro self-care methods:
Feel the benefits of deep breathing.
Deep breathing can reduce stress and anxiety, increase energy, and help with sleep.
Maybe meditation is something you've always wanted to try, but it seems like a time sucker and too complicated. If that's true, download this free app: Aura Health. It offers guided meditations starting at just 3 minutes.
Another popular breathing technique is the Wim Hoff method. Basically, at the end of your morning or evening shower, turn the tap to cold and take lots of deep breaths.
I've practiced this, but my husband does this every day. In fact, he swears by it and says it's helped him with the extra stress that comes with parenting and working from home. It's quick, pretty easy, and has great results. Take a couple minutes and try a free Wim Hoff breathing session here.
Not your thing? That's okay. Keep reading!
Try progressive muscle relaxation.
Progressive muscle relaxation is exactly what it sounds like: you tense then relax a group of muscles in your body. It helps relieve tension that you may not even know you're carrying. This one is especially good for those of us who have trouble falling asleep or going back to sleep in the middle of the night.
Here is a 10 minute video that guides you through the process or a 15 minute video (with over 2 million views) if you have more time.
Follow a short, guided movement.
Between working and caring for kids, and the cost of gym membership, it can be unreasonable to do a 30- or 45-minute workout each day or even 3-5 times a week.
Here are some guided workout videos that you can follow — no equipment needed. Bonus: you can watch these videos without downloading an app or starting a free trial! (Because starting a free trial, forgetting to cancel it, and then getting charged is the worst.)
Learn something new, just for you.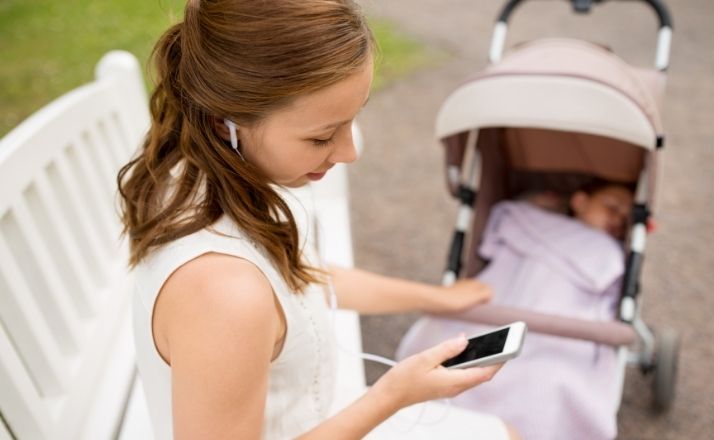 Podcasts are uber popular right now, and there's a podcast for every topic you've ever thought of. But, you don't always have to learn about "better parenting techniques" or "peaceful conflict resolution with your toddler."
What about a topic just for you?
Here are some bite-sized podcast episodes to try:
Still questioning micro self-care?
It's hard to carve out time for ourselves — I get it. As a mom of two young kids, who also engages in income-producing work on top of parenting, it can feel challenging to do self-care.
But, when I choose to do something small and simple for just me, it can really have a big impact on my mental, emotional, and physical state.
Try one of the ideas above; what's the worst that could happen? You'd waste 15 minutes but you will have tried something new, just for you.