With social distancing still in full effect in most parts of the country, it can be challenging to feel connected to fellow humans- especially when you're single & ready to- well, wishing you could mingle.
Of course there are always dating apps to check out; and some people on them have gotten pretty darn creative in displaying their "assets" (and by assets, I mean their stash of toilet paper & canned goods).
It's tough to be looking for love when you literally can't leave your house, but one recent story proves that where there's a will (and a drone), there's a way.
One man's creative way of asking a neighbor out has gone viral on social media because the tale of a love connection by drone is just what our weary quarantined hearts need right now.
28-year-old Jeremy Cohen is a freelance photographer living in Brooklyn, NY. Like the rest of us, he has spent his recent days in lockdown Netflix & chilling… only in Jeremy's case, it was less "chilling" in the sexy sense and more literal CHILLING- alone.
Jeremy's a single dude, and there's only so much Netflix one can watch without getting a little bored (after binge-watching the entire season of Tiger King like the rest of America, of course).
And then it happened.
In a picturesque moment straight out of the latest rom-com, Jeremy took a second to look out the window… and spotted HER.
She was a tiny dancer he'd like to have hold him closer (or at least she seemed tiny, from far away on the rooftop of the building across the street).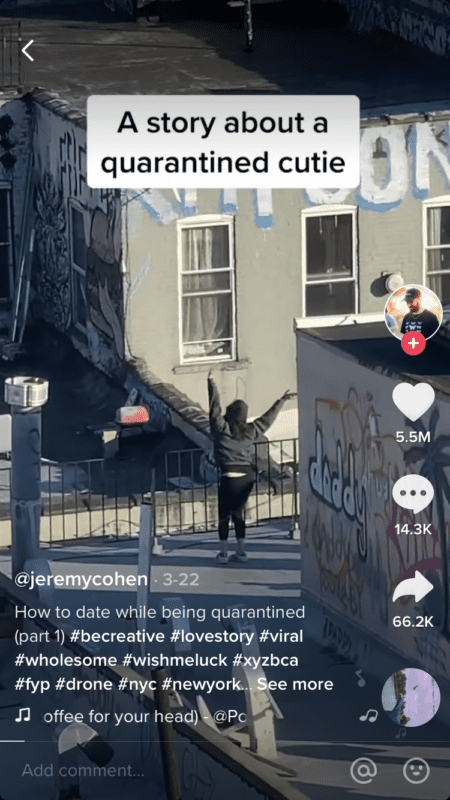 Color Jeremy intrigued- and who can blame him? Even in the midst of a lockdown, this woman's joy was contagious as she busted some sweet solo moves on her Brooklyn rooftop one sunny morning.
He captured a few seconds of her fun on his TikTok account, @jeremycohen, and it's at this point that their whirlwind romance officially began.
By now, we're all used to people in public bursting out into random dance- thanks for that, TikTok. But in this case, Jeremy's tiny dancer wasn't doing it for video likes, but for FUN. Period.
The dancer, 23-year-old Tori Cignarella, later told Buzzfeed that her impromptu performance:
wasn't for a video or anything, it was just me being silly and having a good time.
Being an extrovert himself, Jeremy decided to say hello to his spunky neighbor. Ah, a simple "Hello". Remember the good old days when you could physically walk up to people and talk in person? That was fun.
Jeremy shouted a greeting across the street, & Tori shouted one back. They tried to have a conversation, but there's only so much one can communicate from the rooftops of Brooklyn.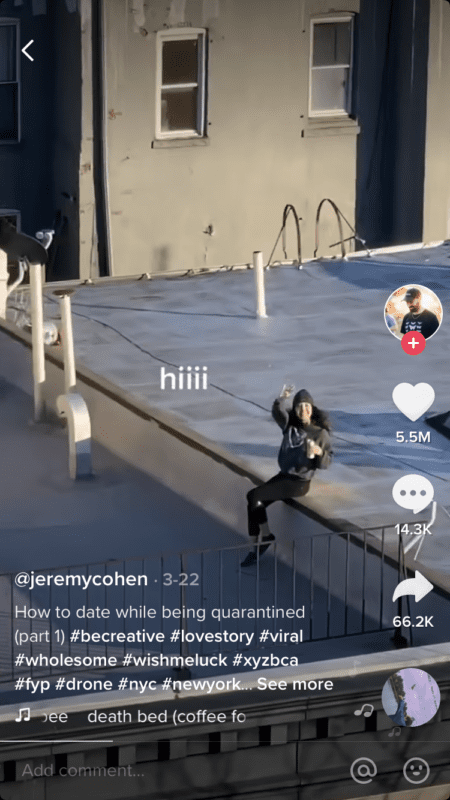 She had you at hello, Jeremy. She had you at hello.
Determined to keep the sparks "flying", Jeremy decided to fly his digits on over to his new potential ladylove- by drone.
He wrote his phone number on a strip of paper, taped it to the back of his drone, and flew his number over to Tori.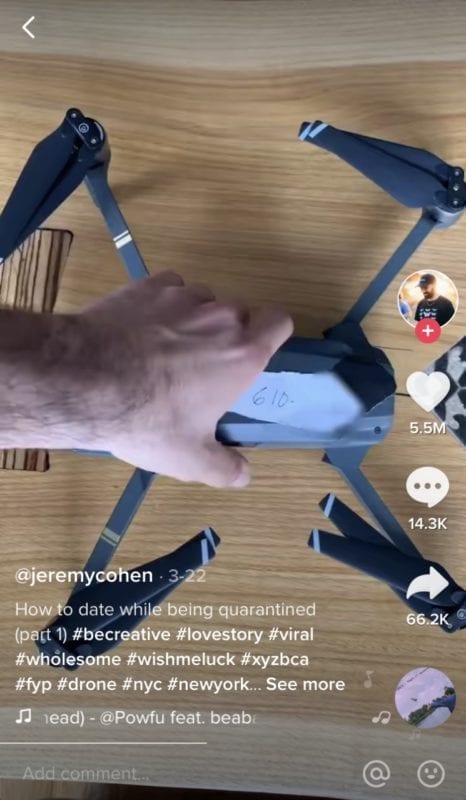 Before you start to consider the creepy factor on his little flight, note that Jeremy explained to Buzzfeed that he asked permission to approach first by shouting:
Can I send you something? Wait for like 20 minutes, I'm going to send you something.
I don't know about you, but this quarantine has made anything from the outside world seem appealing. I get giddy when I hear the mailman approaching our door, so Tori was cool with waiting the 20 minutes.
Fly, dear arrow (ok, DRONE) of love, & find your mark.
Jeremy was left waiting in agony for an hour in the hopes of a response. An hour is a LONG time in lockdown terms… but it turns out Tori's phone battery had died. Whew!
Finally, the much-awaited reply arrived: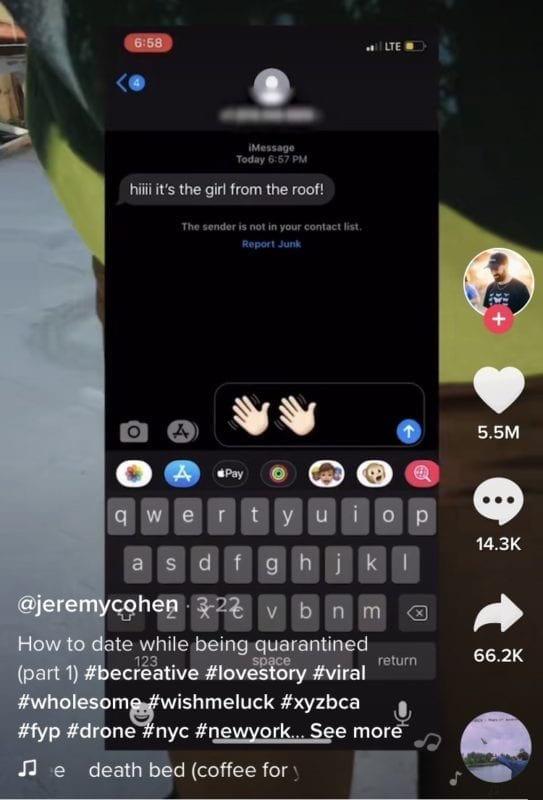 (How cute is she?? Seriously- how cute is all of this????)
But it gets BETTER; their story didn't end there.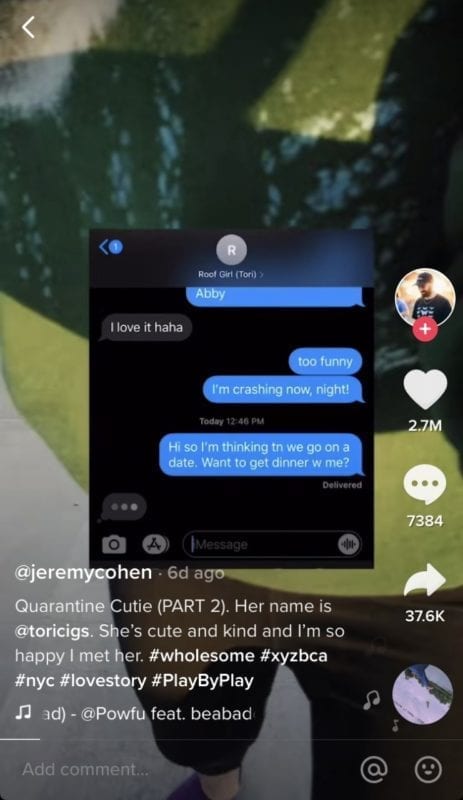 Jeremy got up the courage to ask Tori out on a date- and she accepted. As for just how they'd have "dinner" together… well, Jeremy had that covered.
He first put in his best efforts at cleaning himself up- and if he's anything like the rest of us, that meant a considerable amount of time peeling days-old sweatpants off, washing body parts that hadn't seen soap in days, & picking couch lint out of his hair (No? Just me?).
Dinner reservations were set. We're talking fine china (ok, organic microwavable dinners), wine, and candlelight, because GO BIG OR GO HOME, Jeremy. Or perhaps "go big or stay home".
And that's precisely what both Jeremy and Tori did; they had their first dinner date "together"…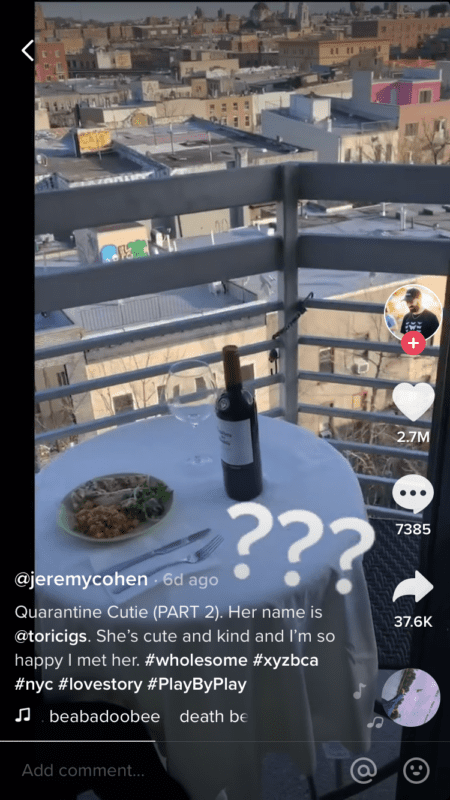 Table for two? Technically speaking, yes. And this was highly technical!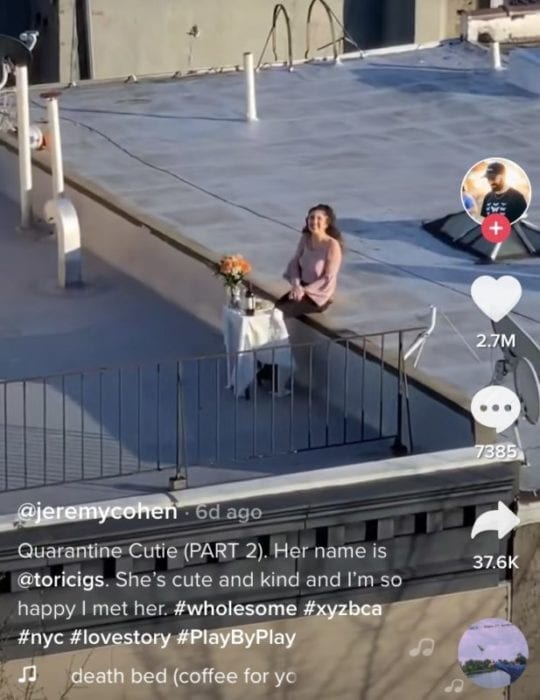 And thanks to FaceTime, the two enjoyed a cozy meal while dining al fresco.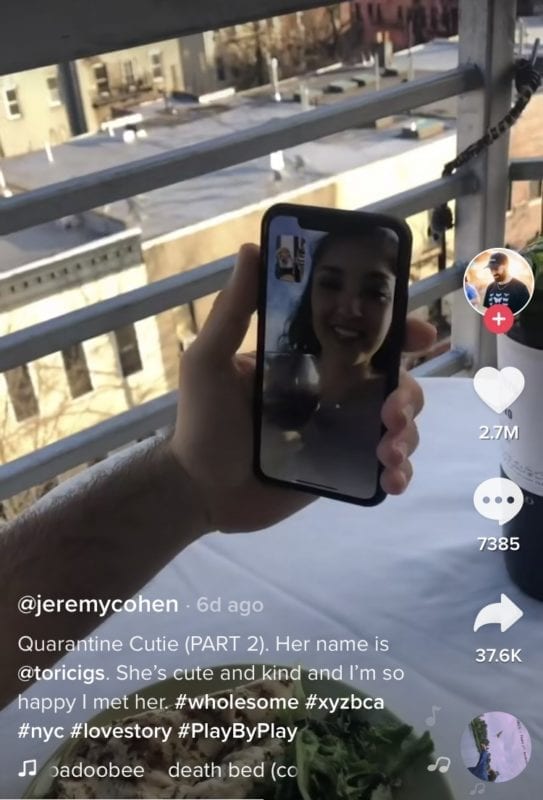 Their first date went so well that Jeremy even arranged an in-person meetup. Well, it was as close to an in-person meet as one can get nowadays, but the man deserves mad props for his efforts: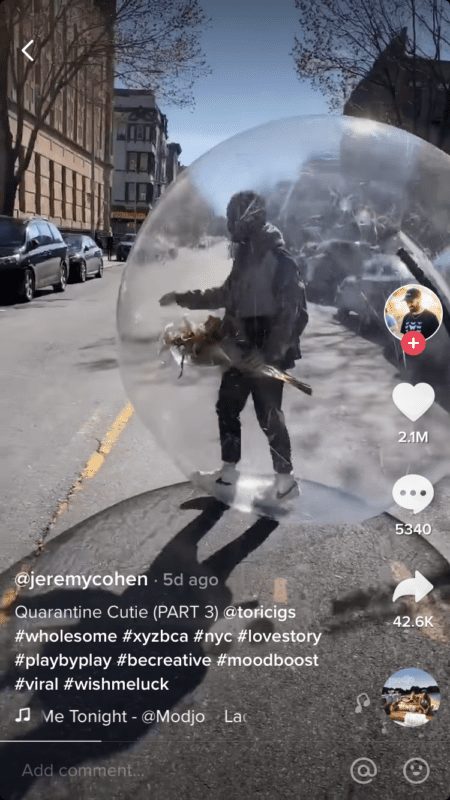 Rolling on over to his new lady, flowers in hand…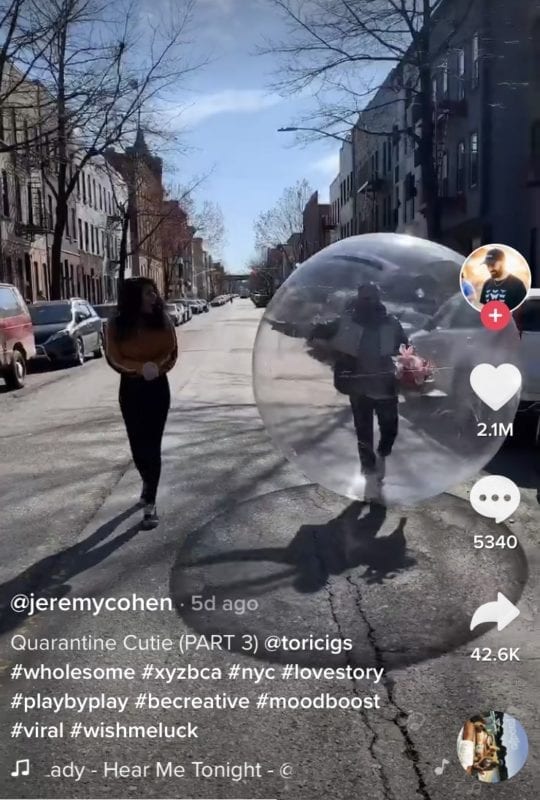 …and taking a romantic, social distanced-stroll. Thankfully Tori was into Jeremy as well; it would have been a shame if she had burst his bubble.
As for their status today, the two are still "seeing" each other. As Cohen pointed out to Buzzfeed, their budding relationship might just be a new trend in dating:
If we're quarantined for a long time, would this be considered the first ever long distance relationship across the street?
Since they first met, Jeremy's courtship drone videos have over 30 million views on TikTok, & over 380K likes on Instagram.
It's cute, and fun, and everyone digs a good love story. But Jeremy's story is also just the kind of upbeat, joyful reminder we need right now that even in the midst of really tough circumstances, love -and humor- will always find a way.