With schools across the country closing, parents nationwide are wondering how not to lose their minds over the next few weeks.
Most doctors are recommending that kids avoid playgrounds with their dirty surface, some are recommending no playdates, and nearly everyone is advising practicing social distancing.
Many play spaces and museums are closed. This means a lot of time at home is likely in your future.
Fortunately, with a little creativity you will be able to keep the kids from climbing the walls during this coronavirus outbreak.
We consulted with educational experts, toy gurus, and parents for their best tips to keep kids occupied.
If this list is too overwhelming, chose your favorites and make a list for your kids to chose from. As an alternative, surprise the kids each morning with a new "activity of the day" or write each on a piece of paper and allow your child to choose one from jar every morning.
There really are so many ways to make this a fun, not scary, experience for kids.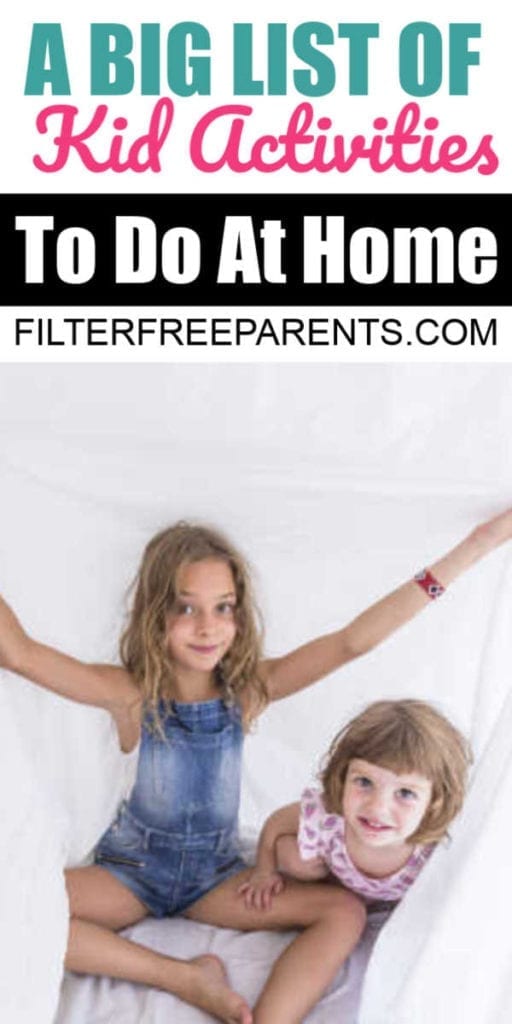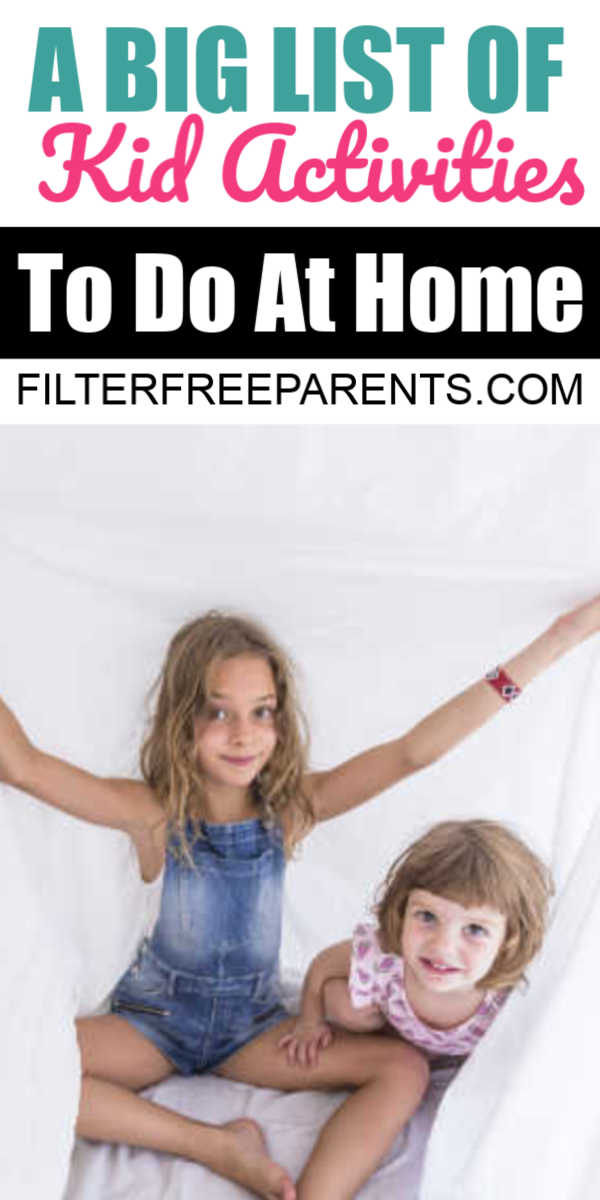 Dr. Lee Scott, who has more than 25 years of experience in early childhood education services and who currently serves as Educational Advisory Board Chair at The Goddard School has the below suggestions to promote learning:
This post contains Amazon affiliate links. If you click on a link, Filter Free Parents may receive a commission. See our full disclosure policy here.
Puzzles
Pick out ones that are appropriate for your child's age and try a new one each day. For older children, place a jigsaw puzzle on the table and challenge the family to finish it by the end of the day.
To motivate the kids give out a sticker or another small prize at dinner (i.e., for one for who finished the edges, who worked on it the longest). You can create puzzles by cutting up old magazine pictures.
Parents and educators like these Smithsonian Discovery Puzzles that will teach kids about space or geography when complete!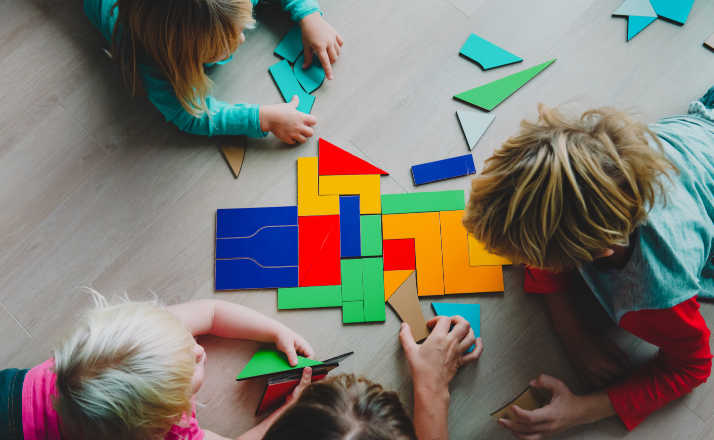 Board Games
Any board games you already have, you have can turn into family fun. Dust off the ones you have and get playing. Extend the play by making your version of the game and change the rules.
We polled parents for some favorites, including Storytime Chess that teaches children as young as three (really!) how to play using colorful stories. Since we will have hours to play games check out The Longest Monopoly Game Ever with three different ways to play and the game may not end until a player owns every property or try a classic like Clue.
Thinking Games
Play a game of I Spy or Charades. Easily done inside or outdoors. Try a new version each day.
Recycled Art
Get paper tubes, old boxes, and more. Challenge your children to create a work of art or something useful out of the found materials.
Many families will be going through more toilet paper than usual and may be receiving regular deliveries. Teach kids the value of recycling and stretch their creativity.
Family Memory Book
Put the smartphone or camera to work. Ask your children to take pictures throughout the day. If you have a printer, you can print them out and glue in a journal or use apps and make a slide show to share at the end of each day after dinner.
Once life returns to normal your kids will have a scrapbook of this very unusual time in their lives to share with their friends.
Get Outside And Exercise
Go on walks.
Although playgrounds are off-limits for most kids, going outside is still considered not just safe but a good way to get kids moving and keep them in a good mood.
If you live near a park go for a hike. If not, walk around your neighborhood but try to avoid any busy commercial strips. Try to incorporate other activities during your walks, such as "I Spy" or collecting rocks or sticks for crafts.
Make sure you have a big enough bag so you don't need to stop anywhere for snacks and can pack plenty of hand sanitizer. This bag from Nanobebe Duet is the perfect choice since it has a big insulated compartment and plenty of pockets.
Have a dance party.
Turn on the tunes and dance your heart out! Alternate between your favorite "oldies" and their current favorites. Grab yourself some KidsBop tunes to rock out to their favorite pop songs they hear on the radio.
Chase Bubbles.
Spring has always been bubbles season and fortunately that is true this year! Check out these GIANT bubble wands from WOWMAZING! These bubbles have the advantage of not having a wand that goes near anyone's mouth plus they are so big that kids will burn off energy running around the yard with them.
Get some bouncing balls.
Check out the Ollyball made of a unique material that won't break windows and can easily be inflated deflated for storage. Bouncing and chasing balls around is a great way to keep kids active outdoors. Its design can also be colored in with markers so it's two activities in one.
Stomp Rockets.
Stomp Rockets are a staple in many households for good reason. These soft foam rockets can be launched over and over indoors or out and kids get plenty of exercise chasing them down at starting over.
For an extra workout try launching them up the stairs or having a contest to see who can get theirs to go the farthest.
Get Creative With Your Kids
Role Play
Let kids be the doctor as a way to act out what they might be feeling. This adorable, durable wooden doctor's bag from Le Toy Van is the perfect toy when riding out a pandemic. Add a Little Medical School with a doll with visible skeleton, lab coat, and diploma to complete their knowledge.
Another fun doctor-themed kit is this Human Body Science Lab which comes with 10 hands-on experiments.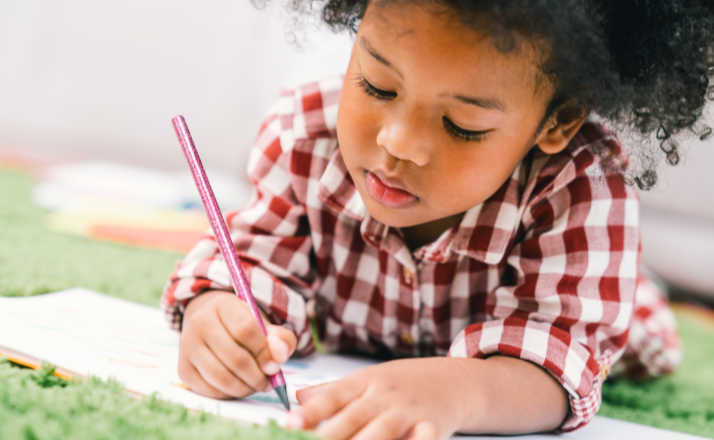 Crafts that Keeps Creating
Try Chalk of the Town T-Shirts and totes for a sustainable craft kids can do over and over. Chalk of the Town products have chalkboard panels that kids can decorate and use over and over again.
Drawings
Children in Italy have been drawing rainbows with the message "Everything Will Be Ok" and hanging them in windows. Have your children draw pictures to brighten the day of someone walking by to display.
Or, if they can't see friends and family, create painting and drawings to send. Many nursing homes across the country are closed to visitors and have requested that children send drawings and letters to lonely residents.
Call your local retirement home and see if they are accepting mail. Make some part of your daily exercise a walk to the mailbox.
Pet Rocks
As long as we are still able to go on walks, collect rocks and bring some home to paint. Put on some googly eyes and create your own playgroup until the real ones resume.
Build A Snowman
There was a distinct lack of snow throughout the country this year, but kids can spend their time off school building a spring snowman. This Build Buddiez kit comes with enough materials to make three snowmen and comes with cute accessories like a scarf and top hat.
Stepping Stones
Create a keepsake with these Perfect Craft Stepping Stones that can be customized with names, dates, symbols and more then used indoors or out.
Realistic Urban Play
Give your kids the perfect backdrop for their action figures or mini cars and toys. The Urban Set from Ready Setz will give kids a new way to use toys they already have. A space set is already available.
Play-Doh
Play-Doh is a staple of Early Childhood classrooms for a reason. It's great for fine motor skills and promotes creativity. This Ice Cream set is a perfect choice as the weather warms up.
Encourage Your Kids To Use Their Imagination To Play Together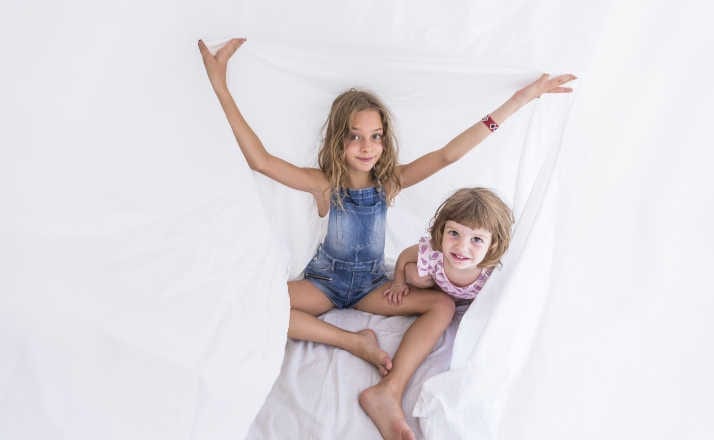 Kids today often forget to do the simplest forms of play when we have so much technology at our fingertips.
Encourage your kids to get outside and pretend, build a fort, have a pillow fight, put on a play, or play make believe. Pull out the dress up box and let them wear old Halloween costumes. Give them a box and tell them to be creative.
They don't even need you to be a part of it. Give them ideas to get them started, but leave them alone to figure out the rest.
Learn Something New
Give Them Butterflies
A couple of weeks at home is the prefect time to learn how caterpillars grow into butterflies. Check out this butterfly farm from Insect Lore. With a minimal amount of TLC every day the baby caterpillars in the kit will turn into butterflies around the time the kids head back to school.
Get Slimy
Kids everywhere love slime but teach them how its made with a kit like this Supercool Unicorn Slime Lab. Best of all kids will have something to play with once the experiment is done.
Read!
Any book is a good book to read and kids should read every day. Some good choices to promote learning are the It's A Numbers Game with a introduction by Kobe Bryant that explains the numbers behind basketball, like why players only 24 seconds to score a basket or Solve This! Forensics that walks kids through how to dust for fingerprints, examine bite marks on a discarded snack.
Count and Spell
These affordable tins from HABA contain several activities related to spelling and counting. They are a fun and engaging way to keep kids learning at home. Once social distancing comes to an end they are extremely portable and can be used on-the-go as well.
Building
These Plus-Plus interlocking pieces can be used in so many different ways to create in 2D or 3D. As kids get older they can build more complex structures making this a great toy for toddlers on up.
For a unique building toy try the Eric Carle Magna-Tile Collection that comes with tiles featuring stunning art from favorite books like The Very Hungry Caterpillar and that can also be used different ways as kids grow. For a stand-by that never disappoints try a LEGO set in a theme that will appeal to your child.
Experiments
The Cooper Kit comes with everything you need for several activities designed to get kids and parents interacting together. Kits include activities like building a catapult and a book to read together. These kits include both building and creative projects so there is something for everyone.
To Calm Kids Down That Are Anxious
Chewing
Try Chewelry by Patti & Ricki that are safe for kids to chew on as a safe way for them to let out anxiety.
Petting
No pet? No problem. Although designed for older adults, these incredibly lifelike pets from Joy For All Companion Pets move in response to sound and touch and can be very soothing.
Cuddles
Cuddles from parents and siblings are the best but for times you need to get off the couch make sure your child has a favorite stuffy on hand.
Mini-Golf
Get kids to slow down and focus. Not an easy task, but this at-home Cosmic mini-golf course may be just the thing the kids need to have fun while concentrating on reaching their goal.
Since this mini golf course can be used anywhere it's great for indoor use day or night. The pieces can be moved to create different challenges and it rolls up for easy storage. Whether or not you get ice cream after playing is up to you!
While the coronavirus is not likely to stay forever, parents always need ideas for indoor play on a rainy day or during snow days in winter. Hopefully this list will help you and your littles have some at-home fun that they'll always remember.