In a word, tween boys are connected—to their emotions, friends, and screens.
Technology is a huge part of tween boys' lives. It's how they play, learn, and communicate. Even when they're offline at track practice or the playground, they bond by mimicking the latest FORTNITE emotes.
The internet is the lens through which tween boys see the world, which has its pitfalls, but underneath the surface of video games, YouTube videos, and group texts are kids desperate to fit in, be liked, and find their way. The way tweens connect today is much different than when MTV was my channel to the world, but the journey—of self-discovery, angst, eye rolls, and acne—is timeless.
Here's what I know for sure about raising a TWEEN boy.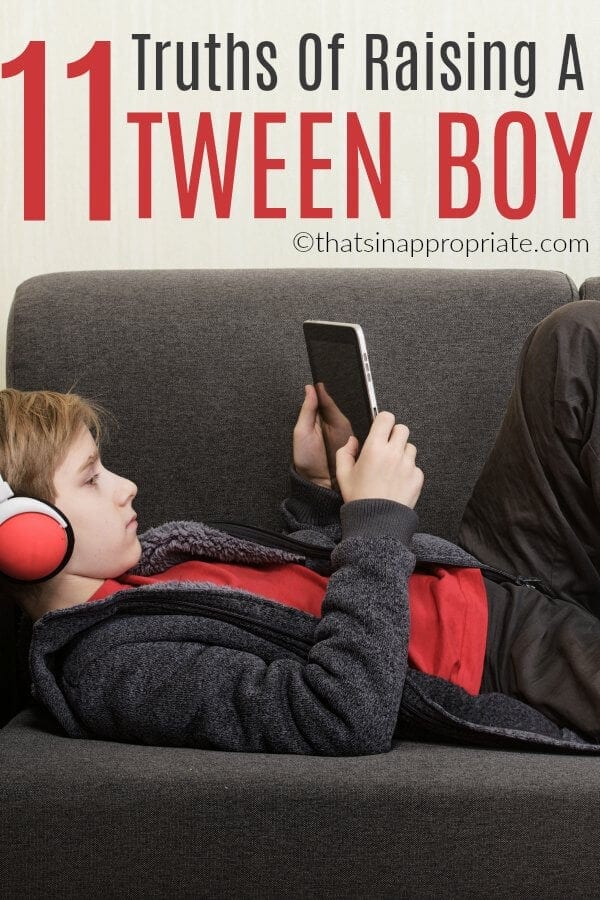 He's moody.
Spoiler alert. Boys are emotional creatures. Unexplained tears, unexpected foul moods, and loud bouts of "Get away from me!" are the new normal. As my son's perimenopausal mother, I have nothing but compassion for his plight, but so far my attempt to create a solidarity handshake has been met with eye rolls.
He smells.
If the signature scent of babyhood is the crisp, clean aroma of Dreft, the signature scent of a tween boy is the soggy, grimy odor of worn socks. Showers are no longer optional, and DEODERANT IS A MUST if you want your son's teachers to look him in the eye at school.
He's curious.
Remember when your threenager asked "Why?" six billion times before breakfast? You'll miss those days when your tween boy starts asking "What?" What is sex? What is divorce? What is cancer? What is a condom? What is weed?
He speaks another language.
I'm not talking about Mandarin or text talk. I'm talking about "That's cringe!" and "That's sick!" And when tween boys exhaust their vocal slang, they communicate through dance by dabbing and flossing.
He's a know-it-all.
My tween boy knows how to upload "vids," stream on Twitch, and play Fortnite like a pro, but he also believes everything he watches on YouTube is true. Thankfully, he's curious (see #3) and asks a lot of questions.
He has FOMO.
My tween son doesn't have any social media yet, but who needs Instagram when you're a member of the mammoth 5th grade group text? He wants to be anywhere and everywhere his friends are, and now he knows everyone's business 24/7.
He's woke.
I'm willing to bet I didn't ask my mom questions like, "How can Trump be against immigration when his wife is an immigrant?" when I was eleven years old. Even when tween boys are laughing at memes or chatting in Roblox, current events, culture, and politics seep in. Again, it's a good thing he's curious (#3).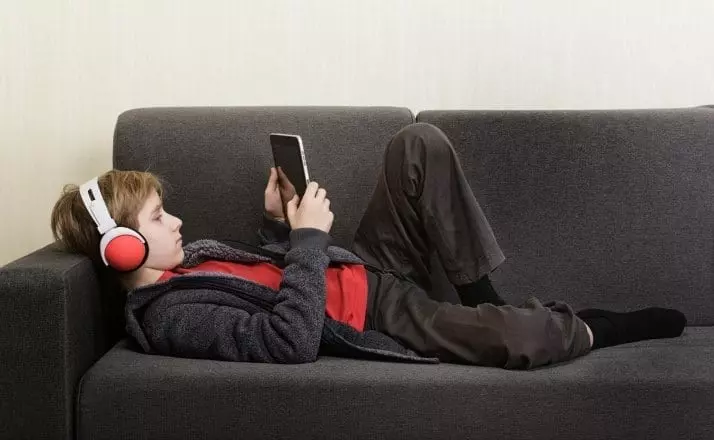 He's old enough AND too young.
The best description of TWEENHOOD I've heard is that it's the period of time when your kid is old enough for you to go out, but young enough that he can't. I don't have to drag my son to my mammogram appointment, AND he's too young to engage in Saturday night shenanigans. Phew! For now…
He's fashionable.
Until recently, my son's only requirement for clothing was: no tags. Now, his appearance is as important as the air he breathes. His hair is blue and wild, all shirts must have images of pugs, and sneakers must be "lit," whatever that means.
He follows my hair and beauty regimen.
MIDDLE-AGED WOMEN and tween boys have a surprising amount of hygiene habits in common. My son and I share color-treated shampoo and acne wipes. Still no handshake, but I won't give up!
He's still a kid.
Our tweens might act 9 going on 19, but they're still our LITTLE BOYS. My son asks to be tucked in every night, believes full-heartedly in the Tooth Fairy, and on occasion still calls me Mommy, which unlike the sound of the screaming goats he listens to on YouTube, is music to my ears.
The middle space between childhood and teenhood is fleeting, and the stakes to raise this new generation of connected tween boys to become a happy, caring, and contributing adults "IRL" are high.
I'm taking copious notes because despite the burden, I relish watching my son make sense of the world around him…even when screens are involved. That, and I have another boy in the tween pipe line, so it'll be nice to have something to refer to when he starts rolling his eyes, too.