After 18 years of parenting, your little one (who's not so little anymore) is starting their next chapter. Whether that means college or the military or a new job, it definitely means one thing for you — the kids are out of the house.
This is an exciting time for the whole family. And after the excitement wears off, you'll finally have the time to put yourself first. Start your very own next chapter by reconnecting with friends, trying new things and — finally — buying yourself a little something special.
Freshen Up Your 'Do
Before, you had to have a style that was quick and easy and ready to go. Who had the time or money for a fancy hairdo? It was ponytails, buns, and box color. But now you can freshen up your look with a stylish new hairstyle that's a flattering length and color.
This time, let a professional do all the work. For a low-maintenance, high-style 'do, try a modern short pixie. This cut requires little heat styling and looks perfectly polished with a little product.
Versatile cuts like the long bob give you the freedom to style your hair in a variety of ways, from loose and wavy to smooth and sleek.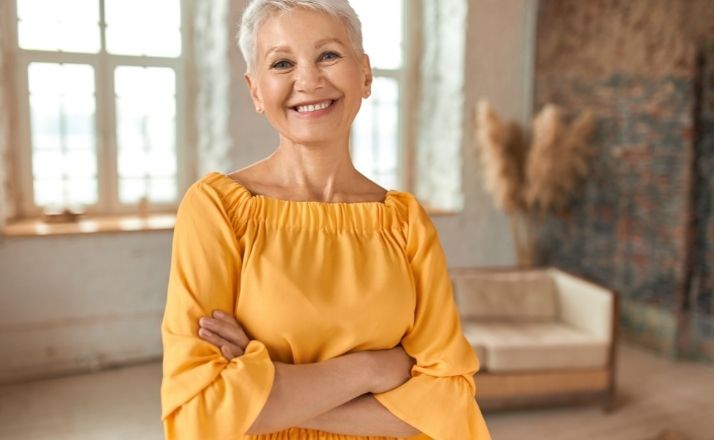 Accessorize To The Max
Revamping your look doesn't stop with a new hairstyle. Take a look inside your closet. What are your favorite go-to accessories? If you've fallen out of love with your worn-out handbag or your threadbare scarf, it's time for an accessory update.
Stand out from the crowd with a brightly-colored tote. A designer leather tote transitions perfectly from the workweek to the weekend and has more than enough space to hold all your essentials.
Iconic pieces like a chunky zig-zag printed scarf or a luxury timepiece with diamonds can take your look from drab to fab in an instant. Style them all together, and you've created your very own signature look.
Join A Fitness Club
Now that you're not carting kids to soccer practice or dance, you have time to join a gym. Exercise can improve self-esteem, enhance your mood, and reduce stress and anxiety levels.
Many new and modern fitness clubs and gyms offer unique and challenging classes like barre, spin, hot yoga, dance and more — not your typical weightlifting workout in a smelly gym.
Find a class that best suits your fitness goals and commit to being fit. Plus, you'll be able to socialize and meet new people with similar goals at these classes.
Hot Tub, Anyone?
Finally, after you hit the gym, wouldn't it be nice to soak in your very own hot tub? Hot tubs are known to ease muscle pain, improve circulation and reduce stress and tension, and now you have time to relax in one.
Not only that, but research shows that a soak in a hot tub can actually improve brain function. So invite your girlfriends over for a glass of wine and a good soak. You'll all be smarter for it.
So, what are you waiting for? Get out there and start treating yourself. Motherhood's never over, but once the kids are out of the house, you're in a new phase of it. Start your next chapter.