If you love to start your morning with a bowl of your favorite magical marshmallow cereal be prepared that you may be swapping out one bowl for another.
It seems that people who have been consuming Lucky Charms aren't feeling so lucky these days.
Hearts, Stars, and Horseshoes. Clovers and Blue Moons. Unicorns, Rainbows, and Tasty Red Balloons aren't just "magically delicious" they're also bringing on some pretty nasty side effects.
The US Food and Drug Administration is currently investigating Lucky Charms cereal after dozens of customers complained of gastrointestinal illnesses after eating it.
For those of you who may be unfamiliar with the cereal or who just grew up with parents who equated Lucky Charms, Fruit Loops, and Coco Puffs with certain sugary-induced early death, Lucky Charms are sugar-frosted oat cereal made palatable by hard chunks of dehydrated marshmallows.
Delicious, no? YES.
According to the Lucky Charms website, they have been around for "5 decades and counting."
Food-safety experts say it's rare for people to get sick from eating breakfast cereal.
Cereal is baked which typically kills pathogens. However, it could have been contaminated during packaging.
An FDA spokeswoman said in a statement:
"The FDA takes seriously any reports of possible adulteration of a food that may also cause illnesses or injury.

The agency is currently reviewing and investigating these reports."
The issue first came to light when complaints started pouring in on the website, iwaspoisoned.com — a website that tracks foodborne illnesses
Over the past two weeks, thousands of people have flooded the site.
According to Patrick Quade, the founder of the website, this is the most complaints the decade-old website has ever received for a single product.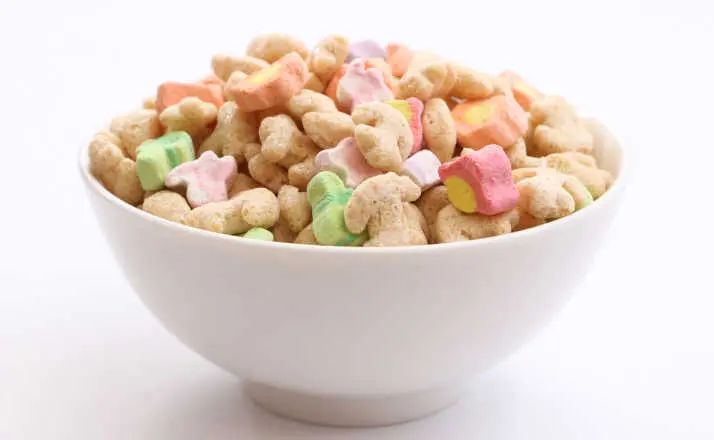 He posted the following statement on the website:
"Starting in late 2021 Lucky Charms food poisoning reports started to trend on iwaspoisoned.com. Now there are reports of over 3,000 sick and the FDA has initiated an investigation.

We recommend anyone who fell ill after eating Lucky Charms, to report it, and to keep left over product for testing.

We will communicate procedures for testing to everyone who reports their case."
Among the symptoms listed are:
Nausea
Vomiting
Diarrhea
Stomach Pain
Cramps
Chills
Headache
Fever
Green Stool

According to the complaints, symptoms began from 30 minutes to a few hours after eating Lucky Charms.
They typically last approximately 24 hours however some people are reporting they are lasting several days.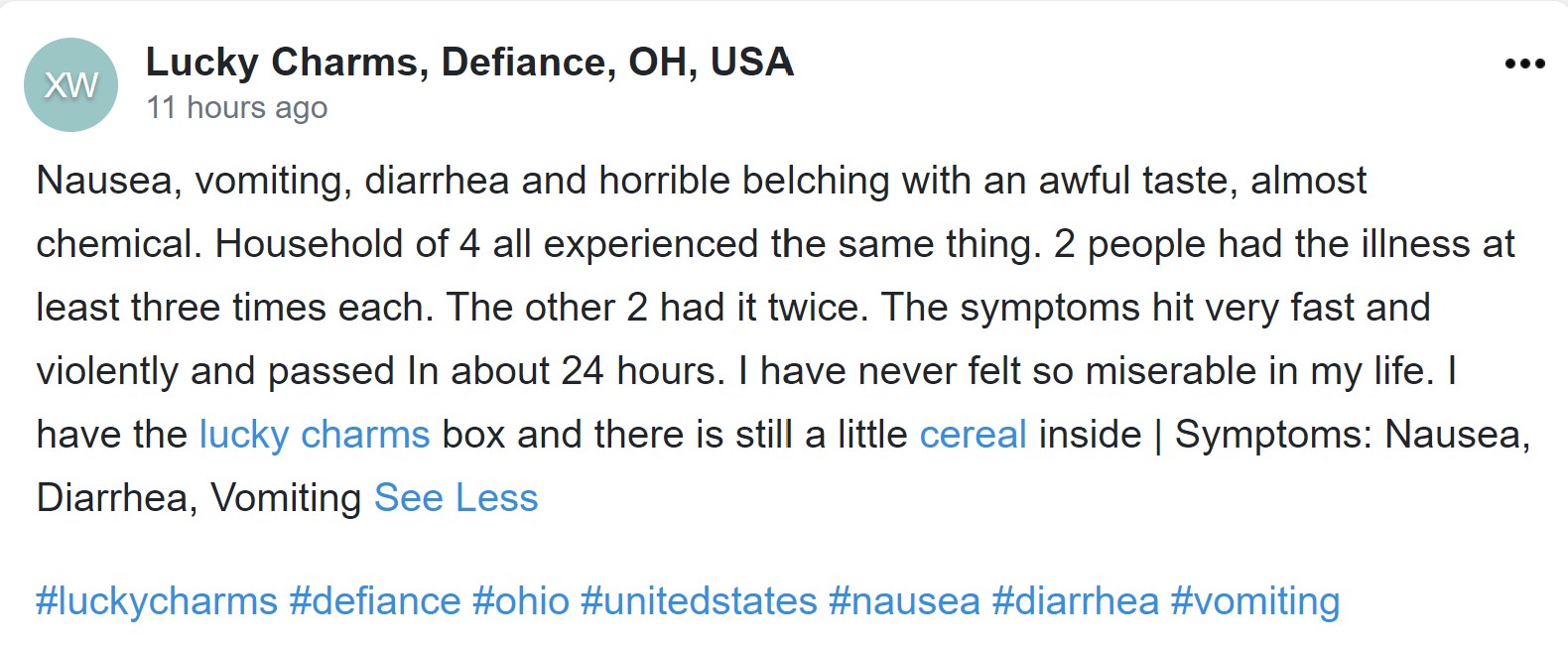 A number of the victims are young children, with some getting violently ill.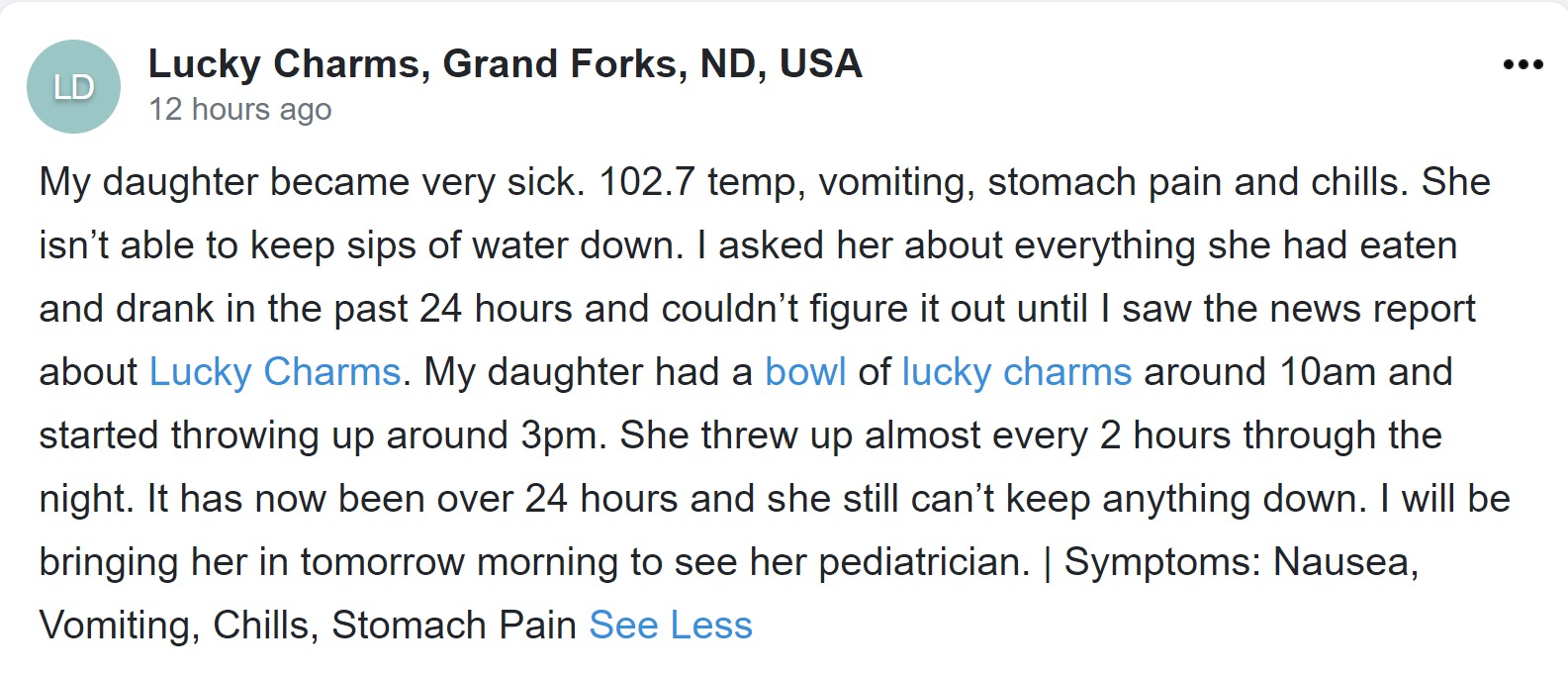 Another commenter reported her 2-year-old became swollen and broke out in hives, on top of severe diarrhea and vomiting.
Additionally, adding milk does not appear to be a contributing factor.

The problem does not seem to be associated with a specific grocery store.
A number of different stores have been mentioned, including Costco, Sam's Club, and Kroger.
As well, the issue is not just isolated to the United States. Consumers in Canada are also complaining.

General Mills conducted their own internal investigation after seeing the number of complaints on the 'I Was Poisoned' website. They did not find any evidence to support the claims.
General Mills spokesperson, Andrea Williamson, said in a statement:
"Food safety is our top priority. We are aware of consumer claims submitted via the website and have conducted a thorough internal investigation.

Based on our food safety programs and review of consumer feedback we've received directly, we do not believe these complaints are attributed to our product."
The company is working with the FDA. So far neither General Mills nor the FDA has issued a recall of the cereal. The review is ongoing.
General Mills is also encouraging consumers to please contact them directly with any concerns.
In the meantime, you may want to forego the not-so-magical Lucky Charms for now.