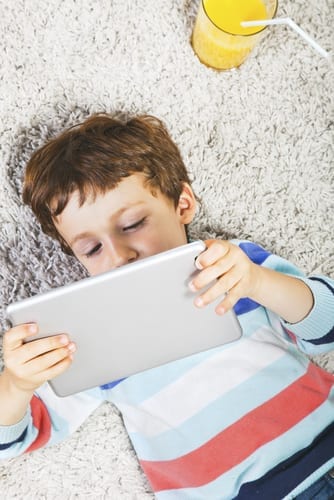 You want what is best for your children. Even when they are not at school, you want them to be learning, developing and growing. But, kids don't like the sound of that. Homework can be a battle and weekends are made for fun.
However, technology is making it easier to put educational games at your kid's fingertips. This helps to take the fight out of learning, and help your kids have fun while developing their skills. You can use apps on the latest smartphones and tablets in order to give your child everything they need to learn and grow. Here are just a few suggestions of educational apps that can grow with your child:
Green Eggs and Ham
This classic Dr. Seuss story is available in an interactive e-book format. Children can read along with it and have words highlighted for them. When words are selected, they animate, light up and list other associated words, which makes it a fun way to get your kids reading. This app is designed for children ages 2 to 8.
The Magic School Bus: Oceans by Scholastic
This is another interactive storybook that teaches kids about the ocean and science through games, pictures and facts. Kids will love playing with Ms. Frizzle while learning all about the ocean. This app is for kids ages 4 and up.
Fish School
This app teaches kids colors, shapes, numbers and letters through fish. They can watch the fish form letters and click on the sea life to make them swim around and dance. Download this app for an underwater adventure for kids ages 3 to 5.
Balloony Word
This game is hangman but with balloons and a gorilla. Letters are written on balloons and kids have to pop them to figure out the mystery word at the bottom of the screen. This app will teach your kids new vocabulary words and get them spelling words properly. It is designed for kids ages 8 to 10.
Stack the States
Learning state capitals, names, shapes and locations can be tricky. Stack the states is a great app to give your kids the practice they need to identify all of the states. As a hands-on way to learn geography, kids will play through different levels, identifying states as they go until they can make a full map of the U.S. This app is for kids 8 to 12.
Math Easy
This is the app you want for kids that struggle with math. It offers various games and puzzles that will test your children's knowledge and teach them vital skills. This is a great building block that tests their beginning knowledge like counting and recognizing numbers and moves all the way into basic arithmetic.
Technology is making education fun and easy. There are supplemental apps you can download to give your children experience in subject areas they need extra help in or to give them a head start during the school year. Try any of these apps and research what else is out there to start learning today.