With over 550 million total users and 200 million active members, Twitter is considered a go-to site for real-time updates and conversation. Unfortunately, the platform is rarely used to its potential and a great many bloggers are making critical mistakes. Below are 5 tips for better using the social network you thought you knew. They're easy to apply and should be a part of your daily Twitter travels.
Do you have any additional tips for bloggers on Twitter? Share your knowledge in the comments below.
Engage, soldier! (I mean blogger)
Like most social networks, the key to attracting a following on Twitter is to engage with users. So don't just schedule a tweet or post an update and take off. Check Twitter regularly (email alerts are ideal for this) to see if anyone has responded to one of your tweets. If they have, ENGAGE! There are far too many people using Twitter as a one-sided info stuffing tool, rather than the two-way conversational platform it was meant to be. Do better. Be better.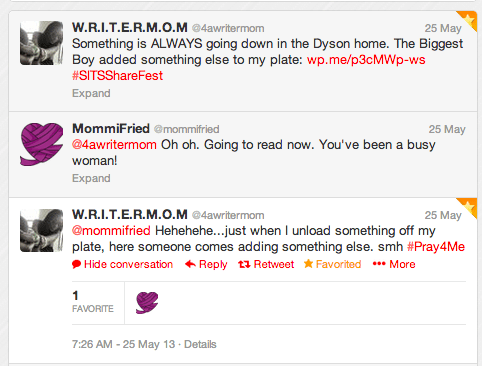 Schedule "Some" Tweets; Manually Post Others
I don't care what you might have heard or read in the latest Social Media 101 book – don't automate yourself into a robotic state of non-engagement, non-human sounding data points. You can tell when a brand's entire Twitter stream is automated and, quite frankly, that sucks. I want to know that there is someone on the other end who gives a hoot and who will respond if I do engage them in conversation or ask a question about their brand.
Find Relevant Hashtag Streams
Hashtags are an excellent way to track conversations about a specific topic and to take part in those conversations. Look for active hashtag streams relevant to what you blog about. For example, if you often post about crock pot cooking, you might try to find a stream dedicated to #crockpotcooking or #crockpotrecipes. Use the Twitter search function or poke around online.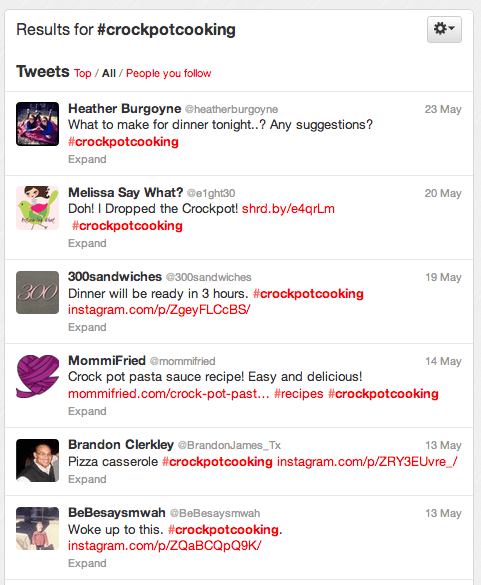 Tweet About Other "Stuff"
Yes. You are using twitter to gain exposure and get the word out about your blog and posts. Yes. You want people to get to know you. But it can't be all about you or people will simply tune you out. Try to tweet 5 to 7 times per day and have at least 3 or 4 of those tweets be something of interest that is not about you. Share some exciting news about a fellow blogger. If there is an interesting new report out, tweet about the main points. Get creative!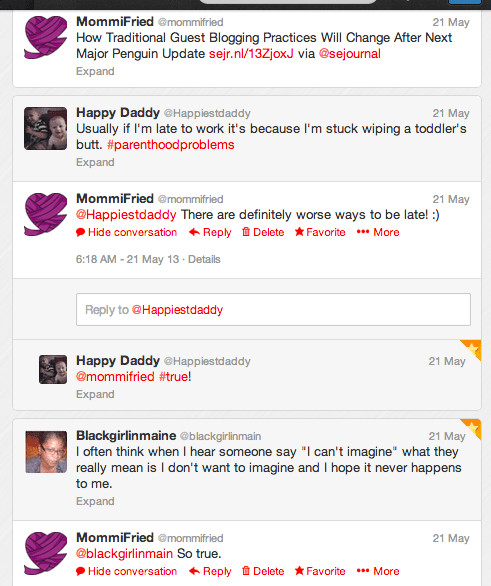 Don't Get Hung Up on the Particulars
If you're responding to one of my tweets or messages, I honestly don't care how you format your reply. It's okay if you place the response before the @mommifried and it's okay if it comes after. Although it's a good idea to use a hashtag if you are tweeting about a specific event or topic, don't worry if you are not comfortable using these. If you are, keep it to a minimum. Only one hashtag is necessary in a tweet, and two at most. Any more than that and it's overkill. But the bottom line is not to get hung up on the details or what is considered to be acceptable in terms of structuring a tweet. As long as you have the important elements included, no one SHOULD judge you. I won't. So give me a holla' anytime!