In a now-viral TikTok video, a mother soars to superhero status when she takes on a hungry bald eagle in a valiant effort to rescue her pet goose, Frankie.
All WHILE breastfeeding her 4-month-old daughter.
Forget Mama Bear, it's Mother Goose to you.
The 25 seconds of "Wild Kingdom: Suburban Edition" was captured by a home security camera and has since been shared on social media where it has gone viral with over 20.5M views.
The mother in question is 31-year-old Cait Oakley from North Saanich, British Columbia, Canada.
Cait's husband, Mike Lazic, posted the cc-tv footage to their TikTok account, frankythegoose, and captioned it with the following:
"We have lost 3 chickens in the last week from what I was told was eagles which I believed hawks were preying on them but watch Frankie (our female goose) get taken. Mama bear mid breast feeding protecting her sweet Frankie. Officially living at a zoo."
The video opens in a picturesque home setting, surrounded by lovely gardens and trees. However, the peace is broken as the sounds of loud squawking fill the air.
Off-screen, Frankie the Goose hysterically honks for her life. On-screen, a bald eagle swoops in for what is sure to be a tasty goose dinner.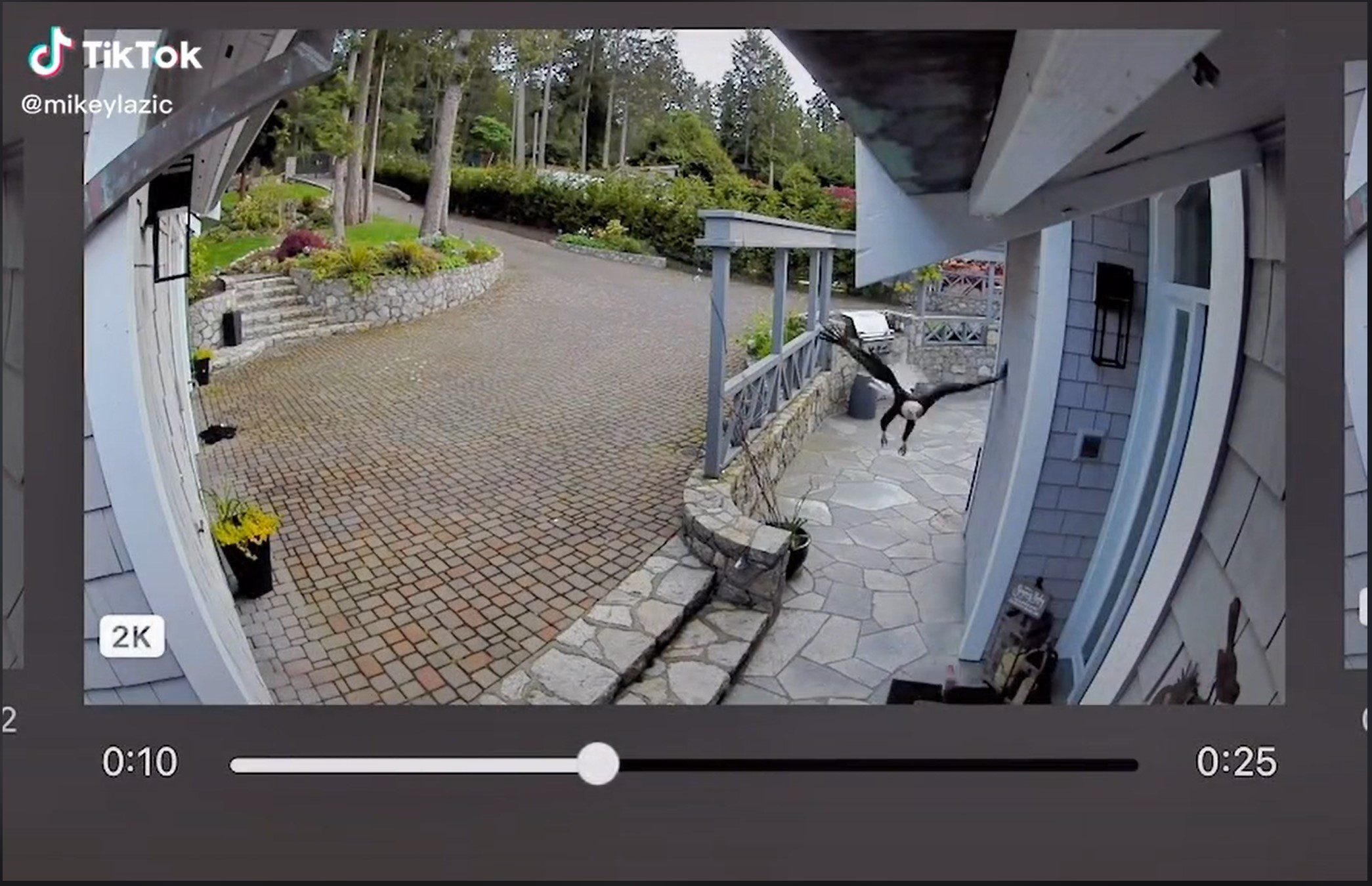 But this eagle picked the wrong goose. Not today, Satan eagle, NOT TODAY.
The bird burglar grabs Frankie by the neck and starts dragging her across the driveway. Frankie flaps her wings and desperately tries to break free from the eagle's grasp, to no avail.
And herein walks our hero, or rather, runs our hero.
At first, all you hear is Cait screaming like the warrior woman that she is.
"Hey hey hey!!! STOP!"
Mere seconds later, like a bat mama outta hell, Cait streaks out of the house, wearing only a baby and her husband's boxer briefs. (And who said heroes wear capes.)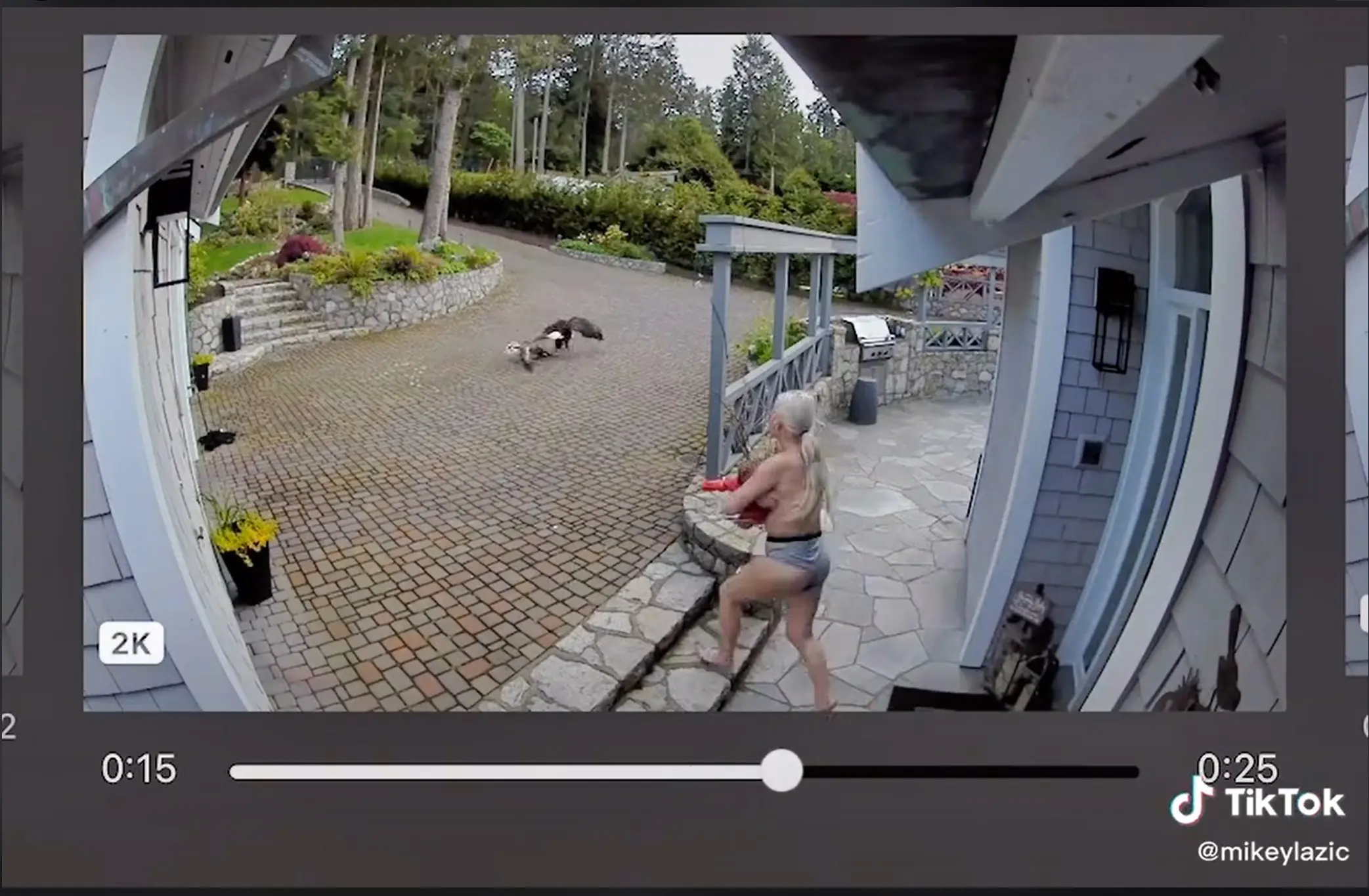 Cait charges after the offender and its prize goose, chasing them down the driveway, MID BREAST-FEEDING.
And if this isn't multi-tasking at its finest, I don't know what is.
(Meanwhile, her baby is now getting a milkshake for dinner.)

At this point, the eagle decides it's seen way more than it bargained for (and let's be honest, so have we)…

…and poor Frankie has had just about enough.
Luckily for Frankie and the eagle (after all, hell hath no fury like a mama goose saving her gosling, or something like that), the eagle decides to give up on its wild goose chase and lets Frankie go.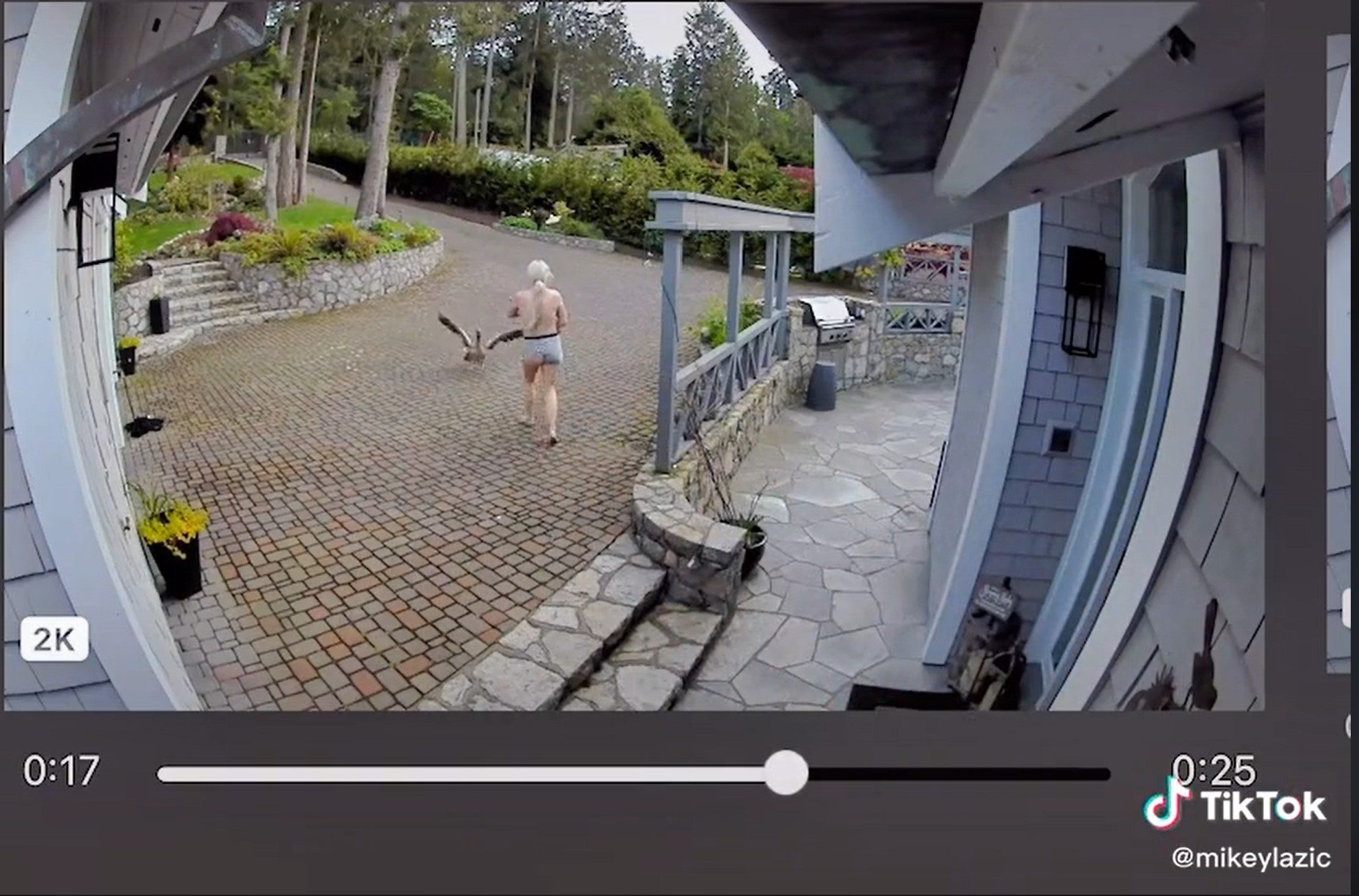 Frankie immediately turns around and hightails it back towards the house. Understandably so.

Oh, Momma definitely got it.
Cait is a stay-at-home mother of three humans (2 under 2), multiple chickens, and one very lucky goose.
According to an interview with CBC, Frankie is a valued member of the family and like a fourth child to Cait,
"She's like my fourth child. She follows me around the yard … she'll nip at our clothes for a treat. She's just such a large presence."
At 20 lbs, she also happens to be large enough to catch the eye of one hungry bald eagle.
Cait also shared some more details about the wild encounter, explaining that she was, in fact, in the middle of breastfeeding her daughter when her maternal instinct kicked into high gear.
She tells CHEK News,
"I was in the middle of feeding her, so that's why I didn't have a shirt on and was kind of getting ready for the evening. I just ran outside and when Mike [her husband] came out he was like, 'you're topless,'" "And I'm like yeah, no, I'm very aware. Sorry neighbors.""
We doubt they're complaining.
Fortunately, Frankie was unharmed in the attack and seems to be no worse for the encounter.
Cait says of the goose,
"She's totally fine — super sassy, as always."
Cait also posted a follow-up TikTok reassuring Frankie fans that the goose is fine following her near-death experience and living it up with treats.
As for Cait? Between breastfeeding her infant, laundry day, and battling a powerful bird of prey, meh, it was just another day in the life of a mom.
According to her, anyway. She shrugged off the superhero title, telling CBC,
"This is mom life."
Indeed it is.